I started out writing mainstream science fiction more years ago than I care to admit to. Those stories were filled with menacing aliens designed to terrify my heroes and heroines.
Then romance called, and I decided to try my hand at writing that. I still wanted aliens, but nicer ones. Hunky ones. Aliens who would make an Earthling race off-planet for love.
When I started, I wasn't sure how to build hot extraterrestrials. What would make them different from Earthlings, but not so different that they were unattractive? I had a few thoughts, but I wasn't certain what tempted me would appeal to readers. Unsure of how friends and family would feel about me writing explicit scenes, I was afraid to ask anyone I knew. This was before social media, so I didn't have that connection either.
Enter happy hour on a Friday night after work. Alcohol. Woozy co-workers. Lowered inhibitions. The door was open, and I walked through it.
"Aliens," I said to the three raucously giggling women I toiled 30 hours a week with. "They want to ravish you. What are they ravishing you with?"
The descriptions that followed told me what a pure life I'd led up to that point. That I was an innocent, wandering the world with artless naivety. Those women gave me an education that night that I'm still not sure I was ready for. I briefly considered entering a convent.
The discussion didn't rely solely on men endowed with interesting anatomical differences. We mused over the idea of mini-harems for each woman. That, I could get behind. Three men to one woman because…well, wall-to-wall hot men. Who needs more of a reason than that?
Okay, so there was a little more to it than dreaming of acres of masculinity. I'm the first to admit I'm a moody woman. I don't always want the same thing from my sweetheart. Sometimes I want a guy who takes charge. I've got a lot on my plate, and I could use the break. On days when I can't handle one more responsibility, I want a man who is all alpha, ready to meet challenges head on.
Then there's the mood when I want Mr. Sensitive. The guy who nurtures his woman with foot rubs, bubble baths, candlelight dinners, and all the other little things that make me feel cherished.
Sometimes I want the Beast. The primal man who will throw me over his shoulder and carry me away to his lair. The one who will pound anyone who looks at me wrong. The defender of his woman.
Basically, a guy for every frame of mind. That's not too much to ask for, right?
That's how I ended up writing the bestselling Clans of Kalquor series. Happy hour, a committee of tipsy women, and sheer moodiness. Who could have imagined those ingredients would serve up something so good? We're ten books into the series, and we still love our clans.
Cheers!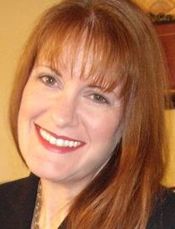 Tracy St. John lives in coastal Georgia with her husband and son. You'll often find her haunting train museums with her locomotive-loving kid. Besides writing, she has also worked in video production both in front of and behind the camera. She's usually cast as the gun-toting bad gal, getting handcuffed in the end. She has no complaints.
Clans of Kalquor #10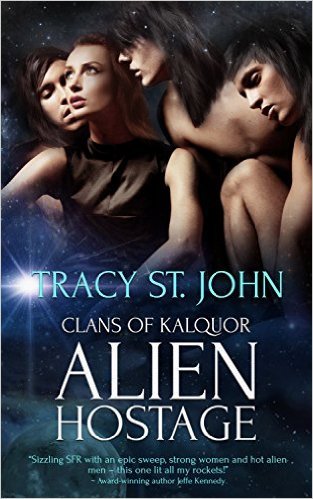 Tasha Salter is caught in a quandary: she wants to fall in love, but past trauma keeps her from commitment. The only people she trusts are her family, especially in this time of treason against the Kalquorian Empire. When she and her three-year-old cousin are abducted by the revolt's shadowy leader, matters of the heart no longer apply. She finds herself in a battle for their survival.
Clan Falinset left Kalquor in self-imposed exile when their parents' illegal activities threatened their honor. Dramok Falinset, Imdiko Nur, and Nobek Wekniz only want to be left alone to live their quiet lives. Yet the drumbeat of war is sounding as traitorous forces prepare to attack Kalquor. Worse still, the revolt's leader wants his son Falinset at his side … and refuses to take no for an answer.
A wild escape attempt throws Tasha and her young charge into the reluctant care of Clan Falinset. With betrayal in their past and war in their future, there is no reason to find love. Yet passion flares between those who should be enemies, leading Clan Falinset and Tasha to realize that they are not on opposite sides after all. Together they have the chance to heal.
Yet the sins of the fathers have come to rest on the shoulders of their sons. Falinset must make an impossible choice: bow to his father's blackmail and turn traitor to the Empire or doom his clan by saving the young princess of Kalquor and the woman he's fallen in love with.
Contains BDSM situations including bondage, D/s, and multiple partners.
Erotica | Science Fiction [Totally Bound Publishing, On Sale: July 26, 2016, e-Book, / ]