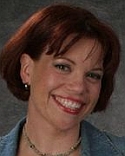 Fresh Takes from the Teen Shelves
All the news, updates and gossip for the Young Adult — books, authors, movies and more!
With the holidays come up, I have two cool recommendations for you. Both authors were good enough to tell me about the books and share some of the inspiration behind the books. They're good reading, and not coincidentally, would make great gifts. They're highly praised, with broad appeal for young readers. (In other words, there's nothing in them that will make your sister hate you for giving it to your niece. In fact, she'd probably thank you.)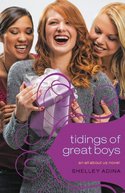 First is (the awesomely titled) TIDINGS OF GREAT BOYS, by Shelley Adina. I asked Shelly to tell me what it was about.
Shelly: Finals week is approaching, and Lady Lindsay (Mac) MacPhail is still undecided on where to spend the holidays. Normally she'd go home to Scotland, but spending two weeks alone in the castle with her dad isn't as appealing as it used to be. So she invites her friends Carly, Lissa, Gillian, and Shani to join her for the holidays! Mac is determined to make this the best Christmas ever. She even decides to organize the traditional Hogmanay dance for New Year's Eve. If she can get her mother involved, maybe her parents will finally get back together.
But when Mac and the girls arrive in Scotland, they are faced with bad news: The castle is falling apart and Mac's parents are struggling financially. Not only that, but Shani is in big trouble with Prince Rashid's royal family. Can the girls find a way to celebrate the holidays, get Mac's parents back together, save the castle, and rescue Shani … and will Mac believe it's all part of God's plan? There's only one way to find out!
RCM: I love the setting! Scotland at Christmas. That would make me buy this, if nothing else.
Shelley Adina: While I was researching this book, I put out the word on Facebook that I needed some information about Scottish Christmas and New Year's traditions. A girl from Scotland replied and told me just the kind of details that I could wrap seamlessly into my story. Like what? you ask. Like these:
– At three o'clock on Christmas Day, the Queen's speech on TV is an institution. So I worked it so that my heroine is hurrying to get something done before three, and makes a mistake that pivots the plot in a dangerous direction.
– Families often go to the local pub to celebrate and dance on Christmas Eve, after the carol service. So of course I made up a pub and set a scene there.
– Midnight on New Year's Eve is called "the bells," so I made sure I referred to it that way. And I had people come to the door of the castle "first-footing," because it's good luck to bring a gift to someone's house first thing on New Year's Day.
RCM: Will we having any trouble picking this book up if we haven't read the rest of the All About Us series?
Shelly: Each book stands by itself because it's narrated by a different girl in the group each time, but there are one or two over-arching story threads that weave through all the books. For instance, a thread that started in book 4 is resolved in this book (5), and the main romance for the character from book 1 is resolved in the final book, #6, which is the January release.
But each narrator has her own story that begins and ends in her book, so they stand alone from a story standpoint, and the other threads are pretty easy to pick up.
I'm thinking of picking up this whole series for my niece, but especially Shelly's Christmas one. Poking around the internet, this is a series where faith and spiritual development is an important theme, but the stories are fun things girls want to read. TIDINGS OF GREAT BOYS is available now. (Hachette FaithWords)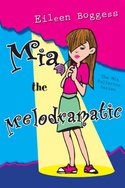 My niece may be having a great Christmas this year, because the "Mia" series by Eileen Boggess makes me immediately think of her. The main character starts off as a shy 14 year old, and begins a journey to awesome. The first book is MIA THE MEEK, and the second, MIA THE MELODRAMATIC. The third, MIA THE MAGNIFICENT, comes out this month, and here's how Eileen describes it:
Sophomore year has arrived and Mia can hardly wait! She's turning sweet sixteen, getting her driver's license, and will finally be able to cut the umbilical cord her parents have wrapped around her. She can go where she wants to go, see what she wants to see, and do what she wants to do. There's nothing holding Mia backÑexcept for the fact she doesn't actually have a car to drive. But when and if her parents ever let her drive their car, Mia will be completely liberated.
Unfortunately, freedom has its price. After Mia is forced back into total dependency, it doesn't take long for her meek and melodramatic behaviors to return as well. But with a little help from her friends and a whole lot of self-determination, Mia regains her independence and discovers she may be a little magnificent after all.
RCM: Were you inspired by anything, or any one, in particular?
Eileen: I started writing Mia the Meek when I was a 7th grade language arts teacher. I assigned my students the task of writing a realistic fiction book and they were not happy. So, I told them I would write one with them. I began writing about Mia and her friends and had so much fun telling Mia's story that I kept on writing! I eventually finished the book and after a lot of hard work, a lot of rejection letters, and a lot of revision, it was eventually published by Bancroft Press. Mia is loosely based on a lot of students I taught over the years. She is the girl who is smart and quiet and who boys don't notice. But as a teacher, I knew that in a few years, these girls would be amazing and all the guys will kick themselves for not noticing them earlier.
Many of Mia's foibles are my own. I accidentally set my science lab table on fire during an experiment (MIA THE MEEK), I dressed as a clown for a children's theater group (MIA THE MELODRAMATIC), and unfortunately have crashed a few cars (MIA THE MAGNIFICENT).
RCM: I'm sure this will be a really satisfying read in order (A nice trilogy to give as a gift, hint hint), but can we read the last one first?
Eileen: It may help to read them in order, but each book is a stand alone title.
Eileen describes Mia as a 'work in progress' which even I can relate to. I'm STILL a work in progress. But I know a ton of girls who will really relate to Mia's story. (Bancroft Press)
Happy December everyone! Whatever you celebrate, I hope the season finds you with family and friends and lots of time to snuggle in front of the fire and read!
---
Rosemary Clement-Moore writes Young Adult books because she loves to read them. Visit her webpage or blog to find out more about her award winning Maggie Quinn: Girl vs. Evil series, and upcoming gothic romance, The Splendor Falls