Looking for a Galentine's Day treat? Author Olivia Blacke has a vegan-friendly cake ball recipe that is sure to delight. KILLER CONTENT's amateur sleuth, Odessa, works at a bookstore/cafe and has a great group of co-workers and friends to share this with during after-hours fun. 
Of course, we'll be back tomorrow with the next featured author during the week-long Valentine's Day Recipe Roundup—hope to see you again! 
KILLER CONTENT's (Feb 2, 2021, Berkley) Odessa Dean isn't much of a cook. When she decides to leave her hometown of Piney Island, Louisiana for a summer in the trendy Brooklyn neighborhood of Williamsburg, she's overwhelmed by the unique and ever-evolving flavors of New York City. From food trucks to pop-up eateries to the eclectic menu at Untapped Books & Cafe where she works, there is always something new for her to taste. As much as she loves sampling unique dishes, she doesn't have a lot of experience in the kitchen.
Not that it would stop her from trying to make something fun and tasty for her friends when they decide to throw a Valentine's Day party after hours at the cafe!
While cake balls and cake pops might be blase in Brooklyn where there's always a new food trend, cake balls were still a popular treat at parties back home in Louisiana. Plus, they are easier to transport than decorated cupcakes. Odessa's culinary expertise might be limited, but while they are messy, cake balls aren't particularly challenging to make. Normally she makes them from a boxed cake mix and pre-packaged frosting. However, she'd never exclude her best friend, Izzy, who is a vegan, and will go out of her way to make the cake balls vegan. With just a little searching on the internet, she easily finds delicious vegan substitutions. If you or your friends aren't vegan, lactose intolerant, or allergic to eggs, you can use the non-vegan instructions on the box, or you can try the substitutions for the fun of it.
First, Odessa would start out with a cake mix that was already vegan. By scouring the ingredients, she was able to determine that both Pillsbury and Betty Crocker Strawberry and Duncan Hines Pink Velvet didn't have any meat byproducts in them, and they were all a pretty Valentine-appropriate pink.
The instructions on the Strawberry cake called for her to use eggs. A quick internet search showed her that she could use 1/4 cup of applesauce or 1/2 a mashed banana per egg as a substitute. The Pink velvet called for both butter and eggs instead of oil, so Odessa goes with the easier strawberry option.
Using vegan replacements from soy milk to applesauce in recipes and mixes can be hit or miss, and can sometimes literally fall flat. However, cake balls are particularly forgiving. It doesn't matter if the cake comes out thin, lopsided, or even too dry since it's all going to be crumbled up in the end!
(photo from Eating on a Dime)
Step One: Make the Cake
Ingredients:
One vegan-friendly cake mix (Odessa selected Betty Crocker Strawberry)
1 cup water
½ cup oil
3 eggs or substitute such as 1 ½ mashed bananas or ¾ cup applesauce (Odessa chose the applesauce option)
Directions:
Preheat oven to 350°
Follow directions on box, except substitute eggs for a vegan alternative if desired
Once cake is baked, remove from oven and use a pair of forks to break the cake into crumbles. This works best while the cake is still warm, but be careful not to burn yourself or scratch your favorite cake pans!
Next, Odessa needs a vegan icing. Surprisingly, many of the commercially available pre-made icings are already vegan. However, Odessa's friend Izzy tends to avoid some of the bright, artificial dyes used in more colorful icings, so she chose a creamy vegan vanilla icing. Betty Crocker's Whipped Fluffy White and Rich and Creamy Vanilla Frosting are both vegan.
Step Two: Mix up the Cake Balls
Ingredients:
One can of premade icing (Odessa selected Betty Crocker Creamy Vanilla vegan icing)
Directions:
Scrape the cake crumbles into a mixing bowl
Scrape the icing into the mixing bowl
Using a large spoon or spatula, hand mix the cake crumbles and icing until combined
If you have a medium (~2 inch) cookie/ice cream scoop with a trigger, it's very easy to scoop the batter into uniform balls without getting too messy. If you don't have a cookie scoop, use a large soup spoon to scoop up the batter and form it into balls.
Place the balls into the freezer for ½ an hour or into the refrigerator for at least 1 hour to let them cool and harden – otherwise, they'll fall apart during the final step.
Finally, Odessa normally coats her cake balls in melted baker's chocolate bark. Luckily, her local grocery carries several vegan white chocolate options, including Gefen Wonder Melts wafers.
Step Three: Decorate the Cake Balls
Ingredients:
Meltable white or milk chocolate bark or wafers, or vegan alternative
Candy sprinkles or decorating sugars
Directions:
Line cookie sheets with wax paper
Melt baker's chocolate or meltable candy substitute according to directions on the package
Remove cake batter balls from the refrigerator or freezer
One by one, dip the cake batter balls in the melted chocolate and move to wax paper
Before the chocolate coating has a chance to harden, decorate as desired with candy sprinkles
Serve at room temperature
Unlike Izzy, Olivia Blacke isn't a vegan, but has been vegetarian most of her life and is always happy to experiment with vegan alternatives. She loves to bake and even makes her own dog cookies. Just to clarify, those are cookies made for her dog, not cookies made of dogs. In KILLER CONTENT (Feb 2, 2021, Berkley), Odessa Dean works at Williamsburg's Untapped Books & Cafe, where she serves a variety of delicious dishes the creative cook invents, and occasionally solves murders.
—
COMMENT TO WIN: What's your favorite thing to do with your friends? Leave a comment and you'll be entered to win a copy of Olivia's debut cozy mystery, KILLER CONTENT. US and Canada only; good luck! 
You can see our earlier posts here:
—
Brooklyn Murder Mystery #1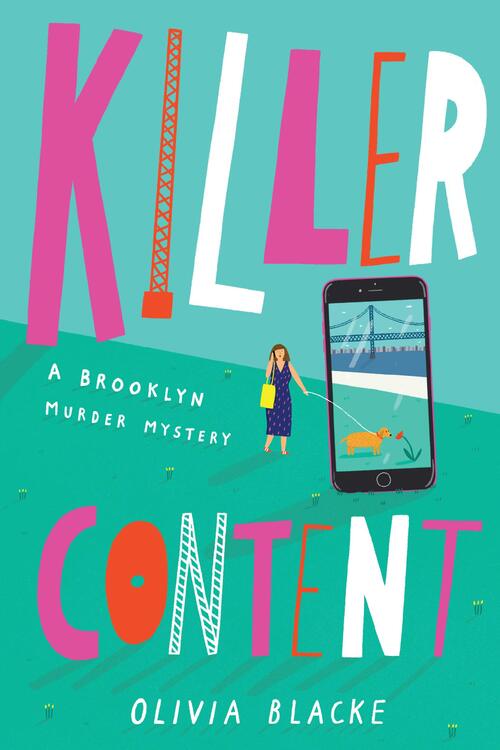 It's murder most viral in this debut mystery by Olivia Blacke.
Bayou transplant Odessa Dean has a lot to learn about life in Brooklyn. So far she's scored a rent free apartment in one of the nicest neighborhoods around by cat-sitting, and has a new job working at Untapped Books & Café. Hand-selling books and craft beers is easy for Odessa, but making new friends and learning how to ride the subway? Well, that might take her a little extra time.
But things turn more sour than an IPA when the death of a fellow waitress goes viral, caught on camera in the background of a couple's flash-mob proposal video. Nothing about Bethany's death feels right to Odessa–neither her sudden departure mid-shift nor the clues that only Odessa seems to catch. As an up-and-coming YouTube star, Bethany had more than one viewer waiting for her to fall from grace.
Determined to prove there's a killer on the loose, Odessa takes matters into her own hands. But can she pin down Bethany's killer before they take Odessa offline for good?
Mystery Cozy [Berkley, On Sale: February 2, 2021, Trade Size / e-Book, ISBN: 9780593197882 / eISBN: 9780593197899]
Savvy sleuthing, great characters, New York setting: a Killer new series!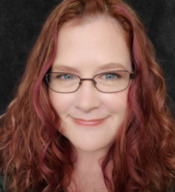 Brooklyn Murder Mysteries author Olivia Blacke writes quirky, unconventional, character-driven cozy mysteries. After shuffling around the U.S.A. from Hawaii to Maine, she currently resides with her husband and their roly-poly rescue puggle, but is forever homesick for NYC. In addition to writing, disappearing into a good book, and spending way too much time on social media, she enjoys SCUBA diving, crocheting, collecting tattoos, and baking dog cookies.