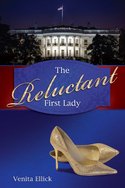 Here's a question that I have been asked a lot:
Ashley is a very determined woman with a solid career. Did you face some of the same issues in your career? What advice would you give to women that feel the need to be it all? (Wife, mother, and career driven)
Yes, there is a very real correlation between Ashley and me. I loved working and I loved being a wife and mother. I didn't want to live in the shadow of my husband and I love him dearly. I wanted something for me, not for my kids, not for my husband. I wanted to maintain my own identity. I think many career women and mothers feel similar feelings. We love our families, spouses, significant others, our pets; we're thankful and blessed for their presence in our lives, yet we want a piece of the world that still reflects us. This is the conflict in The Reluctant First Lady. It's how one woman works through her dilemma.
Women have asked me the second part of this question many times. How did I balance it all? How did I do it all? The truth is somewhere between the lines. I've managed to do a lot of things, but not all at the same time. When my children were born, I took off five years with each of my three sons to stay at home until they entered school. (My sons are spaced widely apart.) Once they started school, I went back to work. It was my choice to stay at home, but I can't say I wasn't resentful at times over the fact that having children didn't affect my husband's career like it did mine. I was lucky, though, I was able to stay at home when my boys were young. So many women are the breadwinners for their family unit and have to work. I highly admire them. But every woman, and I believe for the First Lady of the United States, it should be a choice not an assumption. That's not always possible for financial reasons, but in regards to the First Lady, I do think it should be a choice for the President's spouse. What will happen when one day we have a female president? What will the husband will do?
THE RELUCTANT FIRST LADY
Ashley Taylor has been straightforward with her husband, the president-elect of the United States. She supported his candidacy, but she has no intention of assuming the traditional role of First Lady—a position she describes as "First Hostess." Instead, she will resume her own career as head of one of the largest art museums in New York. The aftermath of her decision triggers reactions from the public, news commentators, late night comedians, and other political factions. While Ashley and Michael wrestle with saving their marriage and preserving their professional lives, the country debates whether the role of First Lady is a necessity, how the media influences the lives of public figures, and how much a woman should sacrifice for the person she loves.
To comment on Venita Ellick's blog please click here.