Instead of trying to find your perfect match in a dating app, we bring you the "Author-Reader Match" where we introduce you to authors as a reader you may fall in love with. It's our great pleasure to present Verity Lowell!
Writes:
I write steamy romances about ambitious and creative women-falling-for-women. I think of it as queer of color romance but, like the world, my stories have all sorts of ages and stages and different kinds of people. I love to travel and I love good food and I'm always interested in giving the reader a vivid sense of place—if you're not into evocative description, I may not be your gal. My debut romance, MEET ME IN MADRID is a second-chance entrée with a healthy side of age-gap and plenty of sweet, long-distance relationship angst for dessert. When a blizzard grounds her in Madrid, Charlotte, a museum courier stuck in a job she hates in Connecticut, is unexpectedly reunited with her super in-charge, grad school crush, Adrianna, who offers her a place to "sleep." Both characters are women of color and part of what brings them together is their shared experience of being marginalized in the academy; the other thing that brings them together is what one reviewer described as "blazing-hot eroticism" which I would simply call good queer sex.
About:
I am a textbook Aries. As such I enjoy competing for top and heat in everything—from spicy food to conversation and debate. I'm all about the slow/er burn in the book I'm writing now. But my debut is not that. I believe an immediate attraction (even a long-ago one) can be the start of something lasting; in my experience, there's nothing unrealistic about love at first sight. I like going out, getting dressed, reading widely, cats, and wit like I order a martini: dry and a little dirty. As a college professor by day, I don't shy away from the difficult realities of being a person either in life or in my writing. A hard-won—but not too anxiety-provoking—happy ending is what I'm after in both.
What I'm looking for in my ideal reader match:
You are humane and open.
You are interested in love stories about women who may, or may not, be like you or like each other in obvious ways.
Backstory is a plus.
Reading is as sensual for you as writing is for me.
You like hot romance set in a contemporary world that hasn't lost track of history.
What to expect if we're compatible:
Diverse romances—in all sorts of ways—written by a queer, in my case, proudly lesbian, WOC.
Thoughtful, sexy femmes, and dommes, and butches, and nonbinary characters +++ you want to take a journey with.
World-building around art, travel, and the academy
Cross-cultural joy; updated rom-com tropes; Black and Brown feminism
Stories about women in love trying to make a real-world life for themselves and each other
In this sexy, sophisticated romantic comedy, two women juggle romance and career across continents.
Charlotte Hilaire has a love-hate relationship with her work as a museum courier. On the one hand, it takes her around the world. On the other, her plan to become a professor is veering dangerously off track.
Yet once in a while, maybe every third trip or so, the job goes delightfully sideways…
When a blizzard strands Charlotte in Spain for a few extra days and she's left with glorious free time on her hands, the only question is: Dare she invite her grad school crush for an after-dinner drink on a snowy night?
Accomplished, take-no-prisoners art historian Adrianna Coates has built an enviable career since Charlotte saw her last. She's brilliant. Sophisticated. Impressive as hell and strikingly beautiful.
Hospitable, too, as she absolutely insists Charlotte spend the night on her pullout sofa as the storm rages on.
One night becomes three and three nights become a hot and adventurous long-distance relationship when Charlotte returns to the States. But when Adrianna plots her next career move just as Charlotte finally opens a door in academia, distance may not be the only thing that keeps them apart.
Romance Contemporary | Romance LGBTQ [Carina Adores, On Sale: October 26, 2021, Trade Size / e-Book, ISBN: 9781335631008 / eISBN: 9780369717139]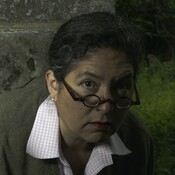 Verity Lowell is a professor and occasional curator. She likes thinking and writing about a world where art, ambition, and history provide the background for diversely queer and steamy contemporary love stories, mostly about women falling hard for women. Continually fascinated by archives and travel and the power of old objects, she saves spiders whenever possible. And has a thing for German cars. And her two cats. Lowell lives in New England and elsewhere.