My new novel, Miss Cecily's Recipes for Exceptional Ladies, has two heroines–Kate Parker, 40 and on the verge of a break-up, and Cecily Finn, a 97-year-old grumpy but very funny old lady–bond over an unusual cookbook.  The cookbook, Thought for Food, contains more than just recipes.  It has menus for some of life's most challenging occasions: "Dinner for the Man You Hope to Marry," "Dinner for The Man You're Trying to Bid Farewell To."  Along with delicious recipes, the book has tips on how to survive the occasion, varying from the practical to the richly comic.
Thought for Food was a real book published in 1957.  It was co-written by the real-life Cecily Finn, who was my grandma. Real-life Cecily was born in London's East End in 1903.  Her family ran a candy and ice-cream store–which created her lifelong passion for food. My grandma had a beautiful older sister, May, and my great-grandpa Josef constantly told Cecily that because she lacked May's beauty, she'd never find a husband, and so at 18, he forced her to become a teacher.  (The job would guarantee a secure pension.)  Cecily may not have shared May's beauty, but she was warm, smart, funny, creative, generous, and immensely fun. She met Solomon Zimmerman in 1928,  and was engaged six weeks later.
During World War II, my grandpa was a spy stationed in Sweden, and my grandma risked the dangerous journey from England to Stockholm to join him. While there she learned to speak three languages, helped teach refugees English, and started to write. After the war when my grandparents returned to England, she continued writing. Over the course of her life, she wrote children's books, radio plays, a screenplay that was made into a movie, and many articles for newspapers and magazines.
By the time I was born, my grandmother was in her 70s, but right up until her death at 100, she retained her sharp mind, her sense of humor, and an incredible love of books, food, and life.  She was the first person to encourage me to write. In my first novel, Pear Shaped, the grandmother in the story was based on her, and I was so happy to be able to put her in a novel.  Thought For Food has sat proudly on my bookshelf for twenty years.  Every time a friend picked it up, they'd comment on how funny it was, and tell me I should do something with it, but it wasn't until I sat down to write my fifth novel that I figured out a way to use that felt worthy of my grandma's memory.
Now, this is where it might get a little confusing.  The fictional Cecily in Miss Cecily's Recipes for Exceptional Ladies shares a large part of my grandma's biography.  In the novel, we discover that fictional Cecily has written Thought for Food—and I include recipes and sections of the cookbook within the novel.  However, fictional Cecily is quite different in terms of character. She is difficult, grumpy, and occasionally rather rude, but once the reader gets to know her, it's hard not to love her.  Real-life Cecily was gentle and exceptionally polite, but gentle and exceptionally polite characters aren't necessarily as much fun to write, nor read.
While there is an on/off romantic relationship in the book between Kate and a man named Nick, the friendship between Kate and Cecily forms the heart of the story.  It was so rewarding to imagine the conversations that would happen between these two bold, feisty women–both of whom are trying to come to terms with the surprises that life has given them.  Even though they're nearly 60 years apart and their life stories are so different, the two share a passion for food and books–and are able to help each other in ways they could have never imagined.
I had published my four previous romantic comedies under the pseudonym Stella Newman. (My day job was as a professional food taster for a large British supermarket, and I wanted my writing life kept separate.)  However, this book is so deeply inspired by my grandmother, I felt it was time to publish in my real name.
Miss Cecily's Recipes for Exceptional Ladies is a book about many things, but above all, it's about the power of stories – the stories we tell ourselves, and the stories we tell the world, to survive.  Without giving too much away, fictional Cecily has used the power of fiction to rewrite her own life.  In fiction we get to choose our own stories; we can say the things we wish we'd said at the time, and we can bring the people we love back to life.  I was incredibly lucky to have Cecily as my grandma, and it was a total privilege to give her words a new lease of life.
I really hope you enjoy reading it as much as I enjoyed writing it.
"This is a fast and fabulous third-person read about life, loneliness, love, and the power of good food and friends… A can't-miss title for fans of chick lit and modern women's fiction." – Library Journal, starred review
Two lonely women. An unlikely friendship. And one big life lesson: never be ashamed to ask for more . . .
No woman dreams of being unceremoniously dumped and moving back in with her mother on the eve of her 40th birthday. Food technician Kate Parker's first response? Denial, long days under her duvet and bucket loads of cheesy pasta.
A reluctant Kate finds herself volunteering at the Lauderdale House For Exceptional Ladies. There she meets 96-year-old Cecily Finn – spiky and sharp as a pin, but the spark has gone out of her. She has resigned herself to the imminent End.
Having no patience with Kate's self-pity, Cecily prescribes her a self-help book with a difference – it's a 1957 cookery manual, featuring menus for anything life can throw at 'the easily dismayed'. It promises the answers to essential life questions: 'what shall one give to one's rich aunt Emma that will be palatable but not prodigal; to one's husband's managing director, at once memorable and modest; one's old love's new love; the man one hopes will stay on after dinner; the man one hopes will not …'.
Can Kate find a menu to help a broken-hearted woman let go? If Kate moves forward, might Cecily too?
The cookbook holds the secrets of Cecily's own remarkable and heartbreaking story, and the love of her life. It will certainly teach Kate a thing or two.
So begins an unlikely friendship between two lonely and stubborn souls – one at the end of her life, and one stuck in the middle – who come to show each other that food is for feasting, life is for living and the way to a man's heart is . . . irrelevant!
Women's Fiction [Sourcebooks Landmark, On Sale: June 9, 2020, Trade Size / e-Book, ISBN: 9781728210230 / eISBN: 9781728210230]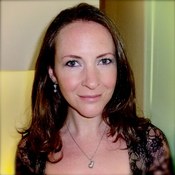 Vicky Zimmerman is the pseudonym of Stella Newman and lives in London. She worked in marketing and as a food tester at a major UK supermarket before leaving to write full-time. She has written for the Guardian and the Observer as well as for women's magazines, specifically on food, body image, and dating. Miss Cecily's Recipes for Exceptional Ladies is inspired by her own grandmother's 1950s cookbook.