Tuesday, January 5, marked the launch of A GHOUL'S GUIDE TO LOVE AND MURDER—the tenth and final book in the Ghost Hunter Mysteries. I thought that as the release day approached, I'd feel sad. Melancholy. Filled with regret.
But I feel none of that. Instead I feel tremendous joy, and truthfully my chest is near bursting with pride. This final book is my favorite of the series—not because of the plot or character development, but because it's right. It's just right.
While putting together the newsletter to announce the launch, my assistant—who does artwork—created a block of all the books at the bottom of the page, and as I was reviewing the newsletter, I found myself staring at that group of all ten books, eyes brimming with tears for a long, long time, thinking how wonderful it is to have been a part of their creation. There's a whole world inside those three-thousand-plus pages. A world I built and labored over and brought to life. What a divine feeling it is to look at them and feel such a sense of pride and accomplishment.
And there is also that, with this final book, I know I've brought M.J. to the point where I can at last let her go. Where she can leave me to walk on her own. Where she no longer needs me in her life. I've never had children, but I suspect this is the way a mother feels when her daughter finally heads off to college.
As much as M.J. is a figment of my imagination, she's still been very real to me, and I've carried her in my mind for a decade, worrying and fussing over her, giving her my all, nurturing her with tremendous care, and patience, and frustration, and irritation, and gratitude, and joy, and fear, and love—so much love—and now I don't have to do any of that anymore.
She's free.
And so am I.
Of all the things in my career that I'm proudest of, that, right there, is at the top of the list.
I'm sure there will be fans of the series who wish it could continue, but I'm hopeful that after they read the final chapter they'll understand what it means to let M.J. go with satisfaction instead of sadness. I know I'll always feel joy when I think of M.J., Gilley, Heath, Doc, Steven, and Teeko. And I don't know how you could ask for a better ending than that.
Ghost Hunter
Psychic M.J. Holliday and friends hunt ghosts.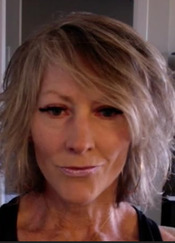 When I was in the 7th grade I took one of those career application tests – you know, the ones where you answer a bunch of questions and the results indicate what profession you'd best be suited for? Yeah, well my test results indicated I was best suited for a career as a government spy.
A SPY!
I think I had the coolest results in the entire class. 🙂
Needless to say, I did not follow that particular career path – or maybe I just took the more indirect route. In my thirties a very good friend of mine who is now one of the world's most renowned psychic mediums suggested I stop ignoring my talents and dive right into the professional world of a psychic intuitive. On a lark, I did. And the results were pretty mind-blowing. Within just a few short weeks even I couldn't deny it – so much of what I predicted for total strangers was coming true and I really had to accept the "gift" so to speak.
Over the years I've built a really fabulous clientele and all those experiences have helped me create the Psychic Eye Mysteries, the Ghost Hunter Mysteries, and – for children – Oracles of Delphi Keep. And along that way I discovered my true love – writing.
Writing is one of those passions that gets me out of bed in the morning and invigorates my day. I love spinning a good yarn, and when I feel I actually get it right – wow! There is no better feeling.
In fact, the other day I was kicking back after a looooong day of writing, which ended in the completion of a manuscript and I remember just marveling in the fact that I actually get paid to daydream! I can't think of a more satisfying way to spend a life. And let's face it – it's a whole lot safer than working some covert operation. Although – I'm pretty sure the benefits might be better at the CIA. Still, I'll stick to my daydreams…at least for now… 🙂
Medium M. J. Holliday battles demons in the tenth Ghost Hunter Mystery from the New York Times bestselling author of No Ghouls Allowed.
M.J., Heath, and Gilley, are back home in Boston, where their new film is sure to be a monster hit!  To promote the film, the studio is sponsoring a special exhibit of supernatural artifacts at a local museum. Unfortunately, Gilley—whose mind is engaged with wedding plans—gets talked into donating to the exhibit the very dagger that keeps the dangerous ghost Oruç and his pet demon locked down in the lower realms. Before M.J. can recover the bewitched blade, there's a murder and a heist at the museum, and the dagger is stolen.
Now Oruç is coming for M.J. and her crew, and he's bringing with him some fiendish friends from M.J.'s haunted past. She, Gilley, and Heath are certain to be in for a devil of a time. M.J. may even need to recruit a certain skeptical Boston detective to help stop the paranormal party crashers from turning Gilley's wedding bells to funeral knells. . . .