Cozy mysteries are as American as apple pie. That's why I chose Apple Valley as the setting for the third book in my Food Truck/Food Festival mystery series. Although comfort food and murder don't necessarily go together, there's always a bad apple in every murder mystery wanting to make mincemeat out of some poor victim or two.
When Darcy Burnett, former restaurant critic, is greeted by the intoxicating fragrance of cinnamon, sugar, and baked apples coming from her Aunt Abby's kitchen, she wants to know what smells so good. Her aunt, a former cafeteria lady, shares a bite of her latest comfort concoction, and informs Darcy she's signed up her School Bus food truck to Apple Valley for the annual Apple Festival. And she invites Darcy and her son Dillon to come along. After Darcy reads over the festival promotional materials, she can hardly decline.
"Nestled in the rolling Sierra foothills of El Dorado County is a wonderland of apple orchards and farms, apple wineries and breweries, all waiting to bring apple lovers a variety of sweet, tart, and tempting apple treats. The area, known as Apple Valley, provides the perfect place for a fruitful getaway, where you'll find everything from Apple-Cranberry Cake to Zucchini-Apple bread, all prepared from the freshest farm ingredients. While you're there, be sure to sample such homemade specialties as Apple Crips, Apple strudel, Apple Bread, Apple Donuts, Apple Butter, Apple Cider, Caramel Apples, Bakes Apples, and everyone's favorite—All-American Apple Pie. And don't forget to enjoy the food tents and trucks, craft booths, and the A-MAZE-ing Hay Maze. Remember: An Apple a Day Keeps the Doctor Away—as long as you buy your apples from an Apple Valley certified grower."
Darcy's looking forward to a quiet weekend in the country with Jake, the dream puff guy, who joins the group, along with Dillon, Aunt Abby's computer hacker son. They'll be staying at the Enchanted Apple Inn, a bed and breakfast farm, and enjoying apple wines, scooter rides, and a scarecrow contest. But even when it comes to something as classic as an apple, not everything in Apple Valley is in apple pie order. Somebody's been upsetting the apple cart lately, and it's let to murder. Apparently some Genetically Modified Organism—GMO—companies are trying to infiltrate the industry and they're causing quit an uproar among the farmers.
Darcy's reporter instincts kick in and she discovers there really is a worm in the apple industry—and it's name is Frankenfruit. According to her research, this brave new world of apple modification is unlabeled and drenched in toxic pesticides, posing health risks not even considered.
While the controversy over these GMO fruits has raged for nearly a decade, when the GMO apples begin appearing on the shelves, the organic apples know they won't stand a chance. Why? Because the GMO apple will "look" perfect. When Darcy learns there have been several fires at the apple farms in the area—including at the Enchanted Inn, she wants to make sure her aunt stays safe. Unfortunately, when one of the Enchanted Apple Inn's guests dies right under Darcy's nose. it's up to her to figure out why the victim was murdered—and who done it—before another guest at the inn becomes the next victim.
Naturally, recipes are included!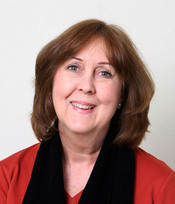 Penny Pike is the author of the Food Festival Mysteries, including Death of a Chocolate Cheater, as well as the Party-Planning Mysteries, including How to Dine on Killer Wine, under the name Penny Warner. She has published more than sixty books and is a winner of the Macavity and Agatha awards.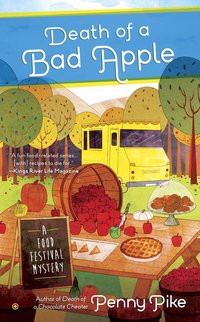 The latest deliciously appealing mystery from the author of DEATH OF A CHOCOLATE CHEATER…
Anxious to take a break from bustling San Francisco, Darcy and her Aunt Abby pack up the food truck and head for the apple festival at Apple Valley, California. Aunt Abby is sure her almond apple tarts will be a hit and Darcy wants to collect more recipes for her food truck cookbook.
But when a fellow guest at the Enchanted Apple Inn is pared-down—and the Inn's owner ends up the prime suspect—Darcy must peel away the layers of the mystery. Because an apple a day certainly isn't keeping the killer away…