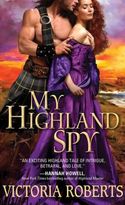 I'm so happy to be here today at Fresh Fiction, the eighth stop on the MY HIGHLAND SPY Teaser Tour!
MY HIGHLAND SPY is the first book in my new Highland Spies series, and I hope you enjoy the story as much as I enjoyed writing it. We left off yesterday where Laird Ruairi Sutherland met his new English governess. Let's see what Ravenna thinks of this Highland laird.
Excerpt Eight: Chapter Two
With all her might, Ravenna held back a groan. The laird didn't speak a word of English. How would she be able to figure out if the man conspired against the Crown if she didn't understand a word of Gaelic? Praise the saints. This was nothing short of a disaster. She was stuck in the Highlands with a widowed laird and his son. She didn't like this at all.
As she stood in the great hall trying to suppress the urge to flee, Ravenna noticed tapestries hung on the walls that depicted swords, shields, and men in the throes of battle. Laird Sutherland certainly had an odd way of making his guests feel at home. Perhaps that was his intention. A stone fireplace dominated the far wall, and there were long tables and benches on the floor in front of a raised dais.
Trying to compose herself, Ravenna gave Laird Sutherland a sympathetic smile for the loss of his wife. She stretched her neck to look up at him because the top of her head only reached the middle of the massive man's chest. These Highland men were definitely differ­ent from their English counterparts. The English lords didn't look that formidable in their waistcoats, whereas the Scottish men looked big, brawny, and battle-ready.
Laird Sutherland and Fagan sported the traditional kilt of green, black, blue, white, and orange, which Ravenna presumed was the Sutherland tartan. They also had large swords sheathed at their waists. She'd never met a Highlander before and realized she'd made a grave error in judgment by believing the words of her countrymen. She had foolishly assumed these Highland men were nothing but a bunch of chest-pounding barbarians.
She was never so happy to be wrong.
The laird's green eyes continued to study her intently. His straight, long chestnut hair hung just past his shoulders and had traces of red. He had an air of authority and the appearance of one who demanded instant obedience. The set of his chin suggested a stubborn streak, but his boldly handsome face held a certain degree of sensuality. Somehow she knew she would never forget a single detail.
When their eyes locked, her heart turned over in response. Her gaze roamed to his powerful set of his shoulders, and he stood there like he didn't give a damn about her or what she thought of him.
Ravenna cleared her throat. "You have my sincere condolences on the loss of your wife."
When he raised his brow, Fagan spoke, and she pre­sumed the man translated her words. The laird must have understood because he nodded in response and then left without as much as a backward glance.
"Your trunk will be carried up to your chambers," said Fagan. "Ye must be weary from your journey. I will escort ye to your room and leave ye to rest." He was about to walk away when Ravenna spoke.
"Might I at least meet Torquil?"
His eyebrows shot up in surprise. "Ye arenae weary?"
"Captain, I've come all of this way. Perhaps you could introduce me to the boy?"
The man was just as big and imposing as Laird Sutherland. He had a strong, chiseled jaw and his dark hair hung well below his shoulders. He had a kind, almost tender smile that was difficult not to notice.
"Fagan, if ye will."
Ravenna nodded in response.
"I donna know where the lad is at the moment, but I will be sure to introduce ye when he returns."
"Very well. I suppose I will unpack my trunk."
Ravenna was placed in a modest chamber of her own, while Mary and George were given rooms with the other servants. The two of them would depart in the morning and tell Uncle Walter that she was safely delivered into the lion's den. For a brief moment, Ravenna silently wished this would all be over and she could return to her family, but she quickly reminded herself of the greater good. After all, that's why she did what she did.
***
Sourcebooks will give away one copy of MY HIGHLAND SPY to a lucky commenter (US and Canada only, please.) Do you ever judge someone on first impressions?
"An exciting Highland tale of intrigue, betrayal, and love."
—Hannah Howell, New York Times bestselling author of HIGHLAND MASTER
"Roberts' newest features a surprise-laden, quick-paced plot, replete with unconventional and fiercely independent characters. Her lyrical prose grabs readers' attention, and the high level of emotional tension simply adds to the depth of the story. This book begs to be read and reread."
—RT Book Reviews
This Highland Laird won't bow to the Crown
Laird Ruairi Sutherland refuses to send his only son away to be educated by the English. And he most definitely will not appear in Edinburgh to pay homage to a liege who has no respect for Scotland. So he does what any laird would do-he lies to the king. The last thing Ruairi expects is a beautiful English governess to appear on his doorstep.
But this lady spy might make him…
Lady Ravenna Walsingham is a seasoned spy who is sent to the savage Highlands to uncover a nefarious plot against the Crown. Playing the part of an English governess—a job easier said than done—she infiltrates the home of Laird Sutherland, a suspected conspirator.
If she doesn't betray him first
Ravenna soon discovers that the only real threat Sutherland poses is to her heart. But will the proud Highland laird ever forgive her when he discovers the woman he loves in an English spy?
To comment on Victoria Roberts's blog please click here.