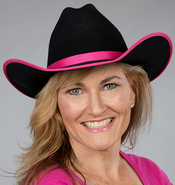 A recent reviewer said it best when she described Slow Hand as not your "typical" western romance. "Vane entwined the old west with the new west and gave us a whole new contemporary romance cowboy."
There's no question that all of the heroes in my hot new contemporary Western series are cowboys, but the word "cowboy" doesn't define what a man does, it defines who he is.
In SLOW HAND, Wade Knowlton is a workaholic lawyer and part time rancher who's constantly at odds with his brother. Wade only sees the hardships and struggles of modern day ranching and wants to provide a comfortable retirement for his parents, especially after his father's triple bypass. In his interactions with the heroine, Nikki, however, he is a shameless flirt and a total charmer.
He crossed his arms over his broad chest and leaned on the door frame studying her. "Miz Powell, if I didn't know better, I'd think you were undressing me with those pretty blue-green eyes of yours."
A guilty flush infused her face but she refused to give him the advantage. She opted for a strong offense instead. "So what if I was? Weren't you quite fixated on my ass at Denver airport?"
He raised a sandy eyebrow. "You noticed that, eh?" His confession came with a shameless grin attached.
She jutted her chin. "Quid pro quo, Counselor. What do you say to that?"
He approached her slowly, the smile in his eyes transforming in a blink to a wicked gleam. A gleam that promised very bad things. His reply sent a warning signal to every nerve in her body. "I'd say, why just use your eyes?"
***
In stark contrast to Wade, the hero of ROUGH RIDER is Wade's hard-edged older brother Dirk.  Restless and rebellious, he gave up a pro rodeo career to join the marines after 9-11 but returns home battle-scarred and bitter. He feels the ranch is all he has left and he's determined to hold onto it at any cost, which puts him at constant odd with his brother. It takes a special kind of woman to put this wounded warrior back together again.
Excerpt from ROUGH RIDER– coming February 2015
He rubbed the back of his neck and exhaled. "I don't know how to go about this. I don't know what you want from me, or how to give it to you. I'm fucking clueless, Red, don't you see? You have no idea what you'd be getting into." He was trying to warn her off again but at the same time a flicker of hope seemed to light in his eyes.
"Maybe I know better than you think." She knew that if they got further involved, their entire relationship would have to be rebuilt on a completely different foundation from what they'd had before. But she was prepared for that.
"This has happened so damned fast," he said. "You gotta give me a little time to learn the game. I don't even know the rules."
"I don't know all the rules either."
He reached out for her hand and pulled her in close. "I don't want you to go. Do you think we can maybe just try playing this thing by ear?"
He looked so uncertain, so vulnerable.
She instantly relaxed against him. "Yeah," she replied. "I think we could maybe try that."
He brushed his lips brusquely over hers. "You deserve a lot better than me, Red. I can't promise you I'll be worth it, but I'll damn sure try."
***
SHARP SHOOTER, the third book in this series, features Reid Everett, one of Dirk's buddies, a former Marine scout sniper and Wyoming hunting guide. Reid's nature is that of a protector to the core.
Excerpt from SHARP SHOOTER coming June 2015
"You're not perfect either, you know."
"Never said I was. But is there a particular imperfection that eats you?"
"Yes. There is. Why are you so damned unflappable? Doesn't anything ever get you worked up?"
"Besides you?" He flashed a crooked grin that made her heart flutter.
"I'm serious, Reid."
"So am I. I find you damned irritating, but I've learned to pick my battles. I've also learned that there just aren't that many things worth getting riled up about."
"What kind of things?" she asked. "What really and truly pisses you off?"
"You really want to know?"
"Yeah, I really do."
"Dishonesty mainly. Liars, cheaters, manipulators. People who take advantage of others' vulnerabilities and misfortunes. I've got no use for 'em."
"There's a lot of people like that in the world," Riley remarked.
"You got that right. And they better not ever mess with me or mine."
She chuckled. "You sound just like John Wayne when you talk like that. I can picture you in the saloon, in the corner, eyeing the bad guy with your six shooter."
He shrugged. "I mean what I say, Riley." He pulled her closer. "I protect what's mine."
She lay snuggled under his arm with her head resting on his chest, listening to the low and rhythmic beat of his heart. She murmured softly. "Times may change, but I guess cowboys don't."
***
I think that last line says it all!
About the Author
Victoria Vane is an award-winning author of smart and sexy romance. Her works range from historical to contemporary settings and include everything from wild comedic romps to emotionally compelling erotic romance. Her books have received more than twenty reviewer awards and nominations to include the 2014 RONE Award for Treacherous Temptations and Library Journal Best E-Book romance of 2012 for The Devil DeVere series. She lives the beautiful upstate of South Carolina with her husband, two sons, a little black dog, and an Arabian horse.