You know how they say that preparing for something is almost more fun than actually doing it? All those hours spent to find the perfect holiday destination, crossing off the days until you're leaving, the nerves in your stomach when the big day has arrived. . . It's just like that with Christmas! No matter how many ornaments there are, neatly wrapped in tissue paper in the boxes in the attic, the cellar or the garage, it's always a good idea to buy some more. Advent calendars are a fun way to count down to Christmas, and when certain smells invade the house – pine, cranberry, gingerbread – you know the time is coming near. . .
I wanted to capture all that and more in my very first Christmas romance, A Family by Christmas, just released from Entangled Bliss. My heroine Emma is a bonbon maker whose agenda is over-full in the runup to Christmas. Her whole life seems to consist of work, really, as she's an orphan with no siblings and not a lot of new friends yet in Wood Creek, the small New Hampshire town she moved to, to open up her very own chocolate-making business.
But all that is about to change when a little girl walks into her shop one snowy afternoon and asks her to make bonbons that will help her daddy fall in love. Conspiring with Casey to make Grant Galloway happy again will take Emma away from her workbench into a whole new world full of Christmas cheer!
Let A Family by Christmas inspire you to make the most of your pre-Christmas time with these fun super seasonal activities Emma, Grant, and Casey engage in.
1) Make snow dogs! You read that right. Every snowman needs a snow dog, a canine companion to stand with him through frosty times.
2) Visit a Christmas fair. What could be better than walking past booths with handmade presents and sweet treats, listening to live Christmas music and sampling hot chocolate, mulled wine and gingerbread?
3) Make a mini tree. Use a single branch to let kids have their own mini tree for which they can cut, glue and paint their own ornaments. A little adult supervision can't hurt but do let them make what they like. After all, a handmade Christmas star is the prettiest, even if it turns out a bit asymmetrical.
4) Set up a board game night with family or friends. No TV or cell phones, just good old-fashioned fun around the table. Keep drinks and snacks at hand, and if there are small contenders, make sure the games chosen are appropriate for their age.
While Grant and Emma do all this and more, together, they grow close. But he's determined to leave Wood Creek after the holidays and she wants to grow roots there, for the first time in her life, after her childhood spent in foster care. So maybe opposites do attract, but there's really no future for them, right?
Or can the Christmas season change their best-laid plans?
A Family by Christmas is out now from Entangled Bliss! It's book 1 in the brand-new Little Shops on Heart Street series about smalltown shopkeepers finding love when they least expect it. Book 2, A VALENTINE PROPOSAL, features bookshop employee Cleo entering a daring wager with her new boss (releasing in January 2020).
Little Shops on Heart Street #1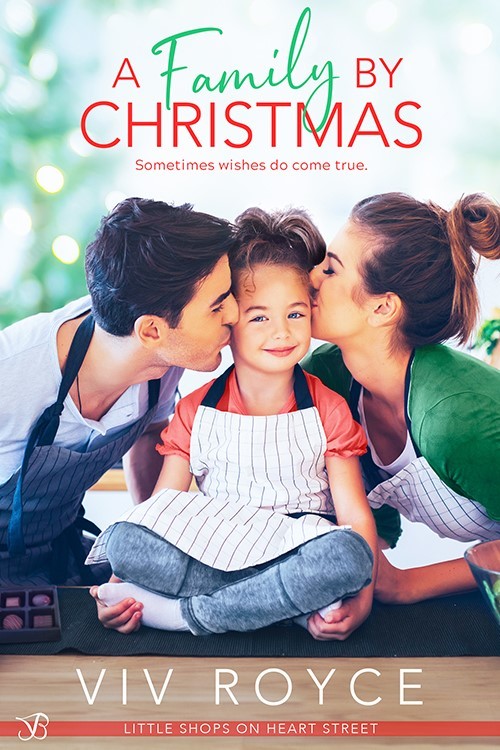 Chocolatier Emma Miller has a new business selling bonbons to the residents of the quaint town of Wood Creek. When a tiny visitor stops by her shop with an interesting request, Emma is intrigued. The young girl needs chocolates that will help her widowed dad fall in love, preferably with her teacher. What Emma didn't count on was Casey's ever so charming and handsome dad, Grant, stepping into her life. She has to remind herself to be cautious because the one thing she learned in foster care is that people always leave.
Pilot Grant Galloway is touched by his daughter's gift and is curious about the person who made the world-class chocolates. But when he steps into Emma's shop full of delicious smells and tasty morsels, he forgets to breathe. And it has nothing to do with his favorite dessert. She's pretty and kind, and when she has to deal with a difficult client, his protective instincts kick into high gear. But he risked his heart once. When his wife died, it left him broken. He's just now beginning to pick up the pieces, and he and his daughter will be leaving town once the holidays are over.
Thanks to some Christmas wishes, though, these two might discover that their carefully laid plans are about to change.
Romance Holiday | Romance Contemporary [Entangled: Bliss, On Sale: October 14, 2019, e-Book, ISBN: 9781640638693 / eISBN: 9781640638693]
With the same trademark atmospheric settings, relatable characters and cute canines that made several of her cozy mysteries #1 Amazon US and Canada bestsellers in multiple categories, Vivian Conroy pens romance as Viv Royce, creating the little shops on Heart Street she herself would like to frequent to stock up on bonbons, books, and cute home decorations. When not hanging out in fictional worlds, she likes to hike, craft and spend way too much time on Twitter where readers can connect via @VivWrites.