That's right, I'm the little blond lady who's scrunched in the corner of the coffee shop. I'm watching you carefully and jotting notes. I see what you're wearing – I like that paisley scarf, by the way – and I'm scrutinizing the way you sip your coffee and nibble your scone.
No, I don't work for the CIA, FBI, or IRS. I'm an author who writes three different mystery series and I get ideas for my characters by watching all the fascinating real-life characters around me. From the folks who cross my path at the driver's license bureau to the ones who are picking through bins of organic oranges at the grocery store or kicking tires at the local garage.
You all fascinate me and give me such wonderful ideas because you're all real, highly individual, and (this is a good thing) a little bit quirky. You see, creating literary characters is a tricky thing for an author. You want them to be loved, reviled, understood, amusing, or even feared. But characters also need to be larger than life. They need to transcend the pages, worm their way into your hearts and memories, and stick like a proverbial burr. That way you'll look forward to reading my next book.
The interesting thing is that we all tend to respond well to characters who are a little bit like us – that are relatable. We want a book that tells a rollicking new story, but we also want that story to reflect some of who we are and what we've experienced in life.
In a mystery, questions drive the plot and narrative. In PEKOE MOST POISON the reader will want to know – who are these crazy waiters and why are they wearing rat heads? Who put deadly poison in the tea? Who stashed a box of X-Terminate Rat Poison in the kitchen cupboard? The same elements that draw us into a story are the same things that propel characters and story lines. Most important of all, we are as anxious to solve the murder mystery as Theodosia, the main character in PEKOE MOST POISON.
So next time someone watches you surreptitiously, please don't worry. You might end up the perfect character in someone's best-selling novel!
All my very best,
Halfway between a cozy
and a thriller – a thrillzy!
Laura Childs is the New York Times and USA Today bestselling author of the Tea Shop Mysteries, Scrapbook Mysteries, and Cackleberry Club Mysteries. PEKOE MOST POISONis her just-released Tea Shop Mystery. In Laura's previous life she was CEO of her own marketing firm, authored several screenplays, and produced a reality TV show. She is married to Dr. Bob, a professor of Chinese art history, enjoys travel, and has two Chinese Shar-Pei dogs.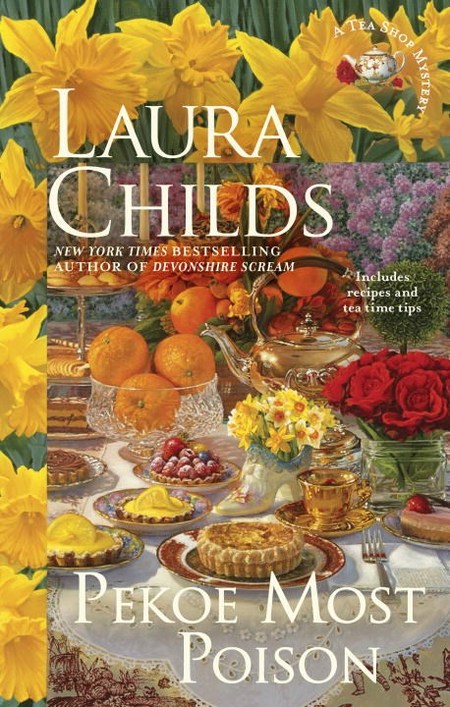 In the latest Tea Shop Mystery from New York Times bestselling author Laura Childs, Theodosia Browning attends a "Rat Tea," where the mice will play…at murder.
When Indigo Tea Shop owner Theodosia Browning is invited by Doreen Briggs, one of Charleston's most prominent hostesses, to a "Rat Tea," she is understandably intrigued. As servers dressed in rodent costumes and wearing white gloves offer elegant finger sandwiches and fine teas, Theo learns these parties date back to early twentieth-century Charleston, where the cream of society would sponsor so-called rat teas to promote city rodent control and better public health.
But this party goes from odd to chaotic when a fire starts at one of the tables and Doreen's entrepreneur husband suddenly goes into convulsions and drops dead. Has his favorite orange pekoe tea been poisoned? Theo smells a rat.
The distraught Doreen soon engages Theo to pursue a discreet inquiry into who might have murdered her husband. As Theo and her tea sommelier review the guest list for suspects, they soon find themselves drawn into a dangerous game of cat and mouse…
INCLUDES RECIPES AND TEA TIME TIPS
Mystery Cozy [Berkley Prime Crime, On Sale: March 7, 2017, Hardcover / e-Book, ISBN: 9780425281680 / eISBN: 9780698197398]