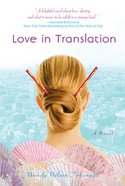 Thank you, Fresh Fiction, for inviting me to write a guest blog!
In my new novel,Love in Translation, 33-year-old fledgling singer Celeste Duncan, after receiving a puzzling phone call and a box full of mysterious family heirlooms, is off to Japan to search for a long, lost relative who could hold the key to the identity of the father she never knew. The book is about many things: identity, the meaning of
family, and finding one's own voice, but it's also about how it feels to be a stranger in a strange land.
To read more of BEING A STRANGER IN A STRANGE LAND and to comment for a chance to win please click here.