The Lust in the Tudor Court series is described as "Hilary Mantel meets Sylvia Day: a deliciously erotic trilogy, set against the sumptuous backdrop of the scandal-ridden Tudor Court. " But our question for Elizabeth Moss is:
If you could meet any of your characters in this series, which character(s) would you choose and why?
There are some wonderful characters that appear throughout the Lust in the Tudor Court series, which is a trilogy of three linked stories, though all are intended to be read as standalones. But the man I would choose to meet above all other characters is the hero of ROSE BRIDE, possibly because he's the closest to my own ideal man. Virgil Elton, as the name suggests, is a well-educated man, a classicist, and a skilful physician to King Henry VIII himself. As an occasional poet myself, I can see myself sitting down with him to discuss Roman poets or his godfather, Sir John Skelton, the first-ever English Poet Laureate – all the while trying not to be seduced by that hypnotic gaze and his strong, dark looks!
It is due to his godfather's influence, of course, that Virgil holds such a prestigious position at court, and is so close to the king's ear. Sir John Skelton was not only a well-known poet, but Henry VIII's tutor when the king was a boy, and in my story he helps Virgil escape the drunken beatings of his coarse stepfather and gain a place at Cambridge, later to become personal physician to the king. It's this dark and unhappy childhood that makes Virgil so fascinating as a character, of couse. His stepfather is long-gone by the time of my story, but his cold and distant mother is still alive, and she refuses to admit how cruelly her second husband treated Virgil as a boy. That upbringing flavors Virgil's somewhat cynical attitude to love and marriage in the first half of the story – until his growing feelings for Margerie force him to reexamine his heart.
I find characters that can hold contrary views more exciting to read about than very two-dimensional characters, so many of my stories involve heroes like Virgil, men whose pre-conceived views of the world are shaken to pieces by their encounters with the heroine. Margerie does a good job on him, but only within the very strict ethos of the Tudor era. I would hope that, if I could get Virgil on his own for a few hours, I could make a feminist of this very opinionated Tudor male. Though I would have to be very careful in case he managed to convert me to his own personal sex slave – as he tries with Margerie in the story, but of course she's far too strong a woman to allow herself to be bound like that.
Virgil is as sexy as they come, not just in terms of looks, but also in terms of sheer brain power. But more than that, he has some very stringent principles. His loyalty is a particularly attractive personal trait – not just to Margerie, who finds herself on the receiving end of some brutal attacks in this story, but to the woman he feels honour-bound to marry because of an impulsive childhood promise. His loyalty to the king is tested here too. Taking a political stance in those days could turn into a death sentence, and Virgil may be opinionated, but he is not a reckless man. He tries to steer clear of politics, and do his job, but of course it's impossible to avoid getting involved at the Tudor court, and he's lucky not to land himself in prison at one stage of my story. That passionate, outspoken streak is very endearing when speaking out is so dangerous. Virgil is a humanist, a Renaissance man, liberal and non-judgemental, all of which makes him the most complex and modern of all my Tudor heroes. Definitely the man for me!
Giveaway
What do you think of brainy men, sexy or not? Leave your answer below and you might be the winner of a copy of ROSE BRIDE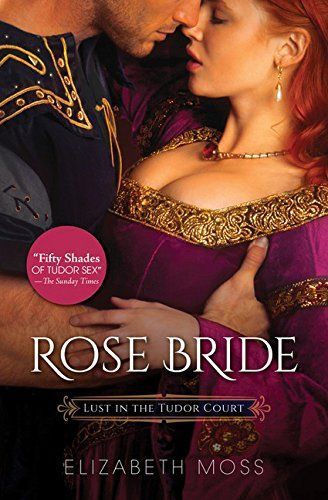 SHE'S FALLEN TOO FAR…
Margerie Croft yielded her virginity before her wedding night, and then fled King Henry VIII's court, knowing she couldn't marry a man she did not love. Now she is viewed as soiled goods, fit only for the role of a courtier's plaything.
Virgil Elton has heard the wicked rumors, but something about Margerie calls to him. Drawn close despite himself, he invites her to help in his work to restore the king's flagging health. But as he comes to know her, Virgil discovers beneath the layers of protective reserve a woman who is as intelligent and passionate as she is beautiful. He will stop at nothing to heal the damage the court has inflicted, even if it means falling himself…
Romance Erotica Sensual | Romance Historical | Erotica Historical [Sourcebooks, On Sale: July 1, 2016, Paperback / e-Book, ISBN: 9781492613886 / eISBN: 9781492613893]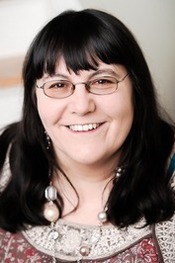 Born into a literary family, Elizabeth Moss is a keen countryside walker who writes fun and sexy historical romances. She also writes award-winning fiction as Victoria Lamb. She lives with her husband and five children in South-West England.