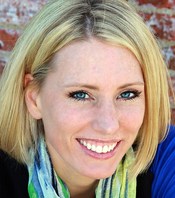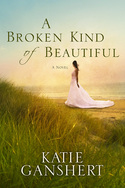 Hi Fresh Fiction readers! I'm so excited to be here today to chat with you about my newest release, A BROKEN KIND OF BEAUTIFUL.
Parents are not supposed to pick a favorite child. I know this. But does that same rule apply to authors and their paperback children? I hope not, because I can't help myself. Of all the novels I've written, this one is my favorite.
Not only did I have an incredibly fun time writing the romance between my hero and heroine, I am passionate about the book's underlying message.
You see, I've worked with young women for five years now. And as a semi young woman myself (does 32 still fit into the young woman category?), I know just how inundated we are with messages about beauty. So often, those messages aren't healthy ones. So often, we are led to feel "less than". So often, we find ourselves looking at the glittery, sparkly world of high-fashion—a world filled with flawless women and perfect clothes—and we think we're missing something.
Maybe if we change ourselves somehow, we'll look more like that pretty woman on the cover of the Victoria's Secret magazine.
But what if that pretty woman on the cover is battling insecurity as much as we are?
Allow me to introduce you to Ivy Clark, the heroine of A BROKEN KIND OF BEAUTIFUL.
She is a 24-year old model who has been immersed in the world of high fashion for ten years now. To the outside world looking in, Ivy is living a glamorous life. She's traveled the world. She's walked runways in Paris and Milan. Her face has been put on magazine covers. She's desired by men and upheld as the standard of beauty for women.
And yet…
Ivy is swimming in a world of hurt. She's only ever been valued for her appearance. Nobody cares about her broken past so long as she can look beautiful for the camera. And on top of that, younger, fresher faces are flooding the market. At the youthful age of 24, Ivy feels washed up and old.
Until she travels to Greenbrier, South Carolina to be the face for her stepmother's up and coming bridal wear line. It's here, in this quaint island town, with the help of her mysterious new photographer and a cast of quirky yet lovable characters, that Ivy learns the true meaning of beauty and worth and unconditional love.
What is something you find beautiful that society might not define as beautiful? One commenter will win a copy of A BROKEN KIND OF BEAUTIFUL.
About Katie Ganshert
Award-winning author, Katie Ganshert, graduated from the University of Wisconsin in Madison with a degree in education and worked as a fifth grade teacher for several years before staying home to write full-time. She was born and raised in the Midwest, where she lives with her husband, their young son, and their goofy black lab, Bubba. When she's not busy writing or playing or reading or snuggling, she is obsessing over the paperwork and the waiting that comes with adoption. You can learn more about Katie and her books by visiting her website.
To comment on Katie Ganshert's blog please click here.