Welcome to Fresh Fiction, Yaffa and congrats on your debut novel hitting stores! Please tell us more about yourself and your book, A TASTE OF SAGE.
Thank you! A TASTE OF SAGE came to be as I combined my interests in the romance genre and cooking. It was also important to me that there be some aspect that extends beyond the five senses. I started with Lumi, my main character, and an idea of the journey I wanted for her, but not as much of a clear idea of how she would get there. Little by little, I added the other characters and conflicts. That was the fun part.
Will you talk a little bit about your journey into publishing? What has been the most surprising thing about becoming a published author so far?
I queried for about two years on and off before I connected with my agent. What surprises me the most is how much there is to learn about how publishing works, though I'm making progress every day.
In addition to being a contemporary romance, A TASTE OF SAGE is also a love letter to FOOD! I was obsessed with the descriptions of food throughout this novel and the recipes. Do you consider yourself a good cook? What kind of research did you do to get in the mind frame of a chef?
I like to think I am a decent cook. If anything the daily practice of cooking has made a major impact on my life. I cook most days. I experiment. I mess things up all the time. The trick is to keep going. I was a big fan of Anthony Bourdain and followed his career closely. I also met Gordon Ramsay once in person, and I think this influenced me in some capacity, along the lines of, "wow. . . they ARE real!"
A TASTE OF SAGE is both a workplace romance and an enemies-to-lovers romance. Did you find anything difficult about writing within these "tropes"? What's your favorite romance trope to read?
I started writing in 2015, before the MeToo movement. Workplace romance meant something different than in 2019, when I connected with my agent and editor. There were things that had to be changed because they came to feel off-key. ATOS uses a sort of twist on enemies-to-lovers, because Lumi is instantly affronted by everything about Julien. Julien is annoyed with Lumi's all-over-the-place style and messy disorganization, but at the same time, he recognizes he is attracted to her from the start, even if he has resolved not to act on that attraction.
I do love reading enemies-to-lovers and fairytale retellings. They get me every time.
Lumi goes through a lot in this book, but never stops standing up for what she thinks is right – even if that means butting heads with her new boss… what do you think readers will love the most about Lumi? What did you love about creating her? 
Lumi feels like a best friend, like someone I would get along with and enjoy spending time with. I think readers will love that she doesn't give up on herself no matter what obstacles arise.
Julien definitely changes quite over the course of A TASTE OF SAGE. He starts out as the arrogant chef of a renowned French restaurant, but meets his match in Lumi. What do you love about Julien's journey?
I love his arc! A lot of people have commented to me that they don't like him because of his selfishness and arrogance, but that's what makes it growth! If he started out being super-considerate and humble, what would be remarkable about his journey? I don't think a main character has to be morally superior to merit being a hero/heroine. That's not the way I look at things. If you've been around a while, you will have noticed that not everyone is nice. For someone who starts out unsavory to have a journey and learn to empathize, become able to hold space for another person, I think that's huge.  
Will you share a recipe with us? 🙂
LUMI'S COCONUT FISH (PESCADO CON COCO) Serves 2 
1 small onion, diced
3–4 cloves garlic, minced
1/2 cup cilantro, diced
1 teaspoon salt, plus more to taste 1 whole red snapper
2 tablespoons vegetable oil 12-ounce can coconut milk
2 tablespoons tomato paste 
Combine the onion, garlic, cilantro, and salt. Make vertical cuts in the skin of the fish and stuff them with the onion mixture. Let marinate for 20–30 minutes. 
Heat the oil in a pan on medium high. Cook the fish on each side for 2 minutes. Flip again and lower the heat to medium. Cook for 6–7 minutes on each side. Try to keep the fish from breaking into pieces. When both sides are fully cooked, add the coconut milk and tomato paste, and simmer until the sauce thickens, about 4 minutes. 
What can readers expect from you next? 
I have another Uptown foodies-related project I would like to work on, but to be honest, quarantine anxiety has somewhat distracted me. I hope to get back to it soon, or at least continue honing my recipes for when I am ready.
Rapid Fire Random Questions
Dragons or unicorns: Dragons. I have a 6-year-old, so I already hear about unicorns all day.
Some of your auto-buy authors: Priscilla Oliveras, Mia Sosa, Beverly Jenkins
Favorite flower: Tiger lily
Earliest celebrity crush: So embarrassing. Jonathan Taylor Thomas.
Random interesting fact you like to tell people:  I almost drowned once when I was 20. Glad I didn't.
Dream vacation: Seoul
Sweet or salty snacks: Both. Chocolate covered potato chips
You have a totally free afternoon – no deadlines, no obligations, no Twitter notifications!  What do you do?: This hasn't happened for such a long time that I am stumped by this question. But my first answer is that I would go to the beach with my family.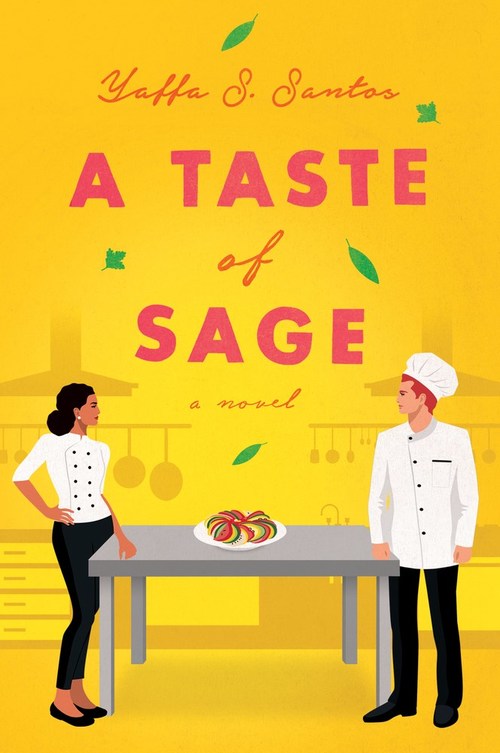 Lumi Santana is a chef with a gift: she can perceive a person's emotions by tasting their cooking. Despite being raised by a mother who taught her that dreams and true love were silly fairy tales, she puts her heart and savings into opening her own fusion restaurant in Upper Manhattan. The restaurant offers a mix of the Dominican cuisine she grew up with and other world cuisines she is inspired by.
When her eclectic venture fails, she is forced to take a position as sous chef at a staid, traditional French restaurant owned by Julien Dax, a celebrated chef known for his acid tongue as well as his brilliant smile. After he goes out of his way to bake a tart to prove her wrong in a dispute, she is so irritated by his smug attitude that she vows to herself never to taste his cooking.
But after she succumbs to the temptation and takes a bite one day and is overcome with shocking emotion, she finds herself beginning to crave his cooking and struggling to stay on task with her plan to save up and move on as soon as possible. Meanwhile, Julien's obsessed secretary watches with gnashed teeth as they grow closer and becomes determined to get Lumi out of her way permanently.
Multicultural Romance | Romance Contemporary [Harper Paperbacks, On Sale: May 19, 2020, Paperback / e-Book, ISBN: 9780062974846 / eISBN: 9780062974860]