Has 2015 been good for you, reading-wise? Looking back on this past year, I can definitely recall many books that have either made me laugh or cry. Those ones are sitting proudly on my keeper shelf and will no doubt be ones I'll be returning to again and again.
For me personally, I think J.R. Ward has had a fabulous year. Not only did she shock fans with her latest Black Dagger Brotherhood release, THE SHADOWS, but she also started a new spin off series with BLOOD KISS, featuring the Brothers and new trainees. Moreover, she even returned to her roots and wrote the first book in a new Contemporary Romance/Women's Fiction series.
Another series to get excited about is Chloe Neill's new series Devil's Isle. THE VEIL delivered on its world building and character development. In just one book, I was hooked. I am definitely looking forward to reading the next book in the series.
It feels like it's been forever since I first read BURNED by Karen Marie Moning back in January but it's not a book that you can easily forget about. The events in BURNED changed the course of the series and marks a new chapter in Mac and Dani's journey.
As good as 2015 has been, I am looking forward to many 2016 releases and January has some amazing titles that I am looking forward to.
Of course this release would be at the top of the list. Not only is
FEVERBORN one of my most anticipated release this month, but it's my most anticipated book for
the year. KMM never fails to give her readers a story to remember.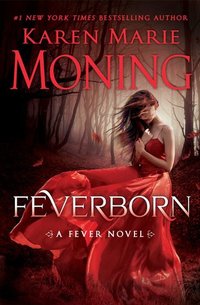 In Karen Marie Moning's latest installment of the epic #1 New York Times bestselling Fever series, Mac, Barrons, Ryodan, and Jada are back—and the stakes have never been higher or the chemistry hotter. Hurtling us into a realm of labyrinthine intrigue and consummate seduction, Feverborn is a riveting tale of ancient evil, lust, betrayal, forgiveness, and the redemptive power of love.
When the immortal Fae destroyed the ancient wall dividing the worlds of Man and Faery, the very fabric of the universe was damaged, and now Earth is vanishing bit by bit. Only the long-lost Song of Making—a haunting, dangerous melody that is the source of life itself—can save the planet.
But those who seek the mythic song must contend with old wounds and new enemies, passions that burn hot and hunger for vengeance that runs deep. The challenges are many: the Keltar at war with nine immortals who've secretly ruled Dublin for eons, Mac and Jada hunted by the masses, the Seelie queen nowhere to be found, and the most powerful Unseelie prince in all creation determined to rule both Fae and Man. Now the task of solving the ancient riddle of the Song of Making falls to a band of deadly warriors divided among—and within—themselves.
Once a normal city possessing a touch of ancient magic, Dublin is now a treacherously magical city with only a touch of normal. And on those war-torn streets, Mac will come face-to-face with her most savage enemy yet: herself.
After the events of the last book, there is no question that readers will be clamouring to find out what happens to our favorite snarky heroine!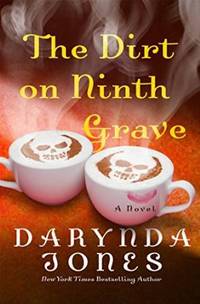 In a small village in New York Charley Davidson is living as Jane Doe, a girl with no memory of who she is or where she came from. So when she is working at a diner and slowly begins to realize she can see dead people, she's more than a little taken aback. Stranger still are the people entering her life. They seem to know things about her. Things they hide with lies and half-truths. Soon, she senses something far darker. A force that wants to cause her harm, she is sure of it. Her saving grace comes in the form of a new friend she feels she can confide in and the fry cook, a devastatingly handsome man whose smile is breathtaking and touch is scalding. He stays close, and she almost feels safe with him around.
But no one can outrun their past, and the more lies that swirl around her-even from her new and trusted friends- the more disoriented she becomes, until she is confronted by a man who claims to have been sent to kill her. Sent by the darkest force in the universe. A force that absolutely will not stop until she is dead. Thankfully, she has a Rottweiler. But that doesn't help in her quest to find her identity and recover what she's lost. That will take all her courage and a touch of the power she feels flowing like electricity through her veins. She almost feels sorry for him. The devil in blue jeans. The disarming fry cook who lies with every breath he takes. She will get to the bottom of what he knows if it kills her. Or him. Either way.
This is brand new series by Keri Arthur and it's a bit of a departure from her traditional Urban Fantasy stories because this one has a dystopian vibe to it. It's a fast-
paced read from beginning to end.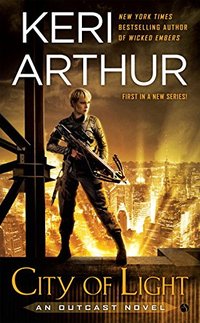 The first in an all-new futuristic fantasy series from Keri Arthur—the New York Times bestselling author of the Souls of Fire novels.
When the bombs that stopped the species war tore holes in the veil between this world and the next, they allowed entry to the Others—demons, wraiths, and death spirits who turned the shadows into their hunting grounds. Now, a hundred years later, humans and shifters alike live in artificially lit cities designed to keep the darkness at bay….
As a déchet—a breed of humanoid super-soldiers almost eradicated by the war—Tiger has spent her life in hiding. But when she risks her life to save a little girl on the outskirts of Central City, she discovers that the child is one of many abducted in broad daylight by a wraith-like being—an impossibility with dangerous implications for everyone on earth.
Because if the light is no longer enough to protect them, nowhere is safe…
Annie Tegelan is an avid reader. Her go-to genre is Romance, anything from Paranormal Romance, Erotic, Contemporary, Suspense and Historical. She also enjoys Science Fiction and Fantasy, Urban Fantasy and Teens and YA. She also reviews and blogs for www.underthecoversbookblog.com