One of the fun things about writing the Paws & Claws Mysteries for dog and cat lovers is writing the characters of animals. Everyone who has a dog or cat family member knows how different they all are. For instance, in my real life, I have a Golden Retriever who is red, not golden, and absolutely refuses to retrieve. She makes me laugh because she's kind of like me. When I toss her a ball, she ducks! Meanwhile her brother, Baron, loves nothing more than catching a tossed ball.
There are two new pets in MURDER MOST HOWL that are based on real animals. Ella Mae belongs to one of my readers. She's a ten-pound mix of miniature pinscher and rat terrier. In the book, a couple is interested in adopting her. Well, the wife is interested, but the husband-not so much! I'm not telling how that turns out.
The other newcomer is a big cat named Leo. His human won the right to have the pet of her choice in one of my books. Leo is a great cat. He thinks he's in charge in his feline world but is confused by humans who don't understand him.
Do you have a cat or a dog who would be a great character in a book?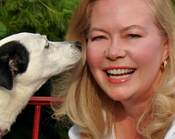 Krista Davis counts herself lucky to be an author. She's still new enough to be surprised that people have read her books! Her first book, The Diva Runs Out of Thyme, was nominated for an Agatha award.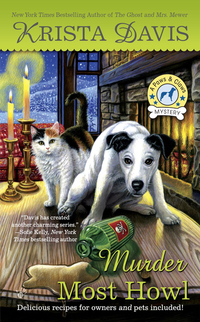 The New York Times bestselling author of THE GHOST AND MRS. MEWER and THE DIVA STEALS A CHOCOLATE KISS returns with a tail of a ruff winter
This January, Wagtail, Virginia, the top pet-friendly destination in the country, is throwing a fun murder mystery weekend—but no one expected the real thing…
Holly Miller is delighted her grandmother has finally left the Sugar Maple Inn to take a well-deserved vacation. It means Holly's in charge, but running the inn might be more challenging than she realized. Wagtail's throwing a weekend-long murder mystery game to draw in tourists during the slow season, the inn has a full house, and a blizzard is on the way.
Trouble is unleashed the night the game begins, when the storm blows in and the lights go out. It gets worse the following morning when Holly's Jack Russell terrier, Trixie, discovers a body—one that's actually dead. Now Holly, her calico kitten Twinkletoes, and Trixie must play by the rules and find one dirty dog…
Delicious recipes for owners and pets included!