For some of us, thrifting is a way of life. Walking into a thrift store is a new adventure each and every time, because inventory is always changing. You never know what you're going to find hidden among the racks and shelves, and there are so many different reasons for hunting through a store that I thought I'd list a few.
Savings. Depending on the store and how they price things, you can find incredible savings on clothing and home goods. Name brands are mixed in with unknown labels. In some households, shopping at the thrift store is necessary because of their budget, and trust me, been there, done that. Why spend $20 on one shirt at the mall, when you could get four like-new shirts for the same money at a thrift store? Or $80 on a service-for-eight dish set at Macy's, when there's a gorgeous pattern sitting on that shelf for $25?
Costuming. Back when the Lord of the Rings trilogy first released, some friends and I wanted to cosplay a few of the characters. So where do you go to find cheap materials to manipulate into Middle Earth costumes? The thrift store. The costumes never did get made, but we collected some neat, inexpensive pieces during those first few weeks of excited determination. But thrift stores are a great place to find items from other decades for parties, Halloween, or just because you like to wear vintage stuff.
Nostalgia. One of my favorite recent thrift store finds was an original stuffed Care Bear still attached to its display box. For a dollar. I couldn't resist it. Eighties toys continue to be collectible, and I love finding something that makes me nostalgic. Sometimes I see the old Corelle pattern we had when I was a kid, and oh, the memories.
Upcycling. This has become a trendy word in the last few years, but it's basically taking something old/broken/boring and creating something new with it. Turning old radios into planters, or a chair into a wall shelf. Thrift stores are full of cheap things just waiting to be repurposed and made new.
Books. I saved the best for last. Books, books, and more books, and so cheap! I've made many a large book purchase from thrift stores over the years. Books for me, books for family members, books to give away as gifts. The best part? You haven't spent much on them, so once you've read them, you can donate them again—whether to a library, another thrift store, or even to your friend's summer yard sale.
What's your favorite thing to hunt for in a thrift store?
No stranger to the writing world, A.M. Arthur has been creating stories in her head since she was a child and scribbling them down nearly as long. She credits an early fascination with male friendships and "bromance" (and "The Young Riders") with her later discovery of and subsequent affair with m/m romance stories. When not writing, she can be found in her kitchen, pretending she's an amateur chef and trying to not poison herself or others with her cuisine experiments.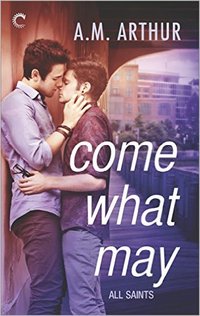 Jonas needs Tate. He just doesn't know it yet.
Or at least, he doesn't want to admit it. Because there is no way Jonas Ashcroft is gay. He's a straight, carefree frat boy player, just like any good son of a conservative state senator. If only his struggle to convince everyone—especially himself—didn't leave him so miserable. No matter how many girls or bottles he drowns himself in, Jonas can neither escape nor accept who he is.
Enter Tate. He's smart, confident, and instantly sees right through Jonas's surly exterior. Sure, he's done things in life he's not proud of, but he knows who he is and what he wants. And what he wants is Jonas. As their easy friendship intensifies into something more, Tate introduces Jonas to a life he's never known. One filled with acceptance and sex and a love that terrifies and excites them both.
But some inner demons refuse to be shaken off so easily. When Jonas's old life barges in, he faces a shattering choice, one that could destroy everything he and Tate have fought so hard for. Sometimes love just isn't enough—and sometimes it's exactly what you need.