1–What is the title of your latest release?
A Game of Cones
2–What is it about?
It's about family, friends, community, and of course murder! A Game of Cones is a cozy mystery and second in my An Ice Cream Parlor Mystery series. In it, Bronwyn's (Win for short) former colleague from New York, Rory Hunter, and her Aunt Jack, the former manager of Crewse Creamer both arrive just as Zeke Reynolds is found shot to death. Zeke, a visitor from a Texas company set on gentrifying Win's beloved Chagrin Falls, puts the entire village in a head spin. But be sure, there is enough ice cream to go around.
3–What do you love about the setting of your book? 
The small town filled with "neighbors." 
4–How did your main character(s) surprise you? 
Win Crewse is a go-getter, well-educated and family-oriented twenty-something. She's also single. So, I put a handsome, helpful, smart guy right at her reach but she just does not seem interested. HIs name is O. A law professor and invaluable with it comes to all things illegal, like murder. It isn't that Win hasn't noticed those things about him, she's mentioned them a time or two and even called on his legal expertise to help her friend Rory. And even though everyone else urges her to pursue the attraction, certainly obvious on his part (and which I have so carefully and cleverly written in), Win won't budge.
5–Why will readers relate to your characters? 
My characters are believable. Real. And I know that because I "borrow" personalities of people I know! For instance, Maisie Solomon is an exact replica of my friend Molly (only forty years younger). Same energy. Same kookiness. Same caring spirit. Ailbhe Crewse, Win's mom, is a lot like me. Although I use bits and pieces of my personality in most of my writings. (Doesn't everyone?)
6–What was one of your biggest challenges while writing this book (spoiler-free, of course!)? 
Actually, I didn't have any challenges on this one. It was the second book so the characters and setting were already in place. 
7–Do you look forward to or do you dread the revision process? 
I dread it. Again, doesn't everyone. We send it in thinking that it's perfect and you get it back with all of these red markings  . . . Ugh!
8–What's your favorite snack to have on hand while writing? 
Sunflower seeds. A dollar pack of those go a long way–they last a long time so I'm not up searching for something else to snack on and they are filling. And did I mention? They're good for you, too.
9–Where would you go for an ideal writer's retreat? 
California at the beach. Nothing else said.
10–What's the best piece of writing advice you've received? 
That there are rules to writing. I never knew that when I first started, so I wrote just whatever I wanted. My story went nowhere. I learned the rules (and I'm still learning) and I've been doing better ever since. 
11–Who is the fictional character you want to hang out with the most? (anyone in literature!)
Miss Vivee. One of the main characters in my Logan Dickerson Cozy Mystery series. I patterned after my mother. She was the best person, fictional or otherwise to hang out with.
12–What's one of your earliest book memories? 
Beverly Cleary is the first author who I can remember although I can't remember her stories. Other than the Dick and Jane books that I learned to read with and shared with my children and grandchildren, my earliest memory of a book are those stories about the Bobbsey Twins. So, yeah, I'm telling my age here.
13–If you had to write in a different genre, what would it be and why? 
I love mystery and there are so many subgenres of it, that it would be easy to still write a mystery and it be completely different than what I'm writing now. But, I have recently contracted to write a women's fiction and I enjoy it. I like to write about women and how we overcome the obstacles in our lives.
14–What song will automatically put you in a good mood? 
Practically any song made during the 60s by Motown or R&B soul music of the early seventies. 
15–What is your favorite way to practice self-care?
To chill and watch a good movie. I used to sneak away when I was raising my children and go to the movie theater. It was a way to keep all the stress of life at bay, even if only for two hours.
16–What can you eat and never get sick of? 
Pork chops! I love them. Honestly, I'm crazy about almost any kind of pork–ribs, ham, bacon, but pork chops win out every time. Close friends, when they know I'm feeling low or having a hard time, will offer to cook pork chops and bring them to me to cheer me up.
17–Will you share a favorite, recent-ish book you recommend? 
The Stillwater Girls by Minka Kent. Published in the spring of 2019, it was new to me. I read it in one sitting and really enjoyed it. I hope to one day write a women's fiction that holds the attention of my reader as that book did for me.
18–Do you have any hobbies? 
I can knit, sew, crochet, hook (latch), embroider, and used to do those things often, but not so much anymore. I enjoy cooking and traveling although I don't know that they count as hobbies. But in answering this, I'm thinking I need to get one . . .
19–Are you an early bird or a night owl?
Early bird. Up with the chickens, down with the sun.
20–What can readers expect from you next? 
Look for more cozy mystery series and my debut women's fiction book (written under a new pseudonym)
An Ice Cream Parlor Mystery #2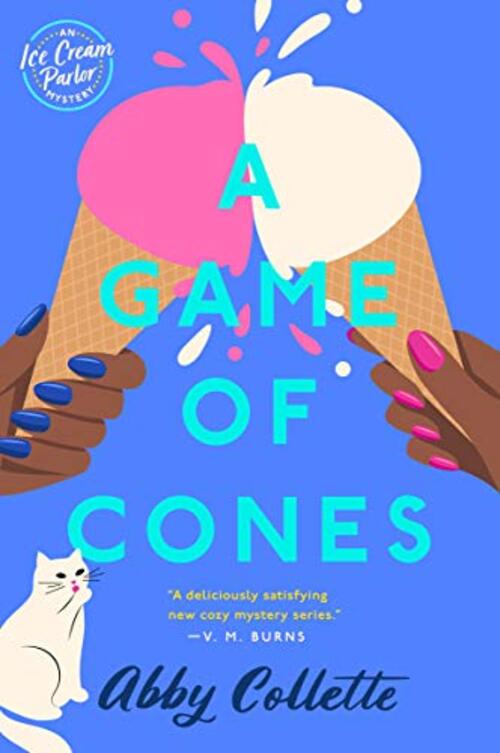 In this charming mystery series set in an ice cream shop, no case is too cold to crack!
Bronwyn Crewse is delighted that Crewse Creamery, the ice cream shop her family has owned for decades, is restored to its former glory and serving sweet frozen treats to happy customers in the picturesque small town of Chagrin Falls, Ohio. But when a big city developer comes to town intent on building a mall, a killer with a frozen heart takes him out.
After literally stumbling across the body, one of Win's closest friends becomes the prime suspect, and to make things worse, Win's aunt has come to town with the intention of taking command of Crewse Creamery. Even though Win has a rocky road ahead to help her friend and keep her ice cream shop, it'll take more than a sprinkle of murder to stop her from solving the crime and saving the day.
Mystery Cozy | Mystery Culinary | Mystery Private Eye [Berkley, On Sale: March 2, 2021, Trade Size / e-Book, ISBN: 9780593099681 / eISBN: 9780593099698]
Abby is a member of Crime Writers of Color, and the Sisters in Crime national, regional, and guppy chapters.Wall Street Journal bestselling author Abby Collette loves a good mystery. She was born and raised in Cleveland, and it's a mystery even to her why she hasn't yet moved to a warmer place. Along with the Ice Cream Parlor mysteries, she is the author of the Logan Dickerson Mysteries, the southern cozy mystery series featuring a second-generation archaeologist and a nonagenarian who is always digging up trouble. She is also the author of the Romaine Wilder Mysteries, set in East Texas, which pairs a medical examiner and her feisty auntie who owns a funeral home and is always ready to solve a whodunit. Abby spends her time writing, facilitating writing workshops at local libraries and spending time with her grandchildren, each of whom are her favorite.
(Photo Credit: Duke Morse)