What if the only reason you got your job was because you were a water nymph with the ability to turn off your reaction to sexual chemistry, no matter how powerful the man? Leia got one directive when she was hired, don't fall for her demigod billionaire boss. His only requirement for his assistant. Too bad her power doesn't seem to work around this particular demigod.
T is for trouble. And she should've seen it coming
H is for hubba hubba. Castor's a demigod billionaire. So much better than the mortal version. 😉
E is for expectation. That waiting and wondering.
*
D is for demigod. The son of Zeus and a human woman.
E is for energy. Castor vibrates with the blood of his father and the powers that flow through him.
M is for mating. Lei and Castor have to go to a wolf shifter mating. Maybe she should just quit instead.
I is for intriguing. No woman has ever resisted him to this level, and for once, he doesn't like it.
G is for giving. A giving heart is much harder to resist.
O is for oh hell yes! Or is it oh hell no? These two have trouble deciding which.
D is for delicious. Everything about these two together.
*
C is for cursed. By an ancient werewolf.
O is for ominous. Someone at the mating wants Leia to pay for past sins.
M is for mistake. Which is the only thing loving him could be.
P is for pheromones. Released at a wolf shifter mating, the make everyone a little. . . ah-hem.
L is for lightning. Castor controls it with ease.
E is for enticing. Which is more enticing? Love? Or need?
X is for eXhale. As in waiting to. . .
***
Brimstone Inc. #1
When Lyleia Naiad was head-hunted by Brimstone, Inc., for her job as Executive Assistant to a high-powered billionaire demigod, she was given one directive–do NOT fall in love with Castor Dioskouri. Doesn't matter if he's the son of Zeus and can electrify a room with a single glance. As an ex-nymph, she possesses a unique ability–a gift from the goddesses to protect nymphs from the randy gods–to resist her boss's charms.
Or so she thought.
He insists she accompany him to an alpha wolf shifter mating ceremony, an event where the pheromones fly, and so do clothes. . . and inhibitions.
Goddesses save her, because Castor has stolen into Lyleia's heart, and she's not so sure she can hold out much longer. . .
*This novella was previously self-published but has undergone a complete re-edit. Scenes were added, things were changed, but the kissing still remains!
Paranormal Romance [Entangled: Amara, On Sale: February 17, 2020, Hardcover / e-Book, ISBN: 9781534742895 / eISBN: 9781682815427]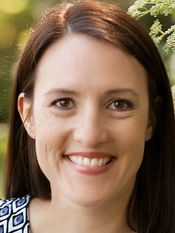 Paranormal romance author, Abigail Owen, grew up consuming books and exploring the world through her writing. She attempted to find a practical career related to her favorite pastime by earning a degree in English Rhetoric (Technical Writing). However, she swiftly discovered that writing without imagination is not nearly as fun as writing with it. No matter the genre, she loves to write feisty heroines, sexy heroes who deserve them, and a cast of lovable characters to surround them (and maybe get their own stories).
Abigail currently resides in Austin, Texas, with her own personal hero (and she married that guy!) and their two children, who are growing up way too fast.