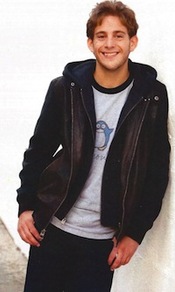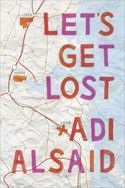 Adi Alsaid, author of the new contemporary YA novel LET'S GET LOST is touring the web with "Seize the Tuesday" posts to celebrate the publication of his novel. Each piece will focus on a different, fun example of how Adi was able to "Seize the Tuesday" in his own life and how that can inspire others to make a change in their lives too! Seize the Tuesday not only gives readers a glimpse into Adi's life, but also introduces readers to one of the key themes in LET'S GET LOST of "seizing the Tuesday" – of seizing a moment that can change your life forever.
Five strangers. Countless adventures.One epic way to get lost.
Four teens across the country have only one thing in common: a girl named LEILA. She crashes into their lives in her absurdly red car at the moment they need someone the most.
There's HUDSON, a small-town mechanic who is willing to throw away his dreams for true love. And BREE, a runaway who seizes every Tuesday—and a few stolen goods along the way. ELLIOT believes in happy endings…until his own life goes off-script. And SONIA worries that when she lost her boyfriend, she also lost the ability to love.
Hudson, Bree, Elliot and Sonia find a friend in Leila. And when Leila leaves them, their lives are forever changed. But it is during Leila's own 4,268-mile journey that she discovers the most important truth— sometimes, what you need most is right where you started. And maybe the only way to find what you're looking for is to get lost along the way.
Seize the Tuesday: Seizing gently
By Adi Alsaid
The very language associated with seizing the day seems to imply some sort of immediate action, a hand snatching out at the air and clutching at whatever's worthwhile, refusing to let go. The way my character, Bree sees it, seizing Tuesdays is all about action, movement, adrenaline.
I wouldn't always agree. I think to live life fully, you have to know a little bit about stillness. Rather than a hand reaching out to grasp, sometimes seizing Tuesdays is about being gentle with the day, like a hand falling on the back of a beloved pet, stroking at the fur softly, or fingertips falling over the edge of a hammock, leaving a trail in the sand.
Life's beauty isn't just in the whirlwinds. Sometimes, it's in the pauses. In the ability to let time go by, pleasantly. In simply observing the world. Or not even that. Staring out at while filling the scene with your own thoughts. With a book. With a movie, a television set, even. Just noticing you're alive. You're in this wonderful, maddening, confusing, inexplicable life. You are, and no snatching needs to take place to prove it. You simply need to sit back and notice.
An hour where you wake up too early, accidentally granting yourself freedom from anything else you may have planned. The way an open window pushes air around your apartment. The bass line in one of your favorite songs that you hadn't quite noticed. A man you've seen several times around the neighborhood, his face suddenly familiar, like a word you suddenly know the meaning of and will, for the next few days, seem to be everywhere. The fact that you don't actually know how the hell to make a decent cup of coffee, but that's never stopped you from enjoying one. Complaints that you may have had on some other day, relegated elsewhere, taking a back seat to the simple enjoyment of your life. Yes, feeling cold and earachey from the wind coming in through the window, but enjoying the madness of the air anyway, how it makes the passing environment seem cinematic. Finding a new lunch spot, choosing to keep yourself blissfully ignorant of the opinions of those who've already eaten there.
Seizing days is not, I'm sorry to say, Bree, always about recklessness, or wildness, or even manic laughter. Seizing the day is simply about pointing out to yourself the fact of your existence, the beauty of it. The world's ineffable, inexplicable wonders. That's it. You can do it on the roof of a building in the middle of one of the most crowded cities in the world. You can do it at a cabin on the top of a mountain twenty miles from civilization. You can do it at the sight of a loved one, the freckles on her back that you'll never actually memorize. Or maybe in the coy eye-contact dance with someone you'd like to meet. The horizon, what it looks like, what it means scientifically, figuratively, its changing colors. The taste of a damn mango, dripping juices down your chin, the breeze blowing strongly enough to dry the cloudy-clear streaks before anyone has noticed a thing. Before it was noticed at all.