I have always loved the friends to lovers romance trope. The challenge to making a story like this work is to be able to first show how good the hero and heroine are as friends but also create that subtle tension that lets you know something more than friendship is on the rise. That's what I I hope I've done in my contemporary romance, THE ONE THAT GOT AWAY.
Because of…reasons, my hero, Jamie, and heroine, Brynn, are on a road trip from Chicago to L.A. We know from the outset that Jamie has feelings for Brynn that go beyond friendship, but obstacles have kept him from telling her. His hope is that by the end of the trip she'll realize he's the one. What does that mean for me as a writer? I get to put these two in situations that will make them squirm with tension.
Here's a short little scene from early in Jamie and Brynn's road trip. Because of a travel mishap, Brynn is without her glasses or contacts for their overnight stay in Tulsa, OK. Because our hero is a beer brewer and their hotel bar has tons of microbrews on tap, Jamie and the bartender decide to give Brynn a blind taste test to see how well she knows her brews. Brynn does great. Jamie, on the other hand…
Brynn flushed at the compliment, sure both men could see the evidence of it on her pale skin, but she didn't care. It felt nice to have this part of her brain admired—the beer part. Maybe she'd call it her beer cortex.

"Haven't tasted it yet, Tim," she said. "A girl's gotta drink her beer before she marries the guy who poured it." She stuck her tongue out, ready to lap up the fragrant liquid.

"You're killing me," Tim said.

"Dude, I poured it," Jamie argued under his breath, and Brynn wondered if the remark was for Tim-the-bartender or her. This blindness thing was heightening her other senses all right, and she didn't like it. Because heightened senses made her think. And overthink. Hell, she did that on a normal day. Right now she just wanted to forget thinking altogether and drink her beer.

"Can I taste it now?" she asked.

"One sip," Jamie said. "One sip and then initial reaction."

She stuck her tongue out again, partly because she liked the idea of Tim-the-bartender thinking it was hot. She didn't do things like this, acting playful and sexy with a perfect stranger. But blind or not, Brynn felt sexy in this moment, and she dipped the tip of her tongue into the head of the beer.

"Jesus."

The word was soft, under his breath, but Brynn's sense of hearing was sharper this evening, because the word did not escape her, nor did the recognition that the voice belonged to Jamie and not to Tim. She reminded herself she was playing at sexy for the complimentary bartender and swallowed the bit of foam on her tongue. Then she laughed softly, the tickle of the carbonation lingering.

"I can name that beer in one sip," she said.

"Don't rush," Tim told her. "I've got all night."

"Actually, do it, now," Jamie said, and for the first time tonight she wished she could read the expression that went with his words.

Instead she sipped. One long, slow gulp. "It's a Hefeweizen," she said, then rested the glass on the bar. "A close second to my favorite, which is a Belgian white, though this one hasn't brewed me one yet." She nodded toward where she thought Jamie was. Who knows? It could have been Tim. Heat coursed through her, and she closed her eyes.

"Game over," Jamie said.

"No way, dude. We're just getting started," Tim insisted. "Drinks are on the house the rest of the night. What can I get you?" he asked Jamie, and Brynn listened to him sigh.

"You got any Jack?"
Every time I read this excerpt, I remember how much I loved writing it. It's the first little inkling Brynn gets that something is brewing beneath the surface for Jamie, but she can't see his facial expression to gauge his reaction, so she's quite literally still in the dark. But don't worry, she gets her glasses just in time to catch a glimpse of Jamie in the shower the next morning. Ah, but that scene is for another day.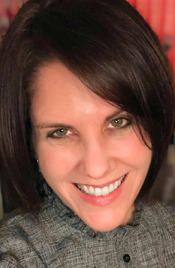 AJ Pine writes stories to break readers' hearts, but don't worry—she'll mend them with a happily ever after. As an English teacher and a librarian, AJ has always surrounded herself with books. All her favorites have one big commonality–romance. Naturally, the books she writes have the same. When she's not writing, she's of course reading. Then there's online shopping (everything from groceries to shoes). And a tiny bit of TV where she nourishes her undying love of vampires, superheroes, and a certain high-functioning sociopath detective. You'll also find her hanging with her family in the Chicago 'burbs.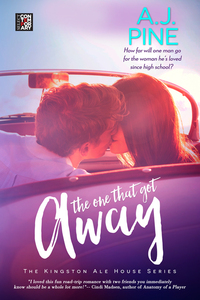 How far will one man go for the woman he's loved since high school?
Jamie Kingston has been Brynn Chandler's best friend since middle school. Only once was their friendship tested—when Brynn gave Jamie a single kiss. Since then, they've had an unspoken agreement never to cross that line again, and she's ready to let go of the past and move on.
But Jamie has loved Brynn for as long as he can remember, and now that he's ready to tell her, she has her sights set on someone else. Knowing this is his last chance, he asks Brynn to go on a two-week road trip. But their time alone brings old hurts to the surface, and Brynn has to decide if the one that got away lies at the end of the journey or if he's been by her side all along.