If you visit Amazon these days, you'll find millions of books. Millions in the romance category alone. So many stories. So many ideas birthed in the writers' imaginations. But where do those ideas come from? Ask most writers that question and you'll most likely get some variation of Oh, geez. Everywhere. That's because life provides the seed for every story, whether it be a song lyric that hits your ears at just the right time, a news headline, a funny comment overheard…
Or something as simple as an elderly man holding a bouquet of flowers as he waits for a train.
I stood in Grand Central not long ago, watching such an old man and thinking, where is he going? Who are the flowers for? He must be meeting a woman. Look at how sweet and dapper he looks in his fedora as he anxiously studies the board with the train schedule. My mind quickly slipped a romance heroine into the picture. She sits next to the old man on the train and…
The possibilities are endless.
For me, at least, those seeds normally sprout sideways, never taking me where I first thought they would. Like the idea that came from the flash of headlights, believe it or not. My husband and I had recently purchased land on the side of Mt. Graham east of Tucson and we were headed to the property late at night. It's pretty rough terrain, with lots of sharp dips and steep climbs on the dirt road leading in. We came up over a rise and off in the distance on another peak, another vehicle must have been travelling as well because a beam of light suddenly appeared, shooting straight into the night sky.
Now, many here in the southwest would have immediately thought ALIENS! Because, you know. It's the desert. That's where the aliens always hang out. Seriously. Roswell isn't far away. Anyway, I didn't go the alien route. For whatever reason, I imagined the beam more like the light shining through a door that had suddenly been opened. A portal of sorts. One that could transport someone from one spot to another, anywhere in the world, and maybe, any time in the world.
So, now you're thinking, Ah, Mac found the seed for a sci-fi time-travel romance set in the mountains of southern Arizona, but you'd be wrong. In the end, that seed bloomed into a contemporary fantasy romance set in Ireland. Yeah, I know. The odd path the story took threw me a little too, but that flash of headlights was the birth of my first published book.
Just over a year ago, a pair of twin girls I saw one day while shopping became the seed for what eventually morphed into Players, my sports romance series. Don't ask me how I went from those cute little girls to an MMA champion finding his HEA with country music's "It Girl" in my latest release, TO WIN HER HEART. Even I can't explain how my imagination works, but these days, I'm not fazed in the least when it goes sideways. Instead, I embrace the possibilities and remember…they're endless.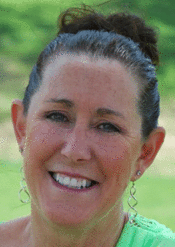 Breast cancer survivor and award winning author, Mackenzie Crowne writes sensual contemporary romance with a side of sass. Her friends call her Mac. She hopes you will too.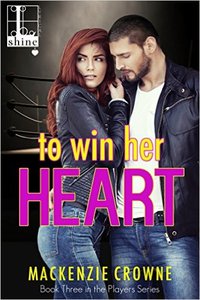 In order to protect her, they'll both have to let their guards down…
Country music's It Girl Jessi Tucker is fed up with her family's stifling security measures. The threat of a dangerous stalker has gotten the men in her life—including her football star cousin, Tuck Tucker—monitoring her every move. To get the freedom she yearns for, Jessi hatches a plan to recruit Max Grayson, Tuck's sexy brawler best friend, to play the role of her new boyfriend. But if her scheme works, will she be forced to hide her true romantic feelings for the sake of her independence? Or will she finally steal the heart of her dream man?…
Max has been pining for Jessi for years and would do anything to protect her, but a professional cage fighter with too many skeletons in his closet has no business being with one of America's sweethearts. Yet while Max does his best to keep Jessi at arm's length, the Tucker family persuades him to accept her offer.
Max believes he can keep Jessi safe from danger, but can he shelter her from his own dark secrets, the media's unforgiving spotlight—and a mutual desire that's harder to resist each day…