H is for the Heart of Turn-Around Ranch, and how it helps teens and adults alike
O is for two Opinionated people, who argue about as much as they thinking about kissing each other.
P is for Pining over your best friend, even though you know you shouldn't.
E is for the excitement of the town rodeo and how the two ranches are preparing for their showdown.
On the
R is for the two Ranches that neighbor each other, and the special spot in the middle Tanya and Brady have met up since they were kids.
A is for All-Around Cowgirl, a title Tanya's won in the past, and Harlow, the town's good girl, is training for. If only Maddox, the bad boy who's been sent to the ranch would stop giving her a hard time during training so she could better focus.
N is for Nosy family members who've been trying to get Tanya and Brady together forever
G is for Winston, the three-legged Goat that Tanya saved and acts as a therapy animal to scared horses. (Which is a real thing between goats & horses sometimes)
E is for the big town rodeo Event with an Ending that no one in town will soon forget.
Turn Around Ranch #2
A cowboy hero who's too busy to notice his perfect girl lives next doorAn adorable cowboy romance from USA Today bestselling author Cindi Madsen featuring:
A heroine who is determined to take the path of least resistance
And a love story the whole town has been waiting years for
Brady Dawson grew up in the Colorado heartland running the Turn Around Ranch with his parents and his brothers. The Turn Around offers safety and rehabilitation for troubled teens, and doesn't leave a lot of downtime, so it's lucky his best friend is the girl next door, Tanya Greer. Everyone tries to label them as more than friends, but they've never crossed that line. Well, except that one time…
Tanya's family's dude ranch isn't attracting a crowd any more. Tanya would love to turn the ranch into a summer riding camp for city kids, but her parents refuse to consider her idea. They still seem to think of Tanya as a kid herself. So when they get an offer from a slick businessman, it looks like they're going to sell. And when Tanya is offered a well-paying job in the city, she knows it's time to forget her dreams for the ranch, and her hopes of being more than friends with Brady.
Brady doesn't want Tanya to go, but he doesn't want to hold her back either. The thought of losing Tanya has Brady's cowboy heart in knots. He realizes he'd better take his own advice, cowboy up, and confess his feelings. He only hopes it isn't already too late.
Romance Contemporary | Romance Western [Sourcebooks Casablanca, On Sale: June 29, 2021, Paperback / e-Book, ISBN: 9781492689201 / eISBN: 9781492689218]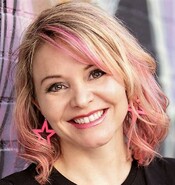 Cindi Madsen sits at her computer every chance she gets, plotting revising, and falling in love with her characters. Sometimes it makes her a crazy person. Without it, she'd be even crazier. She has way too many shoes, but can always find a reason to buy a new pretty pair, especially if they're sparkly, colorful, or super tall. She loves music, dancing, and wishes summer lasted all year long. She lives in Colorado (where summer is most definitely NOT all year long) with her husband and three children.