ExPro hockey player, Jake Champagne, and artisan pie maker, Evie Pemberton, were best friends from childhood until Jake ghosted on the friendship when he fell for Evie's beauty queen cousin. Now, as Jake recovers from a messy divorce, they have reconnected and are struggling to find their footing in this new relationship. Can they get their old friendship back, or do they want something more?
In this except, they have been shopping and a salesperson mistook them for a married couple.
***
"I can't believe she thought we were married." Jake laughed. "I could have told her you were in my wedding, all right. You just weren't the bride."
And in a split second, the laughter died on Evie's face. "Jake, I wasn't."
She hadn't been in that Cecil B. Demille production of a wedding? At least fourteen women had marched down that aisle wearing dresses the color of Bazooka bubble gum; surely Evie had been one of them.
"You weren't? I could have sworn…" How could he have missed that?
Evie smiled a sad little smile. "To be fair there was a lot of pink tulle and ruffles going on with those dresses. It was hard to see who was under all that."
"That's the truth. But you're Channing's cousin."
She shrugged. "Yes, but that doesn't mean I was in the wedding. My sisters were. Your sister was. I didn't make the cut."
She began to walk toward the car and he fell into step with her.
"I guess I had a lot going on—getting ready to move to Nashville, the honeymoon, getting enough groomsmen lined up for all those pink women. But I swear, Evie. I thought you were one of them. I can't believe it."
"Oh, you can believe it, all right. If you don't, ask my mother. I didn't care, but she did."
"I guess I wasn't paying attention. Channing was always accusing me of that. Maybe that's why I'm divorced."
When they reached the car, Evie stopped and met his eyes. "I'll tell you why you're divorced. You're divorced because Channing is a spoiled brat who got distracted." As soon as she'd spoken, she put her hand over her mouth. "I'm sorry. I shouldn't have said that."
He liked that she'd said it. He was over the whole thing, but that didn't mean he didn't appreciate a little righteous indignation on his behalf. "Hey, she's your blood kin, not mine. If you can't say it, who can?"
Evie got this prissy little look on her face. "Nevertheless, one shouldn't speak disparagingly about the love of someone's life."
"One shouldn't, should one?" Jake said.
Evie shook her head. "Me. I. I shouldn't have said it."
"Oh, who cares? She wasn't the love of my life anyway. I just thought she was."
"Isn't that the same thing? People are always saying, 'I just thought I was in love. I never was.' It's the same thing. If you think you're in love, you are."
"I guess so." He reached to open the passenger door for her, but stopped. An image of Evie at the wedding came rushing back.
"You served the cake at the reception, didn't you?"
"Yes. And what a cake it was—what with the bridges, satellite cakes, and edible glitter." She sounded amused, cheerful. But she couldn't be. Even he knew that though people acted like it was an honor to be asked to serve the bride's cake, the job really went to someone who wasn't quite good enough to stand at the altar with the bride.
It must have been humiliating for her.
He was as much to blame for the oversight as Channing—more. Evie was one of his best friends—maybe his best friend. If he'd known Channing hadn't included her, he would have insisted.
Wouldn't he?
No.
He wouldn't have given it another thought. Jake wasn't proud of it, but there it was. As long as Channing was getting what she wanted, he was happy. He had never considered another thing—even making Evie feel like she meant less than nothing to him. But hadn't he already done that—long before the wedding? With the calls he didn't return, the texts he barely answered, the forgotten birthdays?
He closed his eyes—from shame and because he didn't deserve to even look at her. "Evie, I am so, so sorry."
"We've been through this."
"No. Not by half, we haven't." He opened his eyes and placed his hands on her shoulders. She was trembling—or was it him? "I put you in a box, stored you on a shelf, and thought you'd be there when I got ready to let you out again." He moved his hands against her. It felt good.
She put up a hand and started to shake her head.
"No. Don't tell me it was all right."
He locked eyes with her and they were quiet for a moment.
"At the very least, I should have come to my senses after the divorce. I should have thrown myself on your doorstep and begged you to forgive me." But, no. He'd used all his energy chasing ass and drinking. "It never hit me until now—how it must have made you feel, how it would have made me feel."
She didn't blink and then she nodded. "Our relationship was always like a magic carpet ride for me," she said quietly. "Sometimes we flew high and fast, sometimes steady and slow. But it was always there. We were always on that carpet together. I guess the hardest part was that I thought we had just entered a steady, slow phase, but I looked up one day and had to face that I was on the ground—alone. There was no carpet and there was no Jake."
He folded her against him and cradled her head against his neck. "I'd give anything—anything—if I'd never let you go."
She startled and then went still for a beat before pulling away enough to look up at him, her eyes wide and questioning. "What…what is it that you mean, Jake?"
What did he mean?
He let his eyes drop to her mouth—the mouth that always smiled at him, but wasn't smiling now. He could answer her question by bringing her mouth to his. He knew instinctively that she would welcome it—and he almost did it. He opened his lips and dropped his face toward her.
But he stopped. How could he answer her with a gesture when he didn't have the answer in words?
"I mean I should have returned your calls. Hell, I shouldn't have waited for you to call. I should have treated your friendship like the fine thing it was—is."
She nodded and slowly pulled out of his arms, leaving a cold void where she'd been.
"Thank you for saying that, Jake."
He still wanted to kiss her, but that wouldn't do. "Hey, Evie, I really am sorry I treated you so bad, but how about we suck face?" That would be a real princely move.
Time to lighten the mood. "But at least you didn't have to wear that pink parade float of a dress." He opened the car door for her.
She smiled as she climbed. "One good thing about serving the cake—my dress was not Pepto Bismol pink."
He laughed. "Tell you what—you can be in my next wedding and you can pick the dress." He tried and failed to conjure up an image of what that would look like. No wonder. Another marriage wasn't at the top of his list. At least that exorbitant amount of alimony he'd paid Channing had come to an end when she'd remarried. He might not be as lucky next time.
"I won't hold you to it."
"Well, I figure I've had my last wedding anyway. But, Evie"—he put a hand on her arm—"there's not a woman in a veil you wouldn't outshine."
(c) Alicia Hunter Pace, Carina Press, 2021. Shared with permission from the publisher. 
Good Southern Women #1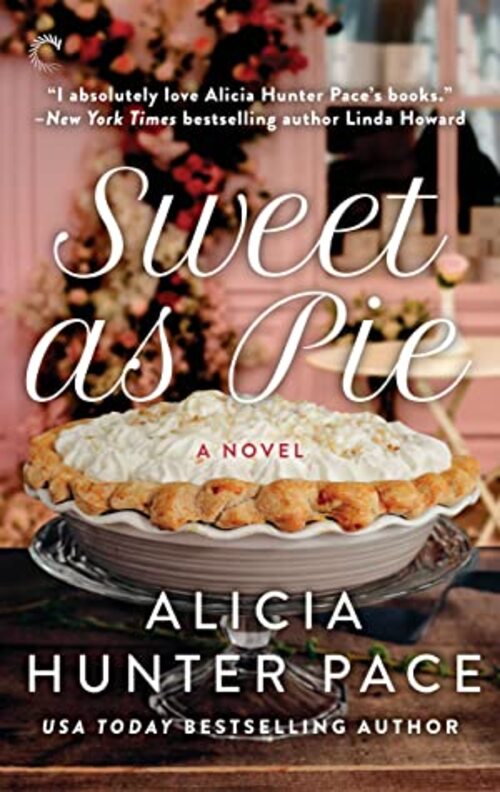 A pro hockey player learns that home is where the heart is in the first novel of a delightful new series from USA TODAY bestselling author Alicia Hunter Pace
Evans Pemberton has always had a problem saying no. To her overbearing Mississippi Delta family, to her business mentor's push to expand her thriving pie shop and to her lifelong crush, Jake Champagne. But Jake chose her beauty queen cousin three years ago and ghosted on their close friendship. When he comes to her small town in Alabama with a new pro hockey franchise, Evie fears she'll lose her heart all over again. Of course, she'll forgive him like the good Southern woman she is, but anything more than that is off the table.
So why can't she stop baking for him?
Jake is looking forward to a new team, a new town and a clean slate in Laurel Springs. After a disastrous year, the hockey hotshot is leaving his past behind—even betting his best friend that he can stay away from women. But he's happy to reconnect with a piece of home when he visits Evie. Between slices of Mississippi mud pie and chicken potpie, he's starting to remember all the good times they had and the man he always intended to be. Not to mention what a fool he was to let Evie get away…
How will they find a future together when she can't say no and he can't say yes? The path to true love isn't quite easy as pie, but it sure is sweet in the end.
Good Southern Women
Book 1: Sweet as Pie
Romance Contemporary [Carina Press, On Sale: August 24, 2021, Mass Market Paperback / e-Book, ISBN: 9781335424846 / eISBN: 9780369717481]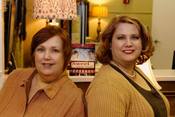 Southern Sassy Romance
As Alicia Hunter Pace, Stephanie Jones and Jean Hovey write contemporary romantic comedy and light fantasy with a distinct southern voice. Stephanie lives in Jasper, AL, where she teaches third grade and wishes for a bigger bookstore. She is a native Alabamian who likes football, civil war history, and people who follow the rules. She is happy to provide a list of said rules to anyone who needs them. Jean, a former public librarian, lives in Decatur, AL, with her husband in a hundred-year-old house that always wants something from her. She likes to cook but has discovered the joy of Mrs. Paul's fish fillets since becoming a writer.