Her breath caught. The duke was still sound asleep, but he had turned and now lay on his back. The arm that had curved around his head lay flung over his face, hiding it from view. A chiseled chest dusted in crisp hair rose and fell with deep, even breaths. Her dread didn't allow her to appreciate the frontal view of him—she was only intent on escape. Muttering an oath under her breath, Sarani blew out a breath.
Easy does it, she told herself.
Retracing her steps with her skirts in hand, she climbed up on the bottom bar and stretched out her left leg toward the bunk rail. She made the mistake of looking down in her precarious and admittedly lewd position—she was straddling the man, for heaven's sake—and nearly toppled over. Everywhere her eyes fell, she saw nothing but acres upon acres of masculine perfection. If his back had been delicious, his chest was a veritable feast. A slow ache took up residence in her belly and then spread like hot oil elsewhere.
She might be in a hurry, but she wasn't dead!
This man did not look like he had an ounce of excess anywhere on him, unlike most indolent aristocrats she'd met in India. The scattering of bronzed hair on his broad chest tapered into a trail that arrowed between the carved muscle of his abdomen to narrow hips. He was not given to indulgence, this man. Sarani gulped and suppressed a shiver at the dormant predator sleeping beneath her. If he woke, she'd be done for.
Then for heaven's sake, you henwit, stop bloody looking.
Sarani had almost swung all her weight over when she realized the soft sounds of breathing had ceased. There was no noise in the cabin at all. Chill bumps spread over her flesh, her sense of danger heightening unnaturally. She spared a glance down and almost shrieked as his hand descended from his face and came to rest on her stockinged ankle, lodging her in place.
Her gaze flicked back up, and Sarani couldn't move, not because he was gripping her with loose fingers. But because every bone in her body had stilled in horror, her eyes locked on his face—proud forehead, an imperial blade of a nose, and a bearded, square jaw framing lush, parted lips. Lips that had been seared into her memory.
This was the duke?
No, it wasn't possible. It couldn't be. Not him.
She had to be hallucinating. But those slanted eyebrows and bold cheekbones were distinctive. Taken together, his features were enough to make her heart leap and quail in equal measure, battering against her rib cage with a force that would leave internal bruises. Her lungs ached but breath wouldn't come.
"Dreaming…" he mumbled and inhaled deeply. "Devil… jasmine."
His raspy voice galvanized her into action. Her breath sawing out of her lungs, she almost managed to nudge her foot out of his slack grasp when his fingers tightened. Sarani could hardly take in any air, and her survival instinct kicked into action. Flee. Flee. Flee. She had to get out of there before he woke.
Too late! A pair of devastatingly familiar gray-blue eyes, the color of salt and storm, opened and fastened on her. They were very awake and very lucid.
His fingers convulsed on her ankle. "Sarani?"
The low rasp of his voice murmuring her name was too much to bear. Shock and stunned recognition flared in his gaze, emotions swiftly followed by such a fulminating hatred that she recoiled from the blast of it. He had every reason to loathe her, after all.
Breaking from her own horrified trance, Sarani wrenched her leg from his gasp and scrambled over him. She dove for the door handle, yanking it open. But he was faster, moving like the wind for such a large man. The door slammed shut, and he caged her between his arms, all burning rage and brimstone.
Trembling, Sarani turned to face him, her throat working. "Hullo, Rhystan."
(c) Amalie Howard, Sourcebooks Casablanca, 2021. Reprinted with permission from the publisher.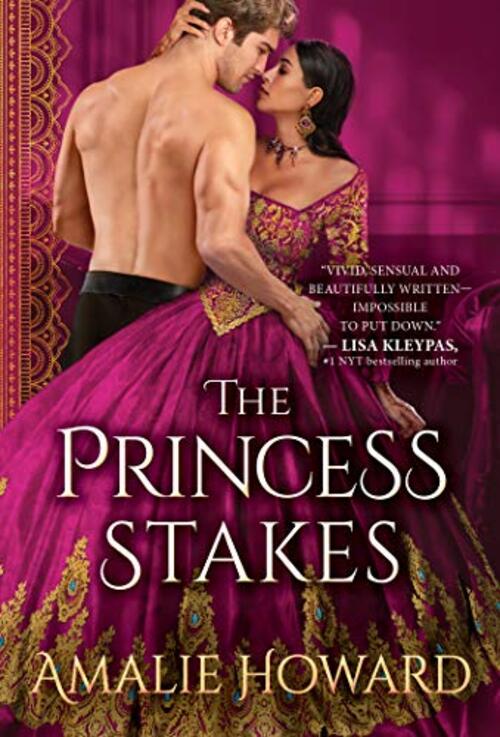 Born to an Indian maharaja and a British noblewoman, Princess Sarani Rao has it all: beauty, riches, and a crown. But when Sarani's father is murdered, her only hope is the next ship out—captained by the boy she once loved…and spurned.
Captain Rhystan Huntley, the reluctant Duke of Embry, is loath to give up his life at sea. But duty is calling him home, and this is his final voyage. Leave it to fate that the one woman he's ever loved must escape to England on his ship.
"The Duke's Princess Bride came along just when I needed it most. There's star-crossed, swoony, steamy love, true to the genre—but there's also a subtle, searing focus on racism, colorism, and what it means to belong that is rare for a historical romance, which elevates it to a unique and truly resonant read."—JODI PICOULT, New York Times bestselling author
Romance Historical [Sourcebooks Casablanca, On Sale: June 29, 2021, e-Book, ISBN: 9781728243412 / eISBN: 9781728243429]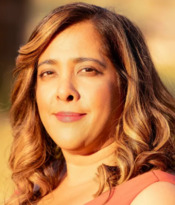 AMALIE HOWARD grew up on a small Caribbean island where she spent most of her childhood with her nose buried in a book or running around barefoot, shimmying up mango trees and dreaming of adventure. Twenty-five countries, surfing with sharks, and several tattoos later, she has traded in bungee jumping in China for writing the adventures she imagines instead. She isn't entirely convinced which takes more guts.
She is the award-winning author of several young adult novels critically acclaimed by Kirkus, Publishers Weekly, VOYA, and Booklist, including Waterfell, The Almost Girl, and Alpha Goddess, a Spring 2014 Kid's INDIE NEXT title. Her debut novel, Bloodspell, was a #1 Amazon bestseller, and the sequel, Bloodcraft, was a national IPPY silver medalist. She is also the co-author of the adult historical romance series, The Lords of Essex.
As an author of color and a proud supporter of diversity in fiction, her articles on multicultural fiction have appeared in The Portland Book Review and on the popular Diversity in YA blog. She currently resides in Colorado with her husband and three children.