Two days later, Claire Miller pulled into the long driveway that led to the Walker family ranch and sighed. She was home, back in Colorado on her old stomping grounds, and it hurt just as much as she thought it would.

Seven years evaporated like they'd never existed. Everything at the ranch looked exactly the way it had the day she'd left town, but she knew one major difference waited…Jake's mom was gone.

That loss hit her harder now. For the first time in her life, Mrs. Walker wouldn't be on the front porch smiling and waving, or bringing her and Jake a pitcher of lemonade in the barn. She wouldn't be in the kitchen making fried chicken or harassing her four boys about their homework or their girlfriends, and generally in that order.

Claire half expected the place to look as sad on the outside as she suddenly felt on the inside, but the world never stopped spinning, no matter who was lost. The large red barn was freshly painted, the outbuildings were overflowing with riding tack, hay, and tractors. The riding and roping arenas were often used and the horses' hooves made sure nothing could survive inside the ring, not even a single blade of grass. And that big yellow ranch house, where she'd spent the happiest days of her life? Bright spring flowerpots hung from hooks on the porch ceiling and were filled to overflowing with a mix of brightly colored flowers. The porch swing was bright yellow, green, and white, with pillows precisely placed and ready for her to curl up and take a nap. The railings were bright white and clean, and the front door was a deep hunter green with a sunflower door knocker and matching welcome mat¬¬—just the way Mrs. Walker had always liked it. Jake's mom once said that a place should feel like home before you even open the door, and Claire fought back burning tears as she realized she hadn't felt this sense of arriving at a familiar place for a very long time.

She drove past the house toward the barn. Pine trees lined the drive and property, ponderosa, lodgepole, and blue spruce trees were scattered like God had been driving seventy down Highway 7 and thrown seeds out the window of his pickup. Quivering aspen trees popped up in spaces between, while tall grass and random growths of aster, daisies, columbine, and other wildflowers were scattered on the ground and in the ditches. Unlike Brazil, the Colorado heat was bone dry, like holding one's hand above the burner on a stovetop. Waves of warmth turned the grass brown where the snow had long ago melted and the rocky ground was dry as a desert.

It still looked like home. Smelled like home, with horses, hay, pine trees, and dust filling the truck's cab despite the air-conditioning system's filters. Still felt like home, too…and all because he was here, somewhere. She could feel Jake Walker in her blood, her entire body buzzed with the possibility of seeing him again.

Jake.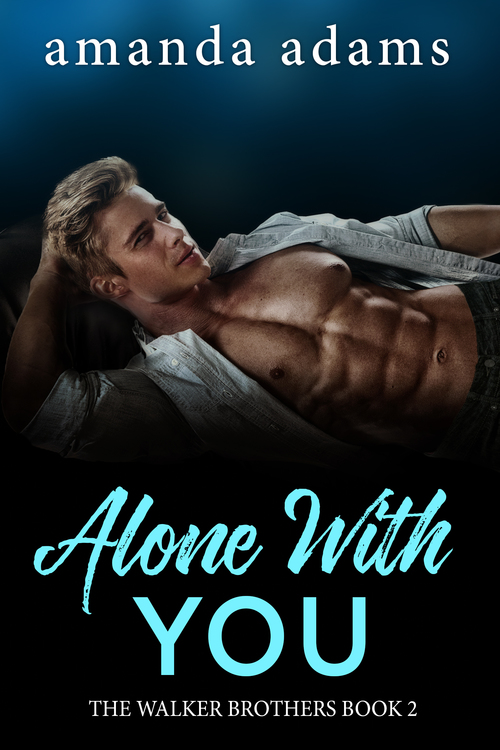 Sometimes, even true love needs a kick in the…
Claire Miller fell in love with Jake in the third grade. Years later, one hot night of reckless passion changed things between them forever. Jake rocked her world, but Claire had plans for her life. Knowing she could never be what he needed, she let him go and has missed him every day since.
Jake Walker knew the first time he saw Claire, when he was nine years old, that he wanted to marry her. At seventeen, he let her go. But seven years later, the sight of her hit him like a punch to the gut. Every cell in his body demanded that she was 'The One'. But can he convince Claire?
New Adult [Author Self-Published, On Sale: May 2, 2017, e-Book]
Amanda Adams fell in love with books at a very early age. Her earliest memories are of sitting on her mother's lap reading Cinderella and Snow White and Rose Red over, and over, and over again until she had them memorized – she was too young to know the alphabet. Amanda started writing stories in big, sloppy handwriting in a wide-rule notebook when she was bored, during class (of course) in the fifth grade. Her favorite stories always include excitement, adventure and a handsome hero guaranteed to sweep her off her feet. Amanda lives in beautiful Colorado with her husband (her high-school sweetheart who proved the reality of "love at first sight") and three teenagers whom she reminds, repeatedly–"If it's not in my phone, it's not happening," because her mind is oh-so-often far away living a fairy tale. (That's code for "if an alarm doesn't go off, she forgets to pick up her kids from school")