One of the biggest perks of writing historical fiction is the research! I am a library junkie, and could spend way too much time digging through dusty old books. Getting to travel and see the places in my books is even better! Fontainebleau is one of the most beautiful palaces in Europe, with a fascinating history, and I enjoyed the chance to spend a little more time there with Kate Haywood (even if only in my imagination!) at one of its most turbulent times in history.
The 1560s were an incredible period for amazing women, and I had a lot of fun incorporating two of them, Mary, Queen of Scots, and Catherine de Medici (one of my favorite historical figures) into Kate's adventures. Mary Stewart (1542–1587) has, of course, been a figure of much fascination for centuries, the subject of endless stories/movies/plays, and it's easy to see why. She was renowned for her beauty and charm, she was an adventurer at heart (even though those adventures ended in mayhem more often than not), and she died most tragically. She is a counterpoint to her cousin Elizabeth I's great success.
The only surviving child of King James V of Scotland (who died mere days after her birth) and the indomitable Marie de Guise, daughter of one of the most powerful and ruthless families in France, Mary's early childhood was one of much turbulence. Henry VIII's so-called rough wooing, trying via raids and battles to win Mary's hand for his son Prince Edward, drove Queen Marie to arrange a marriage with the three-year-old son of King Henri II of France. In August 1548, Mary was sent to France to be raised as a true French princess, setting sail with a large retinue that included her playmates, the Maries, who would stay with her for many years.
She was a great favorite at the French court, considered to be stylish and charming. She loved hunting and hawking, embroidery, music, and dancing, and mastered several languages (though she was no scholar like Elizabeth). She was very tall (almost six feet) and pretty, with auburn hair, brown-gold eyes, and a famously pale complexion. She married the Dauphin Francis in a lavish ceremony at Notre Dame in 1558.
She became Queen of France much sooner than expected, when King Henri died in a terrible jousting accident on July 10, 1559, leaving his sickly fifteen-year-old son as king. Mary's Guise uncles practically ran the country under King Francis and Queen Mary, but the reign did not last long. Francis died of an ear infection in December 1560, and Mary's life changed forever.
With her ten-year-old brother-in-law, Charles IX, now king and firmly under the control of his mother, Catherine de Medici, there was no place for Mary to go in France, though she could have chosen to live there in comfortable retirement. Various proposed marriages did not work out, and her adventurous heart led her back to Scotland.
The other powerful woman in France at the time, Catherine de Medici (1519–1589), did not seem at the time of her arrival as a teenage bride to be one who would seize power. A fascinating, complex woman, she was the daughter of Lorenzo de Medici and the French noblewoman Madeleine de la Tour d'Auvergne, and was orphaned as an infant and raised by her uncle the pope, who arranged a stunning marriage with Henri, the second son of the King of France, when she was fourteen. She fell deeply in love with her husband, who was already in love with the beautiful Diane de Poitiers and had no time for his new bride. For ten years, Catherine had no children, was ignored by her husband, and shunned by the elegant and snobbish French court. There was often talk of sending her back to Florence, but she kept quiet and bided her time. After the death of her husband and of her eldest son, she came into her own power as regent. She sent away the Guise, presided over the royal council, and decided the policy in France for many years. She was a great patron of the arts, such as painting, music, theater, and architecture, as well as food in the Italian style. She was also deeply interested in the occult, bringing in astrologers and alchemists to help her decide policy (Ruggieri was a real figure).
One real-life aspect of sixteenth-century Fontainebleau I loved using in the story was Queen Catherine's dairy. I've visited the Petit Trianon at Versailles, and loved seeing the still-working gardens (growing pumpkins last time I was there), and the items like Sèvres china milk buckets, but I didn't know that Marie Antoinette was far from the first queen to build her own rustic retreat. Last year I read Meredith Martin's fascinating book DAIRY QUEENS: The Politics of Pastoral Architecture from Catherine de Medici to Marie-Antoinette, and learned more about this facet of royal life in France. Mi Voie ("midway"), Catherine's dairy, has long been demolished and its location is hard to find in the grounds at Fontainebleau, but the queen put a great deal of work and interest into it during her life. It was designed and decorated by many of the same artists who worked on the château. On February 13, 1564, she hosted an elaborate banquet there before embarking on a long royal tour with young King Charles, and I stole a few of the aspects of this party for my own story (just a few years early!).
I also came to feel like Fontainebleau itself was a character in Kate's story. It's an amazingly beautiful place, and the corridors, richly decorated chambers, and exquisite gardens seem to be full of ghosts! The king's gallery, where Kate meets Queen Catherine for the first time, the pond with its stone summerhouse, the towers and staircases are all still there, just waiting for new stories. Please visit my web site, for more behind-the-scenes historical information and Tudor sources!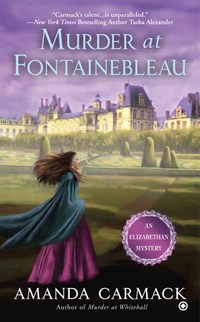 In the latest Elizabethan mystery by the author of Murder at Whitehall, amateur sleuth Kate Haywood investigates deadly machinations unfolding behind the scenes in the magnificent French court.
1561. Queen Elizabeth's throne is threatened as Mary Queen of Scots—pushed in every direction by opposing and powerful forces—declares herself the rightful Queen of England. To discover her rival's next unpredictable move, Elizabeth dispatches a party of trustworthy intimates to Mary's court at Fontainebleau. Chief among them is Kate Haywood, who finds that the glittering balls and genial banquets conceal a web of poisonous ambition that soon turns deadly.
When a beautiful and disruptively flirtatious member of the visiting party is murdered, Kate suspects that the man who stands accused has been set up to discredit Elizabeth. She vows to find the real killer, but the French court is a labyrinth unlike any she has ever navigated before—and at every turn there are more traps set to spring.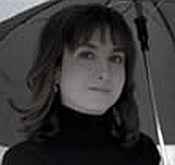 Amanda has been in love with the Tudors ever since an accidental viewing of "Anne of the Thousand Days" on TV as a kid! Now she just wishes she could live with them all the time–but there has to be time for writing about them too.
She also writes as Amanda McCabe and Laurel McKee, and her books have been nominated for many awards, including the RITA Award, the Romantic Times BOOKReviews Reviewers' Choice Award, the Booksellers Best, the National Readers Choice Award, and the Holt Medallion. She lives in Oklahoma with a menagerie of two cats, a Pug, and a very bossy miniature Poodle, along with far too many books.
When not writing or reading, she loves taking dance classes, yoga, collecting cheesy travel souvenirs, and watching the Food Network–even though she doesn't cook.