I have been accused of being a bit of a domestic diva. That's not surprising with books like THE DIVA SERVES HIGH TEA! But I like to keep things easy, and I love recipes I can prepare in advance.
This is celebration season. Graduations, bridal showers, and family reunions are on the calendar. So I thought I would share a dessert that everyone loves and anyone can make.
I'm not in the habit of promoting products. Recently, though, while I waited for something, I killed some time (and some cash) in WalMart where I found adorable little glass trifle bowls. They're the perfect size for a single serving. At $2 a pop, you wouldn't break the bank if you needed enough for a small luncheon. Imagine how they would dress up ice cream!
This recipe is super simple. If you're a domestic diva, use your favorite sponge cake or pound cake recipe. If there's no time for baking (or it's just not your thing), pick up a sponge cake at the store or look for Sara Lee's pound cake in the freezer section.
Kick this up a little bit by adding your favorite liquor for the adults. I'm fond of Chambord or Peach Schnapps for a hint of sweetness.
Summer Trifle
(makes 4 individual trifles)
2-3 pints assorted berries, strawberries, blueberries, blackberries
1/2 a cake
fruit liqueur or rum (optional)
1 cup heavy cream
1/3 cup powdered sugar
1 teaspoon vanilla
Wash the berries and dry on paper towels. Cut the strawberries into pieces. Cut the cake into 1-inch (approximate) squares. Beat the heavy cream until it begins to take shape, then add the powdered sugar and vanilla and beat until it holds a shape but isn't stiff.
Begin with a piece of cake in the bottom of the bowl. Sprinkle the cake with liqueur (optional). Add berries. Top with a dollop of cream. Repeat, ending with the cream. Garnish with a berry.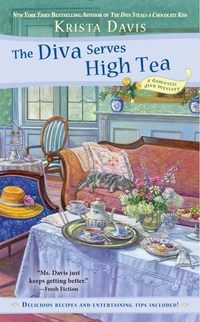 The New York Times bestselling author of The Diva Steals a Chocolate Kiss serves up a new mystery steeped in murder…
When The Parlour opens up in town, domestic diva Sophie Winston finally has a place to satisfy her cravings for all things tea and crumpet related. And the shop serves as the perfect place for the ladies of the town to gather and gossip, especially since it's conveniently located right across the street from the new antique store run by the handsome and charming Warren Smith.
But speculation around Warren really boils over when he's found dead—a victim of poisoning after attending a literacy fundraiser at The Parlour the night before. What Sophie learns about the man leaves a bitter taste in her mouth, and she'll have to strain out a killer from a strange brew of suspects…
Includes delicious recipes and entertaining tips!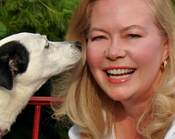 Krista Davis is the New York Times bestselling author of the Domestic Diva Mysteries and the Paws and Claws Mysteries. Like her characters, Krista has a soft spot for cats, dogs, and sweets. She lives in the Blue Ridge Mountains of Virginia with three dogs and two cats.