When I was asked to give the perfect set of circumstances for a historical mystery, I didn't have to think long. It's just like putting together a perfect recipe.
A GOLDEN CAGE, A Newport Gilded Age Mystery.
Take one opulent era of history. Mark Twain called it The Gilded Age and it ran from around 1870 to 1900. It was an era of serious social problems masked by a thin veneer of gold. A time of industrialization, huge growth, incredible wealth and wide spread corruption. A time of power struggles in commerce, justice and morality. A time of conspicuous consumption by the haves and poverty and hard work by the have nots.
Add in one seaside Resort town. Newport Rhode Island in 1895. Where the nation's wealthiest families summered in sumptuous mansions they called "cottages".
Add a dollop of family. The wife and daughter of a prominent well respected judge threw him a huge birthday fete and invited all the richest families (among them, the Vanderbilts, the Astors, the Oelrich's and the Fishes), mayhem ensued.
Mix with a professional theatrical troupe. Hired away from their theater for the evening to present a play called The Sphinx.
Stir in one ingénue who ran away from a rich and respectable family to seek her fortune behind the footlights.
Add spice with a handsome young actor who takes the town by storm.
Whisk all ingredients with a young debutante named Deanna Randolph, her maid Elspeth and her former fiancé Joe until the culprit is brought to justice.
Arrange on a bed of secrets and scandals, bicycles and tennis matches, zealot moralists and Women's suffragettes.
Garnish with quirky local residents and extravagant fashions and serve in A GOLDEN CAGE.
All that is left is to enjoy!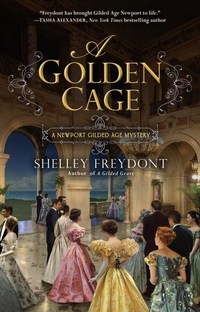 The author of A Gilded Grave returns to Newport, Rhode Island, at the close of the nineteenth century, where headstrong heiress Deanna Randolph must solve another murder among the social elite.
With her mother in Europe, Deanna is staying with the Ballard family, who agree to chaperone her through the summer season and guide her toward an advantageous marriage proposal—or so her mother hopes. Relishing her new freedom, Deanna is more interested in buying one of the fashionable new bathing costumes, joining a ladies' bicycling club, and befriending an actress named Amabelle Deeks, all of which would scandalize her mother.
Far more scandalous is the discovery of a young man bludgeoned to death on the conservatory floor at Bonheur, the Ballards' sumptuous "cottage." Deanna recognizes him as an actor who performed at the birthday fete for a prominent judge the night before. But why was he at Bonheur? And where is Amabelle?
Concerned her new friend may be in danger—or worse—Deanna enlists the help of her intrepid maid, Elspeth, and her former beau, Joe Ballard, to find Amabelle before the villain of this drama demands an encore.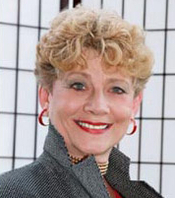 Shelley Freydont is also the author of several romance novels under the pseudonym Gemma Bruce. Shelley is past president of Sisters-in-Crime, NY, NJ, CT, and a member of Mystery Writers of America, Romance Writers of America, and Liberty States Fiction Writers. She lives in New Jersey.