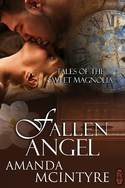 Here we are on the cusp of another new year. It is for some, a time of reflection and for others a time for looking ahead, at a new year of potential and possibilities!
In FALLEN ANGEL, the second book in my time-travel romance series based on the Tales of the Sweet Magnolia, I write about two souls, who in search for connection receive the gift of a second chance. A second chance at redemption, at forgiveness, at finding love, even if that means having to travel through time to find their deepest desires.
It reminds me that each morning is a clean slate; each New Year stands at the ready to offer great opportunities. That everything that has happened to us shapes us in some way—to strengthen, to give us wisdom, to instill us with gratitude for all that we do have. And to make you realize that there is power in love. There is power in hope.
I have learned this year to be more grateful. To realize that all that has happened has brought me to where I am supposed to be and I look ahead to a new year of what can be.
What are you grateful for as you look back on 2012?
One winner chosen at random will receive the first two books in my time-travel romance series-Tales of the Sweet Magnolia.
Have a wonderful New Year filled with much potential and possibility!
Until next time~
To comment on Amanda McIntyre's blog please click here.