Instead of trying to find your perfect match in a dating app, we bring you the "Author-Reader Match" where we introduce you to authors as a reader you may fall in love with. It's our great pleasure to present Amber Mitchell!
Writes:
I write young adult fantasy with cinnamon roll boys and determined teen girls, who understand the power of good female friendships! ROOTS OF RUIN is the final novel in the Garden of Thorns series, featuring sixteen-year-old Rose's struggle to escape a slave dance troupe, take revenge on those that enslaved her, accept her destiny and fight alongside the current emperor of a foreign land to free her people in a neighboring kingdom.
About:
An amateur cooking enthusiast, travel addict, and history junkie author with a passion for stories in all forms, whether that be books, t.v., online gaming, or tabletop gaming. I met my husband as a teen and begin taking writing seriously which led me to realize that teenagers can do anything. When I'm not gushing about my newest fandom or latest book crush, I'm looking up pictures of future destinations I plan to explore. Must love to hear about the "stories" behind each travel site and constantly be willing to answer if "this needs more seasoning". May occasionally bust out into song from years of choir training.
What I'm looking for in my ideal reader match:
-Must love capable and smart young heroines who are bent on revenge and sweet, supportive male leads, who value responsibility over everything, but will drop everything to help the one they love
-An appreciation for fantasy worlds and mechanics
-Must love slow burn romances
-Should like heart-pounding fight scenes and high stakes
-Love the idea of found family
What to expect if we're compatible:
-Lots of witty banter from side characters
-Larger than life plots set in faraway lands
-Elements of mage that may or may not be real
-Lots of writing advice and gushing over my dungeon and dragons games as well as anything else I'm reading on Twitter.
-Body positive fashion on Instagram
-Constant questions about whether Scotland misses me the way I miss it
Garden of Thorns #3
They did the impossible, but their problems are far from over…
After freeing the Delmarion empire, Rose and Rayce must go to Varsha, the desert home Rose fled when she was a child—the country she's meant to rule.
Rayce is the new emperor of Delmar, Varsha's longtime enemy, but that won't stop him from assisting the girl he loves. Armed with the brute force of Rayce's military, Rose sets out to free her people from the oppressive rule of the usurper king who killed her father.
But even if they win, how can she be queen to her homeland and in love with the man ruling its bitter enemy? With her loyalties split between heart and crown, Rose must find a way to do the impossible again…unite two kingdoms at war, or sacrifice half of herself to save the other.
Young Adult Adventure | Young Adult Fantasy [Entangled: Teen, On Sale: August 16, 2021, e-Book, ISBN: 9781649370020 / eISBN: 9781649370020]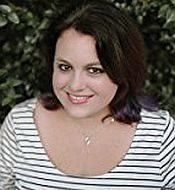 Amber Mitchell graduated from the University of South Florida with a BA in Creative Writing. When she isn't putting words on paper, she is using cut sheets of cardstock to craft artwork or exploring new places with her husband Brian. They live in a small town in Florida with their four cats where she is still waiting for a madman in a blue box to show up on her doorstep.