I've been published for fourteen years and put out a lot of books – over 70 at last count. Across those 70 books I've written the odd pet or two but it seems, in the last few years in particular, I've written a lot of pets that have tended to take over the story.
In No More Mr. Nice Guy there's a cockatoo called Shakespeare with a very loud mouth and very poor timing. In Playing With Forever, a tear away Great Dane called Tiny takes centre stage. My first Credence, Colorado book – Nothing But Trouble – showcases Wilburta, a cute little piglet and in the second book which is out in October – The Trouble With Christmas – a turtle called Zoom steals the show.
I've also written several different pet dogs of varying ages and degrees of…shall we say, attractiveness? As well as fornicating goldfish and even an alpaca.
Pets aren't only cute and fun to write but they deliver the awww factor. They also give we, the readers, insights into the characters because how people treat animals is a true litmus test for the kind of person they are and this is as true in fiction as it is in real life.
Plus who can resist a hero with misbehaving fish or a heroine with a drooling dog?
I have to tell you, though, dear readers, I outdid myself with The Kissing Contract. You see, there are bunnies in the book. And not just one or two but a whole damn island full of them after some irresponsible owners set 3 of their rabbits free to roam. The bunnies then did what bunnies do – of course – and now there are many, many hopping around Hitchkin Island. And they all have to be captured and rehomed by Augusta and her gang of Bunnyguards before Marshall can bring in the wrecking ball to his grandfather's island.
Trust me on this – much funny bunny business ensues as Gus and Marshall work together to rescue the rabbits and find them good homes all whilst ignoring their red hot chemistry.
There are stand out stars amongst the fluffy buns, of course. There's Rambo, one of the three rabbits that started it all who's very tame and loves a good petting. And then there's Thumper, the big-boned fella with a gland problem and unfortunate looks who nobody wants to adopt because he's not cute enough. Sob! There's also Stella and Gwen. Barry and Mac. And Carol and Zebedee.
Can you tell I had fun with these buns? Seriously, just coming up with their names was a hoot! I was also able to invent some cute little adopt me bios for the rabbits which was super awesome. For example –
This is Stella. She's a two-point-five pound mini lop and is approximately three months old. She is in good health with short, dense agouti-colored fur, excellent teeth, and a good appetite. She's friendly and inquisitive. Stella likes piña coladas and getting caught in the rain. 
Oh, and did I mention how sexy Marshall looks cuddling a bunny? He totally puts the hot in the #hotdudeswithbunnies hashtag.
So, if you're a crazy bunny lady like me or if forced proximity/enemies-to-lovers and hoppily-ever-afters are your jam, then The Kissing Contract might just be the book for you!
Wrong Sides of the Tracks #1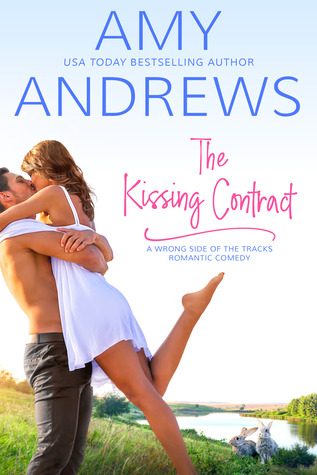 Marshall Dyson wants one thing and one thing only: to raze his grandfather's island to the ground. Everything is ready to go––except for the freakin' bunnies! Hundreds of the furry critters hopping about and multiplying before his eyes. And then there's the American Bunny League, along with one distractingly beautiful veterinarian, taking him to court to save them…
Dr. Augusta "Gus" North can't believe the grumpy–and annoyingly hot–builder she's facing in court cares more about demo-ing some cabin than the lives of 200 bunnies. But when the judge orders Marshall to stay on the island and help her rehome the rabbits – the entire month – she knows they're going to need to lay some ground rules.
Like, for example, absolutely no kissing. Might as well go ahead and get that in writing. Sure it's on a napkin, but that still counts.
How hard could it be to keep their hands off each other amidst all the fighting? Surprisingly, harder than wrangling 200 bunnies…
Romance Comedy | Romance Contemporary [Entangled: Amara, On Sale: July 15, 2019, e-Book, ISBN: 9781640638310 / ]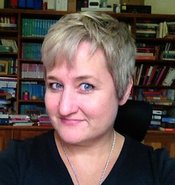 Amy Andrews is an award-winning, best-selling Aussie author who has written forty contemporary romances in both the traditional and digital markets. She writes for Harlequin Mills & Boon, Escape, Entangled, Harper Collins and Momentum. To date she's sold 1.6 million books and been translated into over a dozen different languages including manga.
Amy spent six years on the national executive of Romance Writers of Australia including a two year term as president and after many years of unofficial mentoring of emerging writers, Amy and her fellow Harlequin author Anna Cleary have started their own manuscript assessment business, Word Witchery, which specialises in romantic fiction. With unique insight into what makes a story that sells, Amy and Anna aim to help every manuscript shine.
Amy loves good books, fab food, great wine and frequent travel – preferably all four together. She lives on acreage on the outskirts of Brisbane with a gorgeous mountain view but secretly wishes it was the hillsides of Tuscany.