When setting a book in a world that involves the heroine going on Tinder, it was important to me to try and understand how dating apps work. I mean. . . I haven't been on a date in 35 years so I needed the skinny. What's involved in the sign-up process, what's the lingo, what are the dos and don'ts? Do I swipe left or right? And what kind of people are really on these apps anyway?
So, what's an author to do? Yes, you guessed it, I joined Tinder. Me – a happily married 49 (at the time) year old woman!
Never let it be said I don't go above and beyond for my books.
Now. . . Let me explain. I didn't start off intending to join Tinder at all. I started off just Googling around and reading a bunch of articles about the platform. Then I pumped my kids and their friends for information and even sat with a couple of young women as they perused their app to show me the lay of the land. But I found as I was writing there was still so much info I wasn't sure of and I felt like I was constantly asking Google questions that may be hard to explain if my computer was ever confiscated – eep!
It was exceedingly frustrating because I wanted that part of the story to feel really organic and natural and it didn't. To achieve that goal what I really needed was to immerse myself in the dating app culture which meant there was really only one way forward. . .
So, yeah, I joined Tinder.
That's when I had to have a conversation with my husband of 29 years. It went something like this.
Me: So. . . I joined Tinder today.
Him: **blinks**
Me: It's for research. For my book.
Him: **more blinking**
Me: I've set up a fake profile with no pictures and all my security settings are locked down tight. . . I'll delete it as soon as the book is done. I'm just using it to observe the culture.
Him: Is there something wrong with me that I'm finding you incredibly hot right now?
And that, Dear Reader, is why I love him so much!
Anyway. . . with that squared away, I began to explore and let me tell you – it's a jungle out there. I've never been so pleased to be old and to have found my life partner back in the era of rotary phones and snail-mail. I take my hat off to anyone trying to find love in the age of Tinder because there is some stuff there that is. . . well, let's just say there's not a lot of subtlety going on.
But, I gotta tell you, I've also never laughed so hard or been so encouraged. Some people are so witty and funny in their bios and also sincerely interested in meeting that one special person. Sure, there's no denying the hook-up culture is strong but so, too, is the desire by some to make genuine human connections. And that actually gave me hope.
It certainly gave me great insight for the book and I hope a few laughs for my readers along the way, too, as Della tries to navigate that world with the aid of her wingman – and her brother's BFF – Tucker.
And yes, in case you're wondering, I deleted the app. Which my husband also apparently found incredibly hot.
Awww.
Credence, Colorado #3
After three years in Credence trying to fade into the background, Della Munroe is sick of being invisible. She's ready to take back control. To live a little. Hell, she's ready to see what this dating fuss is all about. And if that means she has to download Tinder and date every guy in Colorado, then she's up for it.
After her first disastrous attempt, she decides navigating online dating would be better with a wingman, and there's no better person for it than Tucker Daniels. After all, he is a man. And he owns a bar, which practically makes him a relationship expert. He's also her older brother's best friend. Yes, she may have the teeniest tiny inconvenient crush on him, but he's always had her back.
Tucker Daniels would rather eat broken glass than watch Della go out with a bunch of douchebag dudes only out for one thing. Unfortunately, he's never been able to say no to her, and before he knows it, Tucker's not only vetting her dates—he's teaching her to drive, helping her move out, and buying her a puppy!
But when Della wants him to tutor her in more intimate arts, he freaks out. Because this little sister is strictly off-limits, and saying yes to Della is asking for a whole lot of trouble.
Each book in the Credence, Colorado series is STANDALONE:
* Nothing But Trouble
* The Trouble with Christmas
* Asking for Trouble
Romance Contemporary | Romance Western [Entangled: Amara, On Sale: April 28, 2020, e-Book, ISBN: 9781682814826 / eISBN: 9781682814826]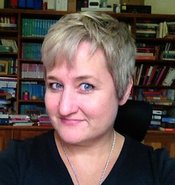 Amy is an award-winning, best-selling Aussie author who has written seventy plus contemporary romances in both the traditional and digital markets and been translated into over a dozen languages including manga. She is a USA Today best-seller and a triple RITA finalist.
Her books bring all the feels from sass, quirk and laughter to emotional grit and panty-melting heat. She likes to make her readers tingle, laugh and sigh with lots of sex and kissing and always, always a HEA!
She loves, good books and great booze although she'll take mediocre booze if there's nothing else. For many, many years she was a registered nurse which means she knows things. Anatomical things. And she's not afraid to use them!
She lives near the sea with her husband.