Hello Wonderful Readers,
If you are familiar with any of my books, you likely know me as an author of historical romance novels set in Regency England. I absolutely love the period for its upper-class decadence, the covert sensuality that runs beneath all the stiff and proper manners, and the gritty London Underworld which stands in striking opposition to the glittering ballrooms of high society. Although I fully intend to write more stories set in Regency England and perhaps other periods of British history as well, I decided to go in a different direction for a little while. In my next series publishing with Sourcebooks Casablanca, I am exploring a New World…the American Wild West!
My Runaway Brides series follows three brides (go figure😊) who escape unwanted fates in an elite Boston society to find adventure, independence, and freedom in America's wild western territories of the 1880s. I know, it's quite a jump from Regency England, but I am so excited about these books!
I've realized through writing my first two romance series that although each story is different and every character has their own unique backstory and an individual way of being in the world, I definitely have a certain theme that runs through all of my books. The common message that can be found in everything I write is the idea of being true to who you are. Whether it is the heroine struggling against the rules of society that would hold her back, or the hero resisting family expectations, my main characters are always, in some way, trying to figure out how to be true to the person they are inside and to what they really want out of life.
That theme is universal to everyone, whether a rich and powerful marquess in Regency England, a young man on the streets of London, a rough and ready cowboy, a girl raised on the frontier, or a lady of Boston. The desire to follow your heart and discover what you are capable of as a human being despite your upbringing or your social status or what someone else has deemed to be your future can be felt by anyone, anywhere. The yearning to feel more fulfilled in life certainly motivates the characters in my Runaway Brides series.
As members of Boston's elite social class, each of my Runaway Brides have been carefully shaped and molded to become the leading hostesses of town. They know just how to dress, how to be charming and witty, how to throw a delightful dinner party, and how to maintain the status of privilege and wealth that surrounds them by marrying well. But what if that's not what they want? What if all the beautiful trappings and fine manners do not make them happy? Do they resign themselves to the lives laid out before them?
Not these heroines! (Actually, no heroine in any romance novel I've ever read. 😊 Which is why I love this genre!)
These women know there's more to life than what's been planned for them and they decide to go after it.
In the first book of the series, GUNSLINGER'S VOW, Alexandra Brighton spent the last five years with her aunt in Boston, learning how to be the refined and elegant lady everyone wants her to be. When she receives an offer of marriage from one of the finest, most sought-after bachelors in town, she should be ecstatic. Instead, she faces doubts over whether or not she actually belongs in the role she's been playing. Because she wasn't always the proper lady everyone sees. She grew up running wild and free through Montana Territory with her adventurer father. In a moment of desperation, she decides the only way she can be sure if the privileged life in Boston is right for her is to go back home to see how much of that untamed girl still exists.
But the way home to her father's is dangerous and difficult. Alexandra ends up getting stranded in Wyoming, still hundreds of miles from her destination.
She needs an escort. Someone familiar with the land and capable of keeping Alexandra safe from the harm that can befall a young lady traveling alone. She chooses Malcolm Kincaid, a bounty hunter who is already heading in her direction. Kincaid, however, has no intention of taking on the role of escort and guide to a fancy lady from out east. Unfortunately for him, his hard-eyed glare and rude refusal only triggers Alexandra's stubborn certainty that he is perfect for the task.
You can probably imagine who will win that test of wills.
The Runaway Brides series takes place over the span of a few years starting with Alexandra and Malcolm's story in GUNSLINGER'S VOW and continuing with Alexandra's two best friends, Courtney and Evie. Each heroine has her own reasons for leaving Boston and heading off into the untamed western territories. Of course, what they find there isn't anything like what they expected, but it does end up being everything they ever could have wanted.
I hope you enjoy the start of this western adventure with GUNSLINGER'S VOW!
All the Best…Always,
Amy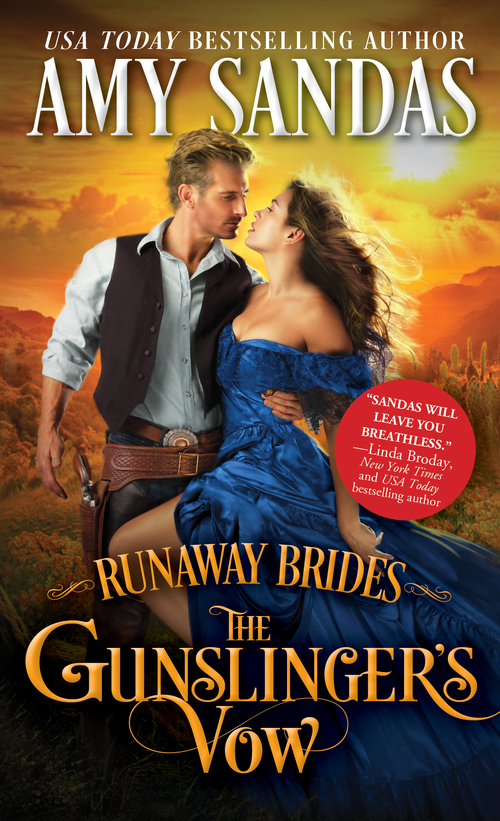 Three runaway brides
Determined to escape their fates
Flee West to find freedom that can only be had
in a cowboy's arms…
Alexandra Brighton spent the last five years in Boston, erasing all evidence of the wild frontier girl she used to be. Before she settles, she's determined to visit her childhood home one final time. But when she finds herself stranded far from civilization, she has no choice but to trust her safety to the tall, dark and decidedly dangerous bounty hunter, Malcolm Kincaid.
Now that Malcolm finally has the location of his brother's killer, he has no intention of wasting time protecting a pampered Eastern lady. But something about Alexandra speaks to the heart he long thought frozen—and her slow transformation from proper miss to wild-eyed beauty leaves him shaken. By the time they reach Montana, Malcolm must decide if seeking justice for past wrongs is worth losing a future with the woman he never expected to need…
Romance Historical | Romance Western [Sourcebooks Casablanca, On Sale: June 1, 2018, Mass Market Paperback / e-Book, ISBN: 9781492651970 / eISBN: 9781492651987]

Sizzling Wild West Adventure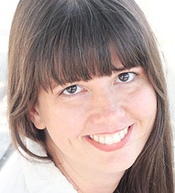 Amy writes historical romance about dashing, and sometimes dangerous, men who know just how to get what they want and women who at times may be reckless, bold, and unconventional, but who always have the courage to embrace all that life and love have to offer.
Amy grew up in a small dairy town in northern Wisconsin and after earning a Liberal Arts degree from the University of Minnesota – Twin Cities, she eventually made her way back to Wisconsin (though to a slightly larger town) and lives there with her husband, three children and a black lab. She spends her early mornings writing then heads to her "other" job, dreaming of the day she can write full-time. The rest of her time is spent trying to keep up with the kids and squeeze in some stolen moments with her husband.