Jeff Resnick has a knack for getting into trouble. And sometimes he isn't the only one.
And what is June without a wedding? As it happened, in DEAD IN RED, the second Jeff Resnick Mystery, Jeff's older half-brother, Dr. Richard Alpert, was about to get married to his long-time significant other, Brenda Stanley.
It was to be a small wedding. Just the bride and groom, Jeff as best man, and Brenda's friend, Maggie Brennan, as bridesmaid. Then the four of them would go out to a nice lunch before the bride and groom left on their honeymoon to Paris. And yet even small weddings need certain items. Things like the wedding dress, the tuxes, flowers, and of course, the license.
While all that took place, Jeff, a former insurance investigator was looking into the circumstances surrounding the death of a local bartender. That led him to the bar scene and drag shows. Richard sort of tagged along. (Yes, sort of!) And then there was a fight—perhaps a brawl would be a better term. Let's just say the wedding pictures were to become a whole lot more interesting. And then things took an even more sinister turn.
Will Brenda finally get that man of hers to the altar?
Find out in DEAD IN RED.
Sometimes it seems like murder and mayhem follow Jeff Resnick, challenging his psychic "sixth sense" to solve crimes. Since the vicious mugging that changed his life, he's tried to keep his unwanted gift in check. But when a bartender at his favorite watering hole is murdered, visions of a sparkling red woman's high-heeled shoe and a pair of bloody hands linger in his mind–and hit too close to home.
When Jeff's older brother, Richard, last helped him with an investigation, it nearly cost him his life. Still, Richard is determined to tag along as Jeff is drawn into the seamy world of fetishes and drag queens to find a murderer before another life is taken.
Mystery | Mystery Paranormal [Polaris Press, On Sale: March 18, 2011, Paperback / e-Book (reprint), ISBN: 2940012103598 / eISBN: 1230000002458]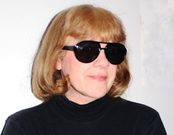 Lorraine Bartlett writes the Victoria Square Mysteries. Under the name L.L. Bartlett, she writes the Jeff Resnick suspense series. She also writes the Agatha-nominated, New York Times bestselling Booktown Mystery series under the name Lorna Barrett.
Lorraine says: "My mind has always been filled with what my father called "tommyrot." I called them stories. But it wasn't until I was a teenager that I started writing them down–and much later until I sold my first short stories. (Romance!) But in my heart I wanted to write mysteries."