In spite of the fish vans that clatter through the town on their way to London and the hop pickers who arrive daily by wagon, Tonbridge does not have the hustle and bustle of Ipswich. This pleases Mother, who crows constantly about Tonbridge's superior inhabitants and its superior visitors. And it is these that she has her ruthless gimlet eye upon: the well-dressed ladies and gentlemen who come to take the waters of our neighboring spa town, Tunbridge Wells, and are in need of superior rooms.
Our rented home is newly built and has its name—Bordyke House—carved into the lintel. As befits a superior boardinghouse, it is spacious, well furnished, and situated well away from the town's open drains. And yet it feels all wrong, like a poorly cut coat. Perhaps this is because Edgar has set sail to make his fortune in Mauritius, and Catherine and Anna have taken up positions as governesses—all of us fleeing gossip and disgrace—so it is only Mother and I rattling around here. Or perhaps it is because no amount of superiority can disguise our future as the landladies of a boardinghouse.
We are in the morning room—yellow walls, armchairs upholstered in a shiny fabric featuring oversize yellow pineapples—when I finally muster the courage to suggest my plan to Mother. For three weeks I have worked on it. Night after night. Poring cookery books by candlelight. Reading. Rereading. During the days, as Mother busied herself arranging the furniture and placing advertisements for boarders, I loitered at the bookdealer's, ordering books we could ill afford.
"Mother, do the lawyers have any claim on our remaining possessions?"
"I think not, my dear. I hope not. But we must make enough money to be independent." She looks up from her ledger. "We are woefully short at present. I have placed three advertisements for boarders and spoken to the vicar and the headmaster of Tonbridge School. We are in debt to the tune of . . ." She pauses and scrutinizes her ledger. "Twenty guineas, perhaps more. The finances are muddled. Or I am muddled. I cannot tell which."
"Can we afford to keep Mrs. Durham?"
"We must have someone to cook for our boarders."
"But we have no boarders. And this house is substantial—and costly."
"Well, my dear, I cannot cook and nor can you."
I take a deep breath. "Mr. Longman asked me to write a cookery book."
Mother looks up, startled. "You never mentioned that. What a rude man!"
"I've decided to accept his commission, if it still stands."
"But you cannot cook, Eliza. You have never cooked. Besides, ladies do not cook."
"I'm determined to make a contribution to the household costs."
"You wish me to dismiss Mrs. Durham and put you in her place? In the kitchen? Like a common servant?" Mother's mouth settles in a stubborn pout.
"Yes," I reply shortly. "I shall teach myself cookery and then I shall write the book Mr. Longman has requested."
"You wish to practice cookery on our paying guests?"
I lower my voice and look down at my hands. "You forget, I have spent time in Italy and . . . in France."
"But you were not cooking!" The word cooking bolts from her mouth as if she cannot get shot of it fast enough. "Whatever else you were doing, you were not working in a windowless kitchen belowstairs." She pauses, then screws up her eyes and stares at me. "Or were you?"
"French food made a great impression on me." For a second, a creamy vanilla pool collects sweetly in my throat. As if my body remembers where my mind will not. Then mother squares her jaw and the taste slides away. "I've been studying cookery writers and I can do better. Some of them are barely literate. The measurements are imprecise, the wording is inelegant. They lack clarity, and even the recipes themselves are unappetizing." I glance at Mother—she is wringing her hands, her lips and jaws working soundlessly.
"I shan't be a cook. I shall be a cookery writer. It is perfectly seemly." From beneath my gown I produce A New System of Domestic Cookery by a Lady, and offer it to her.
She flicks through the pages, her nostrils flaring. "Your folio of verse was bad enough. But this"—she taps a fingernail on the cover—"this is . . . unbecoming. If you wish to contribute financially, I think you should find a position as a governess. With your experience a place in a prominent family should be quite possible."
Something cools and hardens inside me. I'm not the person who once ran a school, who inspired intelligent girls to excel, who accompanied wealthy young ladies on their grand tours. No—I am someone else entirely now and there can be no return. Sometimes I wonder if my past experiences have rendered me, in some obscure way, feeble. Frail even. For the merest thought of being in a schoolroom again fills me with exhausted dread. How much more pleasant a kitchen seems . . .
"At least let me write to Mr. Longman and agree on terms."
"And you would publish anonymously of course, like this alleged lady."
A small sigh escapes my lips. I know Mother will be shamed by my—our—association with kitchen work, but I cannot forget my book of verse, Poems by Eliza Acton. I cannot forget the many times I ran a fingertip over my name, not from conceit or from pride but because it showed me who I was. Because, in some strange way, it placed me in the world. "Only if Mr. Longman insists," I say after a lengthy pause.
She drops the cookery book in my lap and returns to her ledger. "You are always so bellicose, Eliza. No wonder you have no husband." She picks up her pen and prods at a column of figures. "The saving on Mrs. Durham will be ten guineas a year. I suppose we can try it . . ."
"Thank you! Thank you!" I leap from my chair with such exuberance Domestic Cookery by a Lady flies into the air.
"Well, I can't have you mooning over poetry at your age. But you'll need help in the kitchen, a scullery maid. She can sleep in the eaves with Hatty."
"I want someone quiet. And clever." The thought of an ill-educated garrulous girl with dirty fingernails and not an ounce of common sense, in my ear all day, suddenly seems unendurable. I must have a modicum of seclusion and solitude, I think to myself.
"You can choose the girl yourself." Mother swivels her arched eyebrows in my direction. "What if it turns out that you have no skill for cookery?"
I don't answer her, for my thoughts are elsewhere . . . the exotic spices arriving daily from the East Indies and the Americas, the crates of sweet oranges and bitter lemons from Sicily, the apricots from Mesopotamia, the olive oil from Naples, the almonds from the Jordan valley . . . I have seen and smelled these delicacies at market. But does any English person know how to cook with such foods?
I think back to my time in France and Italy, of all the delicacies that passed across my tongue. And then to the gardens I've seen in Tonbridge with their raised beds of sorrel, lettuce, cucumbers, marrows, pumpkins. Already the banks are starred bright with blackberries and rose hips, with damsons and sour sloes, the bloom still upon them. Trees are weighted down with green apples and yellow mottled pears and crab apples flushed pink and gold. Soon there will be fresh cobnuts in their husks, and ripe walnuts, and field mushrooms, and giant puffballs.
I have a sudden craving for crab apple jelly. A craving so sharp, my tongue aches. I turn back into the room. Mother's head is bent low over her ledger again.
"My first attempt at cookery will be crab apple jelly," I announce.
"Do you have the slightest idea how to make a jelly set fast?"
"With sage," I add, as an afterthought. Yes, sage, I think. Such a muscular earthy herb—perfect for the cruel tartness of those tight little crab apples.
"Eliza? Did you hear me?"
From MISS ELIZA'S ENGLISH KITCHEN by Annabel Abbs, published by William Morrow Paperbacks. Copyright © 2021 by Annabel Abbs. Reprinted courtesy of HarperCollinsPublishers.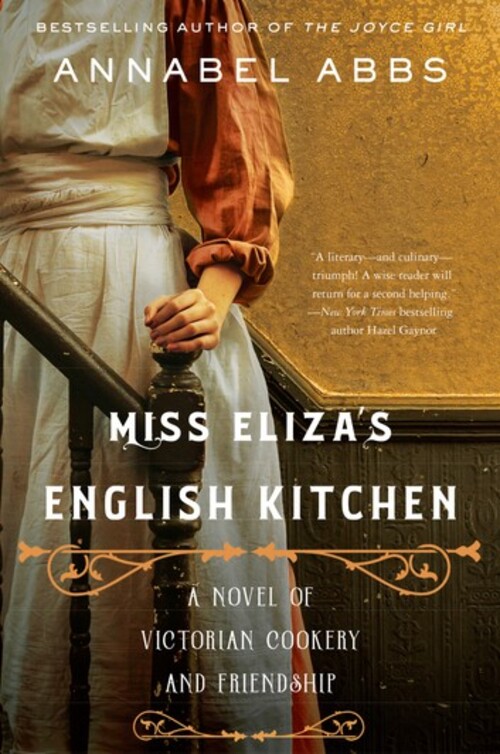 In a novel perfect for fans of Hazel Gaynor's A Memory of Violets and upstairs-downstairs stories, Annabel Abbs, the award-winning author of The Joyce Girl, returns with the brilliant real-life story of Eliza Acton and her assistant as they revolutionized British cooking and cookbooks around the world.
Before Mrs. Beeton and well before Julia Child, there was Eliza Acton, who changed the course of cookery writing forever.
England, 1835.  London is awash with thrilling new ingredients, from rare spices to exotic fruits. But no one knows how to use them.  When Eliza Acton is told by her publisher to write a cookery book instead of the poetry she loves, she refuses—until her bankrupt father is forced to flee the country. As a woman, Eliza has few options. Although she's never set foot in a kitchen, she begins collecting recipes and teaching herself to cook. Much to her surprise she discovers a talent – and a passion – for the culinary arts.
Eliza hires young, destitute Ann Kirby to assist her. As they cook together, Ann learns about poetry, love and ambition. The two develop a radical friendship, breaking the boundaries of class while creating new ways of writing recipes. But when Ann discovers a secret in Eliza's past, and finds a voice of her own, their friendship starts to fray.
Based on the true story of the first modern cookery writer, Miss Eliza's English Kitchen is a spellbinding novel about female friend­ship, the struggle for independence, and the transcendent pleasures and solace of food.
Historical [William Morrow Paperbacks, On Sale: October 26, 2021, Paperback / e-Book, ISBN: 9780063066465 / eISBN: 9780063066472]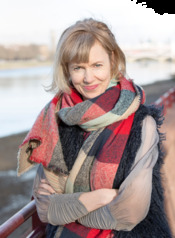 Annabel Abbs grew up in Wales and Sussex, with stints in Dorset, Bristol and Hereford. She has a degree in English Literature from the University of East Anglia and a Masters in Marketing from the University of Kingston. After fifteen years running a consultancy, she took a career break to bring up her four children, before returning to her first love, literature.Her debut novel, The Joyce Girl, won the 2015 Impress Prize for New Writing and the 2015 Spotlight First Novel Award, and was longlisted for the 2015 Caledonia Novel Award and the 2015 Bath Novel Award. Her short stories and journalism have appeared in various places including Mslexia, The Guardian, The Irish Times, Weekend Australian Review, Elle, The Author, The Daily Telegraph, Psychologies, and the Huffington Post. She has been profiled in Writing Magazine, Sussex Life, Next NZ, Litro, and Female First. Her blog, www.kaleandcocoa.com, was featured in the Daily Telegraph in August 2015 and May 2016.She lives in London and Sussex with her family and an old labrador. Annabel tweets (sporadically) on books, writing, and the arts at @annabelabbs.