Instead of trying to find your perfect match in a dating app, we bring you the "Author-Reader Match" where we introduce you to authors as a reader you may fall in love with. It's our great pleasure to present Anne Harper!
Writes:
Romantic comedy with relatable romance and shenanigans galore! Fake It Till You Make It is Book #1 in the Accidentally Viral series and is the first look into small-town Arbor Bay, Alabama, and at all of its hilarious, intrusive, and wild residents.
About:
Anne believes in coffee, chocolate, and the power of being awkward. When she isn't binge-watching Netflix and Hulu, she's hanging out with her sassy husband, yelling at her neighbor (who is also her Dad), and posting videos about her life that will undoubtedly embarrass her future children. Her special skills include being able to sing all the words to R.E.M.'s It's the End of the World while running on the treadmill and the ability to quote almost every episode of Parks and Recreation by heart.
What I'm looking for in my ideal reader match:
Must have felt or done something awkward in your life and are willing to use that experience to relate to others
Must love characters with quirks, flaws, and relatable hang-ups
Must accept that there are some southern phrases that even us southerners don't quite understand yet they're still used
Must love underdogs since there is always one in every story
What to expect if we're compatible:
Relatable stories and characters who feel like someone you probably know
Shenanigans that feel like something you'd see on a modern-day re-telling of shows like I Love Lucy or The Nanny
Exclusive content, giveaways, and other fun author facts if you sign up for my newsletter
A promise that I will continue to share my own awkward, cringe-worthy, and relatable moments from my personal life, especially when it comes to being a full-time author, an adoptive parent (hopefully soon), and living in South Alabama where the tea is sweet and gossip is king
Accidentally Viral #1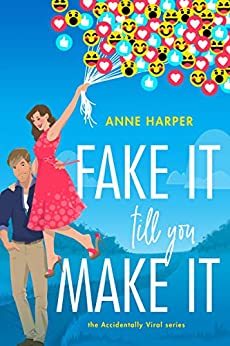 Sloane De Carlo is going to have to move to Antarctica.
As if it wasn't bad enough that she accidentally made her private blog very public, and all her innermost secrets and embarrassing moments are trending, now the entirety of the Internet is dying to know who her all-consuming, never-get-over-him crush "Guy" really is. She's even got a literary agent dangling a book deal in front of her nose–but there's a catch. She'll have to get closure with "Guy" and give her story that pitch-perfect ending.
Too bad the real "Guy" is engaged to someone else. #Blessed
The only person in her teeny hometown of Arbor Bay who knows the truth is local bartender Brady Knox. And he's not telling. . . for a price. He'll pretend to be Sloane's "Guy" if she'll use her newfound Internet fame to bring more business to his struggling local bar. Brady's always been a lone wolf, but there's something about the pint-sized, supremely awkward, yet beautiful Sloane that charms him.
But keeping secrets in a small town like Arbor Bay isn't easy. And Brady was never meant to be the guy for a pitch-perfect ending. . .
Romance Comedy | Romance Contemporary [Entangled: Amara, On Sale: April 20, 2020, e-Book, ISBN: 9781682815380 / eISBN: 9781682815380]