The #HoldOntoTheLight campaign has asked authors to share openly about depression and since I've struggled with it all my life, I was asked to participate. The good news is that I'm so much better than I was before. In fact, every day is a joyous smile of yes, yes, yes! And yes, I'm lying. The truth is that every day is NOT a glorious wave of internal joy, but on the whole, it's way better than it was before.
Depression is hard and thoughts of suicide are real. I know, I've been there. Guess what was the most important thing I learned about my depressions.
Johnny Depp did not cheer me up. Even his 21 Jump Street reruns.
Depression is a cycle. Sure I'll get depressed again. Maybe even linger on (obsess about) suicide. But I climbed out the last dozen times, and I'll climb out this time, too. That's a certainty. I just have to hold on until it happens.
The only one putting pressure on myself is me. That means I can remind myself—a thousand times if necessary—that it's okay to miss a book deadline, soccer game, or PTA meeting. (In fact, I've only attended one PTA meeting ever. Oops!)
SRIs (medication) let me sleep. Finally, blissfully, wonderfully sleep. Let me tell you, insomnia always made my depression worse and it was always the first sign. Ugh!
Answer: B – The struggle against depression played out in agonizing battles in my brain. A gray fog of awfulness seemed to pervade everything and it constantly told me I was a failure. Worse, a single battle would often take months. And that's not even counting the eons that passed every night I couldn't sleep.
Once I climbed out of my depression and moved on, I remembered thinking—often—thank God that's over. Which meant that when I hit the battle again, I was triply depressed because I thought I'd finished with that part of my life. Apparently not.
Once I realized that my depression cycled, life changed immeasurably for the better. Sure, I'll probably get depressed again. Deeply so. But on the upside, that means I'll climb out of it, too. I have before, I can do it again. And—bonus—I know better how to handle it. Medication so I can sleep. (I HATE INSOMNIA!) I completely stop all deadlines and let myself binge watch whatever I want even if it's 20 Jump Street reruns. I do love Johnny Depp. I just don't think he'll magically bring me out of my funk. I also take long walks, get a massage, and absolutely find a way to lay out in the sun. (Vit D deficiency is a big thing for me.)
Hopefully, you have no idea what I'm talking about. But if you do, know that there is help. There are counselors, medications, and therapies to get you through. And big hugs from me.
And now it's your turn to leave a comment. You can give love to those in the battle or talk about the struggle. One lucky winner will get an e-copy of The Bear Who Loved Me by Kathy Lyons.
About the campaign:
#HoldOnToTheLight is a blog campaign encompassing blog posts by fantasy and science fiction authors around the world in an effort to raise awareness around treatment for depression, suicide prevention, domestic violence intervention, PTSD initiatives, bullying prevention and other mental health-related issues. We believe fandom should be supportive, welcoming and inclusive, in the long tradition of fandom taking care of its own. We encourage readers and fans to seek the help they or their loved ones need without shame or embarrassment.
Please consider donating to or volunteering for organizations dedicated to treatment and prevention such as: American Foundation for Suicide Prevention, Home for the Warriors (PTSD), National Alliance on Mental Illness (NAMI), Canadian Mental Health Association, MIND (UK), SANE (UK), BeyondBlue (Australia), To Write Love On Her Arms and the National Suicide Prevention Hotline.
To find out more about #HoldOnToTheLight, find a list of participating authors, or reach a media contact, go to Facebook Group.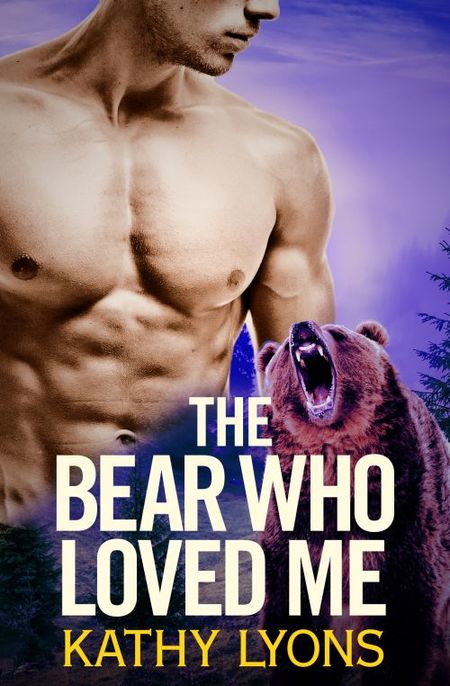 WHEN AN ALPHA MEETS HIS MATCH . . .
Between single-handedly running her bakery and raising her teenaged nephew, Becca Weitz thought she had a decent grip on "normal." Then her nephew vanishes, and life as she's known it changes forever. Local legends are true: bear shifters exist . . . and her nephew is part of their clan. As is Carl Carman, the sexy, larger-than-life man who has sworn to find her nephew-and the other young shifters who've gone missing.
As the leader of his clan, Carl is surrounded by enemies. He's learned the hard way that keeping a firm leash on his inner beast is key to survival, though his feelings for Becca test his legendary control. Then danger stalks too close, and Carl realizes he must unleash the raging, primal force within to protect everything he holds dear. But can Becca trust his grizzly side with her life-and her heart?
Romance Paranormal [Forever Yours, On Sale: September 6, 2016, e-Book, ISBN: 9781455540914 / eISBN: 9781455540921]
Kathy Lyons is the fun, contemporary side of USA Today Bestselling author Jade Lee. She loves sassy romance with lots of laughter and sex. Spice is the variety of life, right? Okay, so maybe two kids, two cats, two pennames, and writing over 50 books has messed with her mind, but she still keeps having fun.
Or hang out with her sexy historical half, Jade Lee. Titled heroes with dark secrets are Jade's passion. Especially when they fall for women who add more than just spice to their lives.