Daniel sighed, the sound lost to the thud of their skate blades on the rubber mats lining the tunnel. He hadn't anticipated the chilly reception when he arrived in the Thunder's dressing room that first day of train­ing camp–and now he finally knew why his breath had practically been fogging whenever he was in the presence of his new teammates. Apparently there was some resent­ment about his win. Probably some assumptions about his reasons for being there or how he would behave. Never mind that Daniel had worked his ass off for more than a decade before he could add Stanley Cup champ to his resume. He'd fought his way there–tooth, nail, broken bones, and bloody lips. It hadn't come easy, and he didn't take it for granted. Nor did he think he was hot shit now that he had a championship win under his belt. He was just trying to play hockey, same as he'd done all his life.
Daniel poured onto the ice with the rest of his team­mates and sucked in a breath, the cold, crisp scent as familiar and comforting as the sound of his blades cut­ting into the ice and the roar of the crowd. Not that there were very many people there cheering for the Thunder. The sea of yellow jerseys, fans of the visiting Pittsburgh Condors, easily outnumbered the blue-and-white Thunder sweaters. Having your home arena overrun with fans of the opposing team was a novelty Daniel had never expe­rienced, and it both amused and mortified him.
Well, at least Tabby and the kids would be moving to Miami soon and then he'd have a tiny, personal contin­gent for moral support. More, if he could get his parents and extended family to come. They were missing open­ing night because of some friend's retirement banquet, but they'd promised to attend a game or two in the first couple of weeks.
The biggest comfort was Tabby, though. Daniel had been ready to work out some kind of arrangement to see the kids as often as possible, whether it meant traveling to Atlanta or bringing them to him throughout the sea­son, but when he'd suggested a potential move to Miami, she'd just shrugged gamely and said she'd be willing as soon as she found a job and a new place to live. He was a hockey player, and she knew a possible trade was al­ways on the table. In the back of her mind, she'd always expected it to happen, and plus, the kids would love being so close to one set of their grandparents. Her own folks lived in South Carolina, so aside from their friends, there wasn't much to tie them to Georgia. Miami to Charles­ton wouldn't be an unreasonable distance for the kids to visit her parents either, if they were settled in Florida.
But while she'd been open to moving to keep their family close together, she hadn't accepted his offer to put her and the kids up in a rental while she searched for work. Best friends and co-parents they might be, but Tabby wasn't looking for handouts. During their divorce, Daniel had to fight to get her to accept alimony and not just child support. In his eyes, even if they weren't in love anymore, she was still family, still one of his own, and he needed to take care of her in whatever way she allowed.
He couldn't ask for a better partner to raise his kids with, no matter what had occurred in their romantic relation­ship. Ryu had joked about them having the healthiest divorce of anyone he knew, and it was true. There was no animosity, no fighting. They'd been friends then, and they were friends now, as they always would be.
Daniel tore his thoughts away from his family and focused on shooting on Spacek, the Thunder's starting goalie. He hadn't quite gotten to the point where he'd started thinking of Spacek as his goalie, not after hav­ing bonded with Ryu and Army. He'd drop his gloves for Spacek in a second, but they had no camaraderie at all. Not yet. Maybe never, if Cedric had his way.
Daniel put a little more force into his next shot, and the puck sailed over Spacek's left shoulder. For a second, he had a flashback of Army blocking that exact shot and cockily throwing the puck to the ice. Daniel smiled to himself and circled around to collect another puck and join the line to try again. He'd bled green and gold for the Venom, and he'd bleed blue and white for the Thunder. Daniel didn't do things by halves, and he wouldn't start now, tension with his teammates or not. He was deter­mined to get this season off to a good start.
~
Barely one period later, Daniel wasn't feeling so posi­tive anymore. The Condors had already put five goals on the board, and if morale had been low at the start of the game, it was now buried somewhere beneath the ice. Maybe even under the building itself.
Demetrius had been scowling since goal number four, and the expression only intensified when he scored and the play immediately got put under an offside review.
Daniel grabbed his water bottle and took a few deep swallows, lingering by the bench while the referees conferred. Cedric sat to his left, his deep blue eyes cast downward, an already familiar glare twisting his hand­some features. If he'd been a player on the Venom, Daniel would've said something, offered comfort or encourage­ment, maybe even just a quick shoulder squeeze or a stick slap to Cedric's pads when he came over the boards onto the ice. But he didn't think Cedric would appreciate or welcome any of those gestures from him. Daniel looked around instead, scanning the row of seats directly behind the bench. He skimmed past a guy with fiery red hair and caught a hand lifting in a shy wave out of the corner of his eye. Something about the guy drew Daniel's gaze back, and he stared at a face that seemed oddly familiar.
The guy lifted a hand and waved again, his smile sheepish and his freckled cheeks flushing pink. Beneath his chunky brown cardigan and the blue-and-white scarf draped artfully around his neck, Daniel caught a glimpse of a T-shirt with the Thunder's logo–a lightning bolt emerging from a dark, puffy cloud–on the front.
Daniel's eyes returned to the guy's face.
Wait a minute. . . Holy shit. . . 
Daniel knew that smile and those freckles and the floppy red bangs that fell over hazel eyes. As a kid, that blazingly bright hair had always reminded him of the flames in the firepit his family had kept in their backyard. He'd only seen his childhood friend, Micah, a couple of times in the twenty years since his parents had moved him to Chicago to play junior hockey, but aside from fill­ing out and gaining some laugh lines at the corners of the eyes and a bit more definition around the jaw, that face hadn't changed very much, even after all this time. You never forgot your first crush or first kiss. Especially if you'd known that person since kindergarten.
Raising his arm, Daniel mouthed "hey," but before he could do much else, he heard the referee announcing, "After reviewing the play, the call on the ice stands. We have a good goal!"
There was some cheering from his bench, and sud­denly Demetrius's scowl disappeared as he offered smiles and fist bumps to everyone nearby.
The score was now 5–1. Well. . . better than zero.
Daniel shot one more look in Micah's direction and held up a finger, the universal "hold on a second" signal.
Micah nodded, and a couple of the Thunder looked over their shoulders, curious as to who'd captured Dan­iel's attention. Micah's cheeks reddened even more when he noticed the staring, and Daniel laughed to himself as he went to take his position in the face-off circle.
Micah friggin' Kelly. Who would've thought? Some­times it amazed Daniel how very small the world could be.
(C) Avon Gale and Piper Vaugh, Carina Press, 2020. Reprinted with permission from the publisher.
***
Hat Trick #3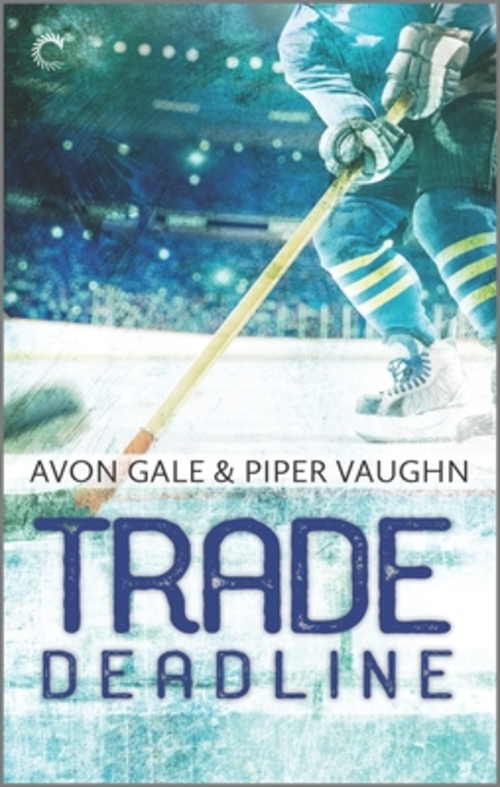 It's a reunion to remember. . .
Don't miss this friends-to-lovers hockey romance from Avon Gale and Piper Vaughn.
Daniel "Bellzie" Bellamy should be on top of the world–a Stanley Cup is the perfect topper to his fourteen-year NHL career. But despite the post-win high, something's missing. When the chance to play for his hometown team, the Miami Thunder, comes along, he's open to it. And when he runs into an old friend from his past soon after he makes the move, he wonders if it might be kismet.
Micah Kelly never thought he'd see his childhood crush–and first kiss–again. Danny Bellamy moved on to bigger and better things when they were teenagers, and the idea that Micah's relationship with the professional hockey player could be anything more than one-sided Instagram thirst seems too good to be true.
Maybe too good to be true is the new reality, though. As the season goes on, Micah teaches Daniel to surf, and Daniel introduces Micah to his lovable pack of rescue dogs and the world of being a hockey boyfriend. Life is good. But when things on the ice don't go as planned, they'll have to decide if their rediscovered romance is built to last.
Romance Contemporary | Romance Sports | Romance LGBTQ [Carina Press, On Sale: August 17, 2020, Paperback / e-Book, ISBN: 9781335215888 / eISBN: 9781488053955]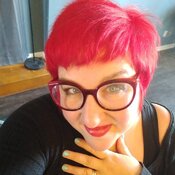 Avon Gale lives in a liberal Midwestern college town, where she spends her days getting heavily invested in everything from craft projects to video games. She likes road trips by car, rock concerts, thunderstorms, IPAs, Kentucky bourbon, and tattoos. As a queer author, Avon is committed to providing happy endings for all and loves to tell stories that focus on found families, strong and open communication, and friendship. She loves writing about quirky people who might not be perfect, but always find a place where they belong. In her former life, Avon wrote fanfiction at her desk while ostensibly doing work in non-profit fundraising for public radio and women's liberal arts education, and worked on her books in between haircuts and highlights as a stylist. Now she's a full-time writer, delighted to be able to tell stories for a living.
Avon is represented by Courtney Miller-Callihan of Handspun Literary Agency.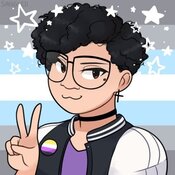 Piper Vaughn is a queer Latinx author and longtime romance reader. Since writing their first love story at age eleven, they've known writing in some form was exactly what they wanted to do. A reader to the core, Piper loves nothing more than getting lost in a great book.
Piper grew up in a diverse neighborhood in Chicago and loves putting faces and characters of every ethnicity in their stories, making their fictional worlds as colorful as the real one. Above all, Piper believes there's no one way to have an HEA, and every person deserves to see themselves reflected on the page.