Community Correspondent, the Cape Crier
by Wanda Boyle
Author's Note: Cape Willington, Maine, serves as the setting and background for the Candy Holliday Murder Mystery Series. The scenic coastal village is home to blueberry farmer Candy Holliday and her father, Henry "Doc" Holiday, who run Blueberry Acres—and often work together to solve local mysteries. In this exclusive excerpt, we get an update on local news from Community Correspondent Wanda Boyle.
Hello, Capers! Summer is soon upon us, and so is strawberry-picking season! And you know what that means . . . strawberry shortcake! Events and activities are heating up, and the town is BUZZING! So, what's new in Cape Willington, Maine? A lot! Here's the latest:
I suppose you've heard those rumors about the impending sale of Crawford's Berry Farm, located west of Cape Willington out past Blueberry Acres? No? Well, from what I've been told, it's a juicy story indeed, with talk of a sweetened deal and hush-hush backroom glad-handing. We've heard it on good authority that a formal offer has been made for the charming coastal property, with local real estate agent Lydia St. Graves handling the deal. (What could possibly go wrong?) Details are sketchy, but owner Miles Crawford continues to mull his options. However, despite repeated efforts by this reporter to obtain a statement, Miles refuses to confirm or deny any details. Why all the secrecy, Miles? What are you trying to hide out there? (Ha ha, just kidding! Everyone knows Miles grows the plumpest and juiciest strawberries in town, so he must be doing something right!)
STRAWBERRIES! That's what everyone will have in mind when the first annual Strawberry Fair kicks off in Town Park on Ocean Avenue from ten to four p.m. this coming Saturday! Sponsored by the newly formed Cape Willington Heritage Protection League as a way to promote the positive aspects of our community, this family event will include booths, activities, live music, and performances, as well as plenty of juicy red berries! Crawford's Berry Farm will supply all of the strawberries for the event, so you don't want to miss it! League co-chairs Cotton Colby and Elvira Tremble promise their Fair will be the fairest of them all, so don't miss this fun-filled event, rain or shine!
Speaking of Cotton Colby and Elvira Tremble, they're doing their civic-minded duty with their new Heritage Protection League. In case you hadn't noticed (and I'm sure you have if you've been paying attention!), the league ladies and their members have been making appearances at town council meetings, where they'd made their opinions heard. They've also written letters to the editor of this newspaper and hung up signs in shop windows and on bulletin boards at public buildings. You could say they've been MAKING WAVES! You go, girls . . . or, um, ladies!! We're all behind you!
As you might know, birds of a feather flock together, and we've seen plenty of evidence of that lately, especially out at the Cape Willington Historical Society and Museum at English Point Lighthouse. That's where they usually hang out. Of course, we're talking about Doris Oaks and Roy. They're PARTNERS FOR LIFE . . .
Roy being Doris's pet parrot! Doris tells us she bought Roy on eBay a few months ago as a way to relieve her winter boredom, and it worked! No more boredom! Doris and Roy are now one of our favorite new couples! They volunteer regularly at the historical society and museum, and you also might spot them at yard sales around town, where they pick up small hard plastic toys for Roy to chew on. They say couples begin to look alike after awhile. Maybe that's why Doris can be easily spotted these days in her bright green and orange plumage!
This romantic "I do" will send you SPINNING. Kate Birch and Pete Barkely (of snowplow fame), both from Cape Willington, wed recently at the Cape Laundromat over in Fowler's Corner. Pete thought Kate was nice because she found him an empty dryer for his wet clothes, and then he only had eyes for her the whole time his clothes were in the dryer. He finally got up the nerve to ask for her phone number, and the rest is romantic history. Kate says Pete is her green-eyed dream come true—and he knows how to do his own laundry! He's a keeper!
I'd like to tell you more, but space is short, and I have DEADLINES to meet! (Ugh, deadlines!!) So I have to wrap up this post for now. But I'll leave you with this tasty tidbit: In case you hadn't noticed (and if you're a regular reader, you have), there's more than meets the eye in the sleepy coastal village of Cape Willington. MUCH more. What is it? I can't quite put my finger on it, but I'm sensing that something big is about to happen. Call it a reporter's intuition! Early summer and strawberry-picking season are about to arrive, and I have a feeling things are going to turn very juicy in Cape Willington, Maine . . . .
For more details on the latest events and mysteries taking place in Cape Willington, Maine, pick up a copy of TOWN IN A STRAWBERRY SWIRL, available in print and as an ebook on Tuesday, Feb. 4th.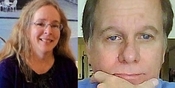 NOTE: B.B. Haywood is the author of the Candy Holliday Murder Mystery Series, featuring Candy and Henry "Doc" Holliday. Titles in the national bestselling series include Town in a Blueberry Jam, Town in a Lobster Stew, Town in a Wild Moose Chase, Town in a Pumpkin Bash, and the upcoming Town in a Strawberry Swirl. The first four books in the series are currently available in print or as ebooks from Berkeley Prime Crime. Large print editions of the first four books, as well as an audiobook of Town in a Blueberry Jam, are also available. For more information on the series, visit web site.
To comment on B.B. Haywood's blog please click here.