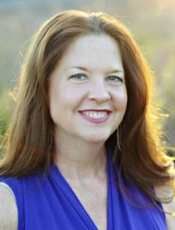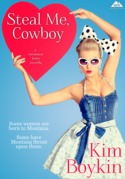 Sometimes you just know something is meant to be, and that's the way things went with writing STEAL ME, COWBOY. It was just meant to be.">STEAL ME COWBOY.
Exhibit one–I wrote an unrelated novella this summer, my first, and liked it so much, I wanted to write another novella. I live in Charlotte, as in North Carolina, and was on my way to pick up a pizza when I got the idea to write a story set out west, specifically Montana.  At that very moment, a black Volvo pulled along beside me with Montana plates, and I thought okay, that's weird. Especially, since in my twenty-one years of living here, I've NEVER seen a car with a Montana tag.
Exhibit two came at a cocktail party where I met the amazing and wonderful Jane Porter. She told me about her fabulous new publishing company, the Tule Publishing Group, and suggested I write a novella for her imprint, Montana Born Books. Jane knew my first novel, THE WISDOM OF HAIR, was about a hairstylist, so she suggested I write a story about a sassy SC hairstylist who goes to Montana.
I don't know Jack about Montana, but the great thing about being a pantser, listening to all those voices in my head without a clue as to where their stories are going, is trusting the voice. And once Rainey Brown's great big voice got going, there was no stopping her.
Everything Rainey knows about "fixing" hair came from me, hanging out at my mom's beauty shop and seeing first hand what hairstylist do for us. Yes, a good hairstylist is a therapist, a miracle worker, and a friend all rolled into one. And some of the things I didn't even realize I knew, but Rainey did. Like when she says–A tourist from California came in to get her bangs trimmed up. I put the cape on her and started chatting her up about her hair and her life, which when you get right down to it are often times the same.
Then I got to thinking, why would a SC girl go to Montana in the first place? Even though it's on my bucket list and I hope to go this summer, I'll be honest, it's probably not at the top of every southern gal's wish list. So the only logical reason for her to go was for a guy. Of course Adam, the guy is the wrong guy, but I met a gazillion women when I lived in Florida who had followed their baseball playing boyfriends to the Sunshine state. So Rainey following Adam to Missoula, Montana where he's gotten his first coaching job made perfect sense.
But thank goodness hot, hard Beck Hartnett came along. I have NO idea where Beck came from, but boy howdy, he was fun to write. So much fun that when my husband gently reminded me I'd been on the computer for 12 hours and it was time to cook dinner, I took one hand off my keyboard, just for a second, mind you, and shooed him away.
So, I hope you've enjoyed this little peek into my process and that you enjoy STEAL ME, COWBOY. It was just meant to be.
One commenter will win a copy of STEAL ME, COWBOY (Kindle only)
About Kim
Kim Boykin is a women's fiction author with a sassy Southern streak. She is the author of THE WISDOM OF HAIR, STEAL ME, COWBOY, and PALMETTO MOON (Summer 2014.) While her heart is always in South Carolina, she lives in Charlotte, North Carolina, with her husband, 3 dogs, and 126 rose bushes.
To comment on Kim Boykin's blog please click here.