I'm so glad to be here today to celebrate the release of TEMPER, thanks for having me. This book was the first time I've ever written a sequel and there were times where it was tricky. I had to consider all that came before and the path of the characters after their initial apparent victory at the end of LIFER.
Of course I have moments difficult moments in life as well as writing. I've found a few things which help with both.
So today I wanted to share with you my top five things to do when things are tricky:
Go for a walk/run
Last year I was lucky enough to be able to participate in the NY marathon. It was one of the single best and most difficult days of my life. I have to admit that lots of my training was thinking time for Temper. Exercise gives me a fresh set of eyes to look at something.
Read a book
Like most writers, I was a reader first and there's nothing better when the words are giving me trouble than refuelling with a wonderful story. I tend to read away from what I'm writing. For example, I'll read contemporary when I'm writing science fiction.
Talk it over
I have some great people I talk to when I'm stuck on writing or life. Sometimes just saying the problem aloud is the first step to solving it. And sometimes someone else can see things I don't. Not that it's always easy to take advice.
Remember why
For me that means rediscovering why I'm doing something. This can be brainstorming or rereading or even just taking a few minutes and making myself think about the big picture. Find the passion that made me start, and I'm halfway there.
Treat yourself
Sometimes there's nothing for it but a little self-spoiling. I have a friend who swears by getting a massage and another who loves to get their hair done in a new style. For me, it's all about chocolate. I love chocolate with popping candy but my favourite is a South Australian delicacy called 'Fruchocs' which are little balls of peach and apricot smothered in milk chocolate. Since they have fruit in them, I like to think they're almost healthy.
Giveaway
What are your escape mechanisms when things get "trick?" Three commenters will each get an eBook of TEMPER. Open to all-International.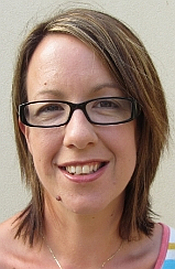 Beck Nicholas always wanted to write. Since studying science at university, she's worked as a lab assistant, a pizza delivery driver and a high school teacher, but she always pursued her first dream of creating stories. Now, she lives with her family near Adelaide, halfway between the city and the sea, and she's lucky to spend her days (and nights) writing young adult fiction.
When she's not writing, Beck will most likely be found reading or watching sport (since participating is beyond her coordination levels). In the early morning, before the day of writing, kid wrangling and reading begins, she runs. When it's just her and the road (and her protesting muscles) she lets the characters in her head share their problems and a story begins.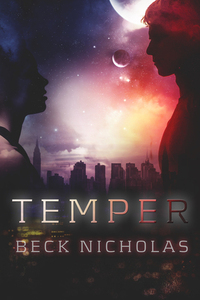 FREEDOM COMES WITH A PRICE.
Free from the spaceship and reunited with Samuai, Asher should be happy. But thoughts of her dead family weigh heavily on her mind.
Things worsen when temper problems in camp lead to a murder. When Asher volunteers to get the drug need to calm people down, tension ignites.
Loyalties are questioned.
Jealousy rears its head. Sparks fly.
And when rumor of a second ship hits close to home, all bets are off.
Have the aliens returned? Is this the end of everything Asher has ever known?