Our reviewer Monique Daoust is a big fan of Lynsay Sands novels especially the Argeneau Vampires series. She had the chance to ask Lynsay some questions. Please join us as we eavesdrop on their conversation.
What a thrill it is to welcome Lynsay Sands to Fresh Fiction today! I am so excited to speak with you today, Lynsay! I have been a fan for a long time of both your historical novels as well as the reason we're here today: vampires!
I read A QUICK BITE, thereafter I got every one of your vampire books; I've remained a fan throughout the years for several reasons: your legendary sense of humour, the combination of sweet and sexy, and the originality of the series. Simply reading the blurb for ABOUT A VAMPIRE had me almost salivating. After so many books, how do you keep the stories so fresh? How do you find new ideas?
I bore easily, so I have to keep it interesting enough to entertain me. If it isn't, then the story gets dropped and I start another. (The funny thing is this can also happen if I plot out too much of the story in advance and there are no surprises left. In that case I lose interest in it and have to move on to a different idea.)
Using different characters each story helps too. Different personalities lead to different responses and reactions to situations, which leads to different situations developing from the original ones… I hope that makes sense. LOL. Anyway, I tend to draw characters from people I know or meet. So each character has their own quirks and temperament, etc.
The way you explain the existence of vampires is simply brilliant; how did you come up with your theory?
Necessity? LOL. While chatting with friends I came up with some great funny ideas to use with vampires. Problem was, I just couldn't bring myself to write a romance where the main characters were dead. For me it was just too unbelievable and I needed some sort of scientific explanation for my vampires' existence, so I researched the latest science articles and nanos seemed to be the best explanation for how they came about. Making the nanos bioengineered so that they used blood to fight illness, make repairs and propel as well as clone themselves had to come into it to cause the need for more blood than a human body could support and it just went from there. The Atlantis part was needed because I also didn't want a bunch of young vamps running around with modern technology in them. I wanted them older, with the wisdom to appreciate what they had and to have seen and done a lot. That meant hundreds of years and Atlantis was the only solution I could come up with other than aliens which is a direction I didn't want to go in.
You're Canadian, aside from that fact, was there a particular reason why you chose Canada for a branch of the Argeneaus, and why did you decide to continue to feature the Canadian angle prominently?
A wise man once told me to write what you know and I know Canada, especially Toronto, so that's the main reason they're primarily set there. When I place a story in other cities or countries more often than not it's because I recently visited the area. Under A Vampire Moon was written after I took a vacation in St Lucia and The Rogue Hunter was written after I had a girl's weekend in cottage country. I just wouldn't want to write about a place I haven't been in case I get it wrong, so…Canada it has to be.
Do you have any plans for Stephanie, whom we first met in THE IMMORTAL WHO LOVED ME again?
Ahhh, Stephanie. She's made a lot of appearances over the years, from her kidnapping in IMMORTAL HUNTER to BITTEN BY CUPID, THE RELUCTANT VAMPIRE and most recently THE IMMORTAL WHO LOVED ME. I like Stephanie. As a teenager, she's fun to play with and she's like me when I was younger, always stumbling into trouble, lol. I'm not sure yet where Stephanie's story is heading or even if she'll get a story of her own. She has been taking on a more prominent role in the series and her abilities are surprisingly strong, but she's still young. We'll just have to wait and see how she progresses. (Sorry but I honestly don't know what's going to happen to her yet… besides the mystery is kind of nice.)
You write both historical and vampire novels. If I'm not mistaken, you wrote historical romance before paranormal; What prompted you to write your first book about vampires? And do you have any preference between the two genres?
I didn't really decide to write about vampires, it just happened. As you say, I started with historicals, and then I was asked to write a contemporary for a spy spoof series, then a couple friends and I were kicking around ideas for anthologies we could do together and vamps came up. I laughed and said, with my sense of humor, my vamps would faint at the sight of blood. That's one of several ideas I threw out that night and that I mentioned in answer to your second question above. Well, that idea stuck with me. Oh, the irony, to be a vamp with a blood phobia. I found it funny, and the other ideas were funny too. They kept sitting there on the edge of my mind taunting me until I finally had to write them down…et voila! The Argeneaus were born.
I don't really prefer one over the other. In some ways historical is easier, and in others, the vamps are easier. But to me, they're all just stories about people. The genre, time period, vamps vs non-vamps…that's all just window dressing. The people are the story. They are the source of the humor, the cause of the mystery or danger, and the reason for the ending. Besides it's nice to mix it up a bit in what you're writing. If I'm having trouble with a particular story I can switch over to another story in the other genre. It's all good.
When you wrote A QUICK BITE, did you think you would write more vampire novels? Did you think of it as becoming a series?
Right off the bat I planned to do the first four books, and while A QUICK BITE was first and should have been written first, my editor at that time wasn't interested in "the sister." He wanted the brothers' stories, so Single White Vampire actually got written first and was followed by Bastien's and Etienne's stories. It wasn't until I switched publishers to Harper Collins that I was allowed to give Lissianna her story, A Quick Bite.
You have two books coming up, RUNAWAY VAMPIRE in February, and IMMORTAL NIGHTS in September. Can you like to tell us more about those new instalments in the Argeneau series?
The Notte twins will both be getting their stories this year and as usual my characters threw me for a loop.
In RUNAWAY VAMPIRE, Dante meets his match when he's literally run down by his life mate's RV. When Mary finds the gorgeous, naked- but badly injured-man onboard her RV and he insists they are meant for each other, Mary can't help but wonder just how hard he'd hit his head. They may be off to a rocky start, but we have high hopes for Dante and Mary.
As for Tomasso's story, IMMORTAL NIGHTS, even I was surprised by some of the things that happened. Tomasso's story starts off with him naked and caged in the cargo hold of a transport plane…only he's not alone. Thinking it was a good opportunity for a mini vacation with an old friend, the pilot hides Abigail in the cargo hold only to realize too late that this was not a flight of leisure and that his paying customers were dangerous. Oh… and our stowaway Abigail also happens to be Tomasso's life mate.
And in conclusion, what does the future hold for Lynsay Sands?
Within the next couple of months I'll be writing a historical and another Argeneau.
The historical will be the 5th book in my latest Scottish Highlanders series and it'll be about Edith Drummond, one of the ladies that showed up at Castle Sinclair as a potential bride for Cam in TO MARRY A SCOTTISH LAIRD.
The Argeneau will be the 25th book in the series but as of yet I'm still debating on who it'll be about. I'm not big on planning things like this until just before I sit down to write it.
Thank you so much for taking the time to visit Fresh Fiction today, it has been a pleasure talking to you, and I'm very much looking forward to reading those new books!
Thank you!! I appreciate your interest in interviewing me, and I'm glad you enjoy the stories. Hope you continue to do so!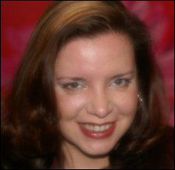 Lynsay Sands has been writing since she was a child. She has a degree in psychology, enjoys reading both horror and romance, and believes a sense of humor can "see you through nearly anything."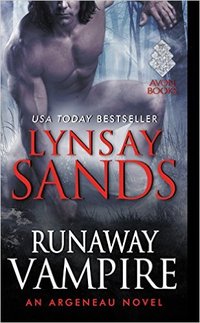 Buckle up—the Argeneaus are back in a sexy, witty new novel from New York Times bestselling author Lynsay Sands
Dante Notte has heard it said that love hurts. He just wasn't expecting it to run him over in an RV. Still, a punctured lung and broken ribs are nothing compared to the full-body shock he feels whenever he's near the vehicle's driver, Mary Winslow. He needs to keep her safe from their pursuers while he rescues his brother. Most challenging of all, he needs to claim this smart, stubborn woman as his life mate.
The naked, injured, insanely gorgeous younger man who clambered into her RV insists they belong together. If Mary wasn't feeling their incredible connection in every inch of her being, she wouldn't believe it. But now that the men who took Dante's twin are after her too, trusting her gut means risking her life for an immortal who's the very definition of a perfect stranger.