When I decided to write BETTER OFF THREAD, I knew I wanted to write a Christmas book and I knew the book had to feature Captain Moe, Tallulah Falls' resident Santa Claus. Captain Moe has always been one of my favorite characters. I've loved him since book one—THE QUICK AND THE THREAD—when he made food for Marcy and Angus, even though the diner was closed.
A few years ago, I met Joseph and Mary Moore at a Christmas craft bazaar in Kingsport, Tennessee. The Moores write books and travel the country making appearances as Santa and Mrs. Claus. We had a wonderful time together for the three days we attended the bazaar. As you can see from the photographs, Joe is certainly an authentic looking Santa!
The children adored him. They'd shyly come up to him, and Joe/Santa would give a hearty, "Ho! Ho! Ho!" and then he'd ask, "What's your name?"
Upon hearing the answer, Santa would slap a hand to his forehead and say, "Of course! I recognize you now. You've just grown so much since last year."
I thought that was the most creative response. I mean, "he sees you when you're sleeping; he knows when you're awake; he knows when you've been bad or good" but he doesn't know your name when you approach him in the mall? What's up with that? So, Joe and Mary had that figured out. The child has grown! This makes the child happy and answers the question of why Santa wouldn't know his name.
And Joe would take it a step farther in some cases. If the child was with both parents, he might say something like, "Wow, you're going to be as tall as your dad. You might even be a little taller than he was when he was your age."
The child's eyes would widen. "You knew my dad?"
"Of course! And your mom too!"
By the time the weekend was over, even I believed that Joe and Mary were the real Santa and Mrs. Claus.
Marcy, on the other hand, knows Captain Moe as her real-life Santa. He's one of her favorite people in Tallulah Falls. Although Captain Moe has made several guest appearances in the embroidery mysteries, this is the first time he's a featured character and we get to discover more about him. We always knew he was more than a wonderful friend, uncle, and cook. But in BETTER OFF THREAD, we learn about his past and a few things about his present. And Marcy is dismayed when she realizes it took Captain Moe getting accused of murder to prompt her to get to know him better.
Is there somebody in your life you might not know as well as you think? The answer might surprise you. My husband and I were driving one day and saw a sign that said, "Learn to read music." I said, "I can read music…at least, a little." He said, "I used to. I don't know how much of it I remember." I was surprised to learn that he played the trumpet in elementary school. So, you see, there's always something more to learn about people.
GIVEAWAY:
What is something new you've learned about someone you thought you knew EVERYTHING about? One reader will get a signed copy of
BETTER OFF THREAD (e-book if international).
Cozy Mystery Writer
Amanda Lee is a pseudonym Gayle is using for the new cozy mystery series featuring a heroine who owns an embroidery shop. The series is set on the Oregon Coast and features Marcy Singer, a spunky, thirty-something, entrepreneur who is handy with a needle.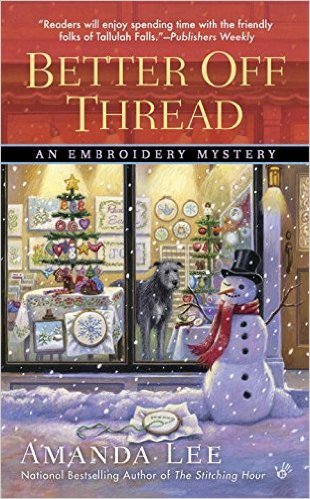 Santa finds himself in a stitch of trouble in the tenth in the series from the national bestselling author of THE STITCHING HOUR…
Marcy is busy helping her customers make hand-crafted ornaments at her embroidery shop, the Seven-Year Stitch. But despite the yuletide bustle, when her friend Captain Moe asks for her help, she can't refuse—especially when the favor is to play the elf to his Santa for sick children at a local hospital. Despite the ridiculous outfit, Marcy finds herself enjoying spreading cheer—until the hospital's administrator is found murdered.
Although the deceased had plenty of people willing to fill her stocking with coal, evidence pins the crime on Moe. Now it's up to Marcy, with the help of her police officer boyfriend Ted and her Irish Wolfhound Angus, to stitch together the clues to clear Moe's name—before someone else winds up crossed off Santa's list for good…
Mystery Cozy [Berkley, On Sale: December 6, 2016, Paperback / e-Book, ISBN: 9780451473851 / eISBN: 9780698186521]