Kym: "Today I have the pleasure of sitting down with Charli Rae Warren in her hometown of Hazel Rock, Texas for an interview. Charli is a kindergarten teacher who came back to Hazel Rock after a twelve-year absence! She's also an imaginary friend of mine who lurks in my brain and messes with my hair."
Charli: "I beg to differ, you're the one who's constantly messing up my hair."
Kym: "That's because it's so beautiful; I'm a little jealous."
Charli: "Really?"
Kym: I roll my eyes. "No, I just like messing with you."
Charli: "That's not very nice." Kindergarten teacher stare.
Kym: Laughing. "That's not going to work on me Charli, I've seen a lot meaner faces in my day than yours."
Charli: "So, get to the point. Why did you bring me to The Cozy Corner—other than to mess with me?"
Kym: "I thought readers would like to hear a little bit about you, after all, your story releases December 6th."
Charli: "Already? Wow, it seems like it was just yesterday that you were slapping me on a piece of paper, then scratching me out, and then building me up—only to tear me back down again."
Kym: "It was kinda fun, wasn't it?"
Charli: "You're a masochist."
Kym: "What does that make you, if you're sitting here talking to me?"
Charli: "Okay, okay. You got me there." She leans in with a devilish smile on her face. "So, who do you want to talk about?"
Kym: "Cade?"
She doesn't fall for my innocent suggestion. She shrugs.
Charli: "He's my ex-high school sweet heart. The town mayor, who happens to be up for re-election."
Kym: Holding my up hands in surrender. "Stop. You got me. As hot as Cade is, the last thing I want to talk about is politics."
Charli: Smiling like she won.
Kym: "What about Mateo?"
Charli: Choking on some imaginary object. "Mateo?"
Kym: "You know, the sheriff?"
Charli: "I think, I remember the man who put me in handcuffs." She shivers and rubs the back of her head.
Kym: "Please. Don't act like it was the first time you wore steel bracelets."
Charli: Crossing her arms over her chest. "Seriously? You're going to go there? I was a teenager."
Kym: "I never wore that style jewelry when I was a kid."
Charli: "Oh, you just wear them now…for fun?" She waggles her eyebrows.
Kym: "You're crossing the line, Charli."
Charli: "What line?" Looking down at the concrete floor of her family store, The Book Barn Princess. "I don't see a line."
Kym: Plugging my nose. "What is that smell?"
Charli: She smiles again, like payback is in order. "Don't you recognize Princess's perfume?"
She's getting a little too much pleasure out of my discomfort, so I decide to even the score and have Princess rub her armadillo odor all over Charli's pantleg.
Charli: "Fuzz buckets! That's not fair, you know I've come to love the stinky little girl!"
Kym: "Maybe you should have given her a bath before I arrived."
Charli: She reaches down and scratches the little creature's ears. "It's been a long day. Dad and Scarlet and I have been working on a special piece of book art."
Kym: "Really? Are you making something for me?"
Charli: She smiles again, and when Charli smiles everyone notices. "You'll have to be nicer to me in the next book."
Kym: I decide it's time to strike a deal, I want that book art. "How about I give you some Blue Bell Homemade Vanilla ice cream?"
Charli: "Do I get to—"
Kym: "Don't give away the secrets Charli, our readers haven't even had a chance to read your debut novel, Fatal Fiction yet and A Reference to Murder doesn't come out until May of 2017."
Charli: "Fine, but I get to do it, right?"
Kym: "The bowl is waiting for you."
Charli: That devilish look returns to her eyes. "And my—"
Kym: "Ah, ah, ah…" Wagging my finger back and forth. "Don't say another word about the ice cream. But I will tell you, that you'll enjoy it…immensely."
Scarlet walks in looking like a voluptuous red-headed Grace Kelly.
Scarlet: "O.M.W. I should have known she'd make you late!"
Kym: "Hi, Scarlet. What's Charli late for?"
Charli: "Don't tell—"
Scarlet: "Her hair appointment."
Scarlet has a way of blurting things out. She's brilliant, but her mouth gets her and everyone else in trouble. And I can't help it. I love messing with Charli's hair.
A bat flew down from the barn loft and somehow tangled itself up in Charli's hair.
I grin. Charli tries to be brave, but she screeches. Princess jumps straight up in the air before scurrying off and Scarlet freezes in disbelief, before her hands attach to her hips and she demands I intervene.
Scarlet: "Kym Roberts, that's not very nice."
Kym: "You're right." The bat disappears and Charli stands there breathing heavy. Her eyes roll upward like she can possibly get a glimpse of the mess I've created.
Charli: "Thanks a lot. It was a blast sitting down and spending time with you—"
Before she gets too riled up, I decide to send another wrench her way. The front door to The Barn swishes open and the little bell dings, signaling the arrival of a customer.
Cade: "Princess? Mateo and I were looking for your dad—"
Scarlet grabs Charli's arm and shoves her out the side door before the two hunky men I love, can see her. Drat the woman.
Scarlet: "He's upstairs in the loft, Cade! Charli isn't here. I'll see you later!"
And the two women disappear out the side door of The Barn; Scarlet to the rescue once more.
Scarlet constantly makes me happy for creating such a loveable character in the series. I mean, it's good to have a best friend in your corner, right? It makes life pretty darn cozy.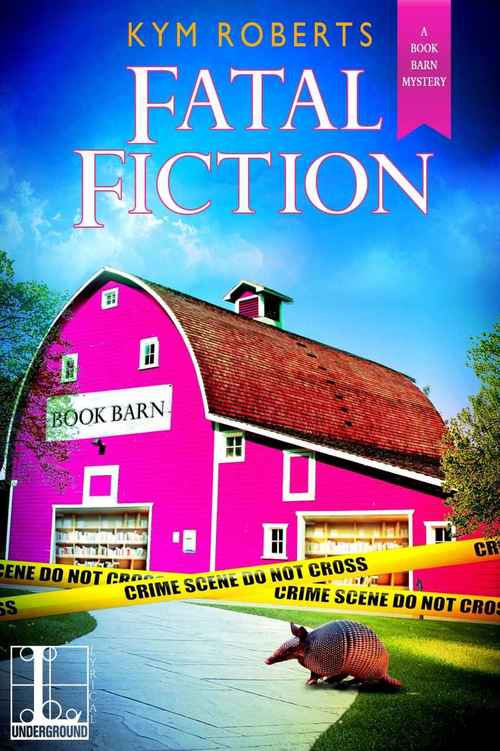 When kindergarten teacher Charli Rae Warren hightailed it out of Hazel Rock, Texas, as a teen, she vowed to leave her hometown in the dust. A decade later, she's braving the frontier of big hair and bigger gossip once again . . . but this time, she's saddled with murder!
Charli agrees to sell off the family bookstore, housed in a barn, and settle her estranged dad's debt—if only so she can ride into the sunset and cut ties with Hazel Rock forever. But the trip is extended when Charli finds her realtor dead in the store, strangled by a bedazzled belt. And with daddy suspiciously MIA, father and daughter are topping the most wanted list . . .
Forging an unlikely alliance with the town beauty queen, the old beau who tore her family apart, and one ugly armadillo, Charli's intent on protecting what's left of her past . . . and wrangling the lone killer who's fixin' to destroy her future . . .
Mystery Cozy [Lyrical Press, On Sale: December 6, 2016, e-Book, ISBN: 9781601837318 / eISBN: 9781601837318]
Be sure to pick up a copy of Fatal Fiction, A Book Barn Mystery today! Happy Holidays!
**Giveaway Alert!**
Look for my Holiday Giveaway on Fresh Fiction and enter for your chance to win a Princess pin—because that's the only way you'll want to cuddle up with an armadillo;)
Until Next time, get cozy and read on!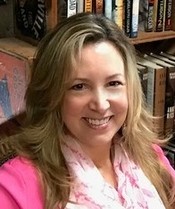 Kym Roberts is a retired detective sergeant who looks for passion, mystery and suspense in every book she reads and writes. She can be found on the web kymroberts.com, on Facebook at Kym Roberts (author) and on Twitter @kymroberts911. Look for her new romantic suspense release, Red Lace, A Hard Men of the Rockies Mystery available now and her romance release Mistletoe and Lace, The Hard Men of the Rockies Anthology from the authors of and upcoming mystery release, Fatal Fiction, A Book Barn Mystery available now and her romance release Mistletoe and Lace, The Hard Men of the Rockies Anthology from the authors of ChickSwagger.com!