Every day Fresh Fiction has a new "Fresh Pick," a book recommended by readers not necessarily reviewers although I think there are a few reviewers opinions sought during the process. But the cool thing–does that age me — is a group of readers sit down and come up with the best books for a theme. The books are usually fiction but sometimes a cook book or self-help will creep in. I've heard the arguments that most self-help and cookbooks are works of fiction anyway. Could be the non-cooks complaining and I won't even touch the bit about the self-help since I'm rather fond of those myself.
Anyway, for the past few months the looming days around the end-of-year holidays is always a hot topic. Like what are the books you read to get into the mood, when do you start reading, is Halloween too early? What do you like to read, something uplifting to raise spirits, something fluffy to get away from all the stress? And gifts. What do you give someone — gasp — who doesn't read? Or someone who only reads a certain genre. Everyone knows someone so prejudiced, you buy them a contemporary when they only read historical, or only regency, no Victorian. You know, the usual reader chit chat about books.
So, this year we've had two strong themes going in December. The first is a list of books that are the best gifts to give for a category. Yes, it's not scientific but who better to listen to than a group of buying readers who know their stuff?
By the way, the voting was spirited and loud at times, so you know you've got some STRONG opinions and recommendations here…
Fresh Fiction Staff "Gift Pick" for Womens Fiction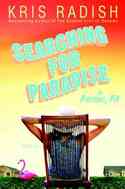 Searching for Paradise in Parker, PA by Kris Radish
From the bestselling author of The Sunday List of Dreams and Annie Freeman's Fabulous Traveling Funeral comes a poignant, funny, and uplifting novel of a woman at midlife whose search for happiness within her marriage—and within herself—turns a whole town upside down.
After twenty-eight years of marriage to her husband Lucky, Addy Lipton feels anything but happily married. In fact, just thinking of … more
Fresh Fiction Staff "Gift Pick" for Paranormal Romance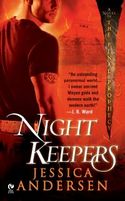 Nightkeepers by Jessica Andersen
As a Miami narcotics detective, Leah Daniels never knows how her day will turn out. But she certainly never expected to be strapped to a stone altar, the human sacrifice in an ancient Mayan ritual meant to coax up a demon from the underworld. Or that she'd be saved by a handsome warrior- priest king who claims to recognize her from his visions… Jaguar Strike wishes he hadn't made the mistake of reuniting…more
Extraordinary and intriguing start to a new series about the Mayan 2012 Doomsday prophecy.
Fresh Fiction Staff "Gift Pick" for Contemporary Romance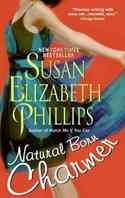 Natural Born Charmer by Susan Elizabeth Phillips
Chicago Stars quarterback Dean Robillard is the luckiest man in the world: a bona-fide sports superstar and the pride of the NFL with a profitable side career as a buff billboard model for End Zone underwear. But life in the glory lane has started to pale, and Dean has set off on a cross-country trip to figure out what's gone wrong. When he hits a lonely stretch of Colorado highway, he spies…more
"Excellent combination of madcap comedy and emotional drama in this contemporary romance."
Fresh Fiction Staff "Gift Pick" for Chick-Lit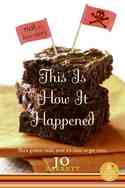 This Is How It Happened by Jo Barrett
(not a love story)
He lied, he cheated. He destroyed her life.
How difficult could killing him be? more
Fresh Fiction Staff "Gift Pick" for Historical Romance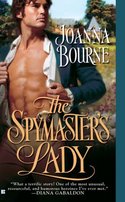 The Spymaster's Lady by Joanna Bourne
Dark secrets and French spies make for a suspenseful debut historical romance.
She's never met a man she couldn't deceive…until now.
She's braved battlefields. She's stolen dispatches from under the noses of heads of state. She's played the worldly courtesan, the naive virgin, the refined British lady, even a Gypsy boy. But Annique Villiers, the elusive spy known as the Fox Cub, has finally met the one man she can't outwit. more
Fresh Fiction Staff "Gift Pick" for Erotic Romance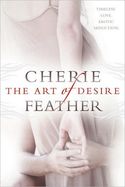 Art of Desire by Cherie Feather
Contemporary erotica with a historical romance twist from a hot new author.
Museum director Mandy Cooper is obsessed with nineteenth-century artist Catherine Burke—and the artist's erotically charged relationship with Atacar, her enthralling American Indian lover. But Mandy's link to the legendary couple runs deeper than she knows. She's having a heated affair herself—with Jared Cabrillo, Atacar's handsome great-great nephew who knows precisely what it takes to seduce a woman… …more
Fresh Fiction Staff "Gift Pick" for Romantic Suspense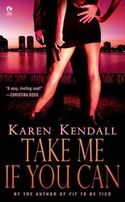 Take Me If You Can by Karen Kendall
"A swift, smart and sassy suspense with lots of romantic tension."
For art recovery agent Avy Hunt, no task is too risky when it comes to rescuing stolen treasures. Her latest mission is to locate the multimillion-dollar Sword of Alexander, believed to be in the possession of master thief Sir Liam James. But there is far more to this heist than meets the eye, and what Avy doesn't know can definitely hurt her. …more
Later this week be sure to check back for the books from our second strong December theme — Holiday Reading!
Disclaimer: Fresh Picks are selected by a committee of readers. If you know a terrific book you'd like to share with others, or would like a book to be considered, please contact us.