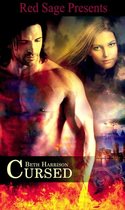 As a first-time romance novelist and a newbie blogger, I apologize in advance for not quite knowing how to approach my blog on Fresh Fiction. But I'll start by thanking my Red Sage, my wonderful publisher, for taking a chance on CURSED.
As I sat down to prepare my blog, I suffered the opposite of writer's block. I had so many ideas jostling each other in my mind that I couldn't seem to focus on just one. But then it hit me—with the force of a runaway train.
Three years ago, I lost my job. I got laid off when a large hospital system acquired the hospital where I'd worked for 15 years. I became part of the huge pool of American workers pushing the unemployment rate into double digits for the first time since the dark days of the 1982 recession.
I was without a job for about a year. And while it was terrifying to watch expenses pile up with nothing coming in, my twelve months of unemployment were the most liberating months of my life. I'll never forget the day that my sister dared me to make good use of my enforced time off by doing something I'd always dreamed about—writing a book.
I knew I wanted to write a romance novel, so I spent a month refreshing my familiarity with the genre. And was I surprised at how diverse and how sexy romance fiction had become! It seemed there was a line to appeal to everyone. As a long-time reader of horror and mystery novels and psychological thrillers, I was immediately drawn to the paranormal lines.
But what would I write about? Vampires were hot, but I found myself thinking about witches. An idea popped into my mind that I decided to run with. My original title was The Witches' Covenant, and the book centered on three witches determined to save the young woman they all loved from being burned at the stake. The witches' covenant did make it into the final book, but it's only a small part of the tangled, mysterious, agonizing journey of two souls eternally bound by love.
So there I was, with a kernel of a plot and my new, beloved Lenovo Thinkpad. I sat down to write and experienced true magic. Suddenly, there weren't enough hours in the day for my characters to reveal themselves to me. My fingers flew over the keyboard as Kate and Aidan and their past-life incarnations demanded that I tell their stories. And at the end of my year of unemployment, I could point to a real accomplishment that was the fulfillment of a lifelong dream. I had written a book!
I realize how fortunate I am—both to have found a new job and to have succeeded in publishing my book. And I'd be very interested in hearing from you how you or loved ones have coped with being unemployed. Was losing your job the best thing that ever happened to you? Was it the worst? What did you learn about life? About yourself?
Thanks for taking the time to join me on my very first blog. And whatever your employment status was in the past, I hope you're currently working at your dream job, and that you'll take a weekend like this to explore CURSED, the story of shy, scholarly Kate Casterbridge and Aidan More, a desperate man with a deadly secret.
Kate is swept off her feet by her drop-dead gorgeous new colleague, but she also begins to experience eerie premonitions, strange dreams and inexplicable sensations of déjà vu. After she meets Aidan, she see witches and death everywhere she looks, but she also discovers a wild, wanton inner vixen she never knew existed. CURSED chronicles a centuries-long journey of jealousy, loss, betrayal and, ultimately, love. I hope you'll enjoy reading it as much as I enjoyed writing it!
CURSED is available at Red Sage Publishing, Amazon, and Barnes and Noble.
After many years of being inspired by the big sky and regal mountains of Montana, Beth Harrison has fallen in love with her adopted city, Chicago. She lives in an enchanted high-rise where she reads, writes, cooks and enjoys the beauty of Lake Michigan and the eclectic energy of her urban neighborhood.
To comment on Beth Harrison's blog please click here.