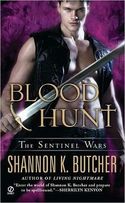 Sentinel Wars #5
August 2011
On Sale: August 2, 2011
Featuring: Hope; Logan; Krag
400 pages
ISBN: 0451234294
EAN: 9780451234292
Paperback
$7.99
Paranormal – Supernatural

Voted by us as Best Vampire Romance
Blood Hunt
by Shannon K. Butcher
Hope appeared out of nowhere, naked and alone, a woman without a past. The only thing she knows is that she is imbued with a strange power. It's in her blood. And two men want to posses it. One is Logan, a Sanguiner demon-fighter who needs Hope's essence to survive. The other is Krag, a Synestryn lord whose desire is to enslave Hope, and drain her of the lifeforce. When Hope and Logan both fall prey to Krag, a powerful desire grows between them. But is it enough to thwart their captor's diabolical plan and his demon warriors, and survive a vampire's destiny written in blood?

Butcher's Sentinel Wars Continues with Non-Stop Action and Steamy Sex Scenes!
Excerpt
Chapter 1
Kansas City, Missouri, March 16
When death comes for you, it will not be gentle.
Logan hadn't truly understood Sibyl's prophecy of his death until this moment. But now that he was staring into its jaws, he realized what she had meant.
A Synestryn demon crouched behind a run-down three-story building, its eyes glowing a bright, feral green. It was huge, making the Dumpster beside it look like a milk crate. Heavy muscles bulged in its limbs, quivering in anticipation of the kill. Its breath billowed from all four of its nostrils, creating pale plumes of steam in the cold night air. Bright moonlight gleamed across its skin, reflected off the viscous, poisonous fluid that leaked from its pores.
Logan had never seen anything like it before, but the human, Steve, groaning in Read More… Previous Picks